On Dec. 7, the kitchen of All Saints Episcopal Church was packed with volunteers, and the aroma in the air was undeniably mouth-watering. The Chicago parish was hosting one of its two yearly Sunday dinners for needy community members, dishing up food, service and entertainment one might expect to find in a restaurant, rather than a church hall.
The night's menu boasted a wide range of dishes: roasted turkey breast, prime rib, salmon, roasted acorn squash, a broccoli-spinach souffle and sage stuffing, plus pecan and pumpkin pies. As guests filed in to sit at tables adorned with flowers, smartly dressed waiters flitted about the room. Rev. Bonnie Perry and other volunteers greeted the hungry guests as friends, while a group of singers from a local prep school readied their dinnertime performance.
When Perry first arrived at All Saints in 1992 to begin her time as the church's rector, only 30 parishioners would attend services on a typical Sunday, and the parish was at serious risk of being shuttered. Today, All Saints is flourishing, thanks in no small part to community outreach programs like the biannual fine-dining experience.
One of the first things Perry did in an effort to turn things around was to open a weekly food pantry inside the church. The event, held on Ash Wednesday in 1993, gave away two bags of food to the two people who came. Now, hundreds flocks to the church's doors each Tuesday: 300 or more come for the food pantry, and more than 100 sit down at to a simple "community kitchen" dinner. Sunday services are also bustling, with more than 200 attending each week.
"My idea was that the gospel doesn't matter if it doesn't change peoples' lives," Perry told The Huffington Post. "My point is: What are you doing to live out the gospel?"
But the church didn't stop there. In 2002, Ed Bird, a parishioner who cooked for the Tuesday night dinners, had an idea: What if they went a step further by offering an upscale dining experience to people who can't afford such a luxury? That is how All Saints' Cafe was born.
Twice a year, the church hosts a special Sunday night dinner complete with maitre d' service, tablecloths, a fine-dining restaurant-style menu and live entertainment. The dinners are promoted through word-of-mouth and at the Tuesday gatherings. Volunteers from both the parish and community help with every aspect of the event -- from cooking to waiting tables and greeting guests.
"One of the things I loved about the dinners was the people who came weren't our clients, they were our friends," Bird, who is now associate rector of St. Mary's Episcopal in Park Ridge, Illinois, told The Huffington Post. "We had that relationship and it was dignified. I thought why not make it more dignified? Let's go all out a couple times a year and do something else."
(Story continues below.)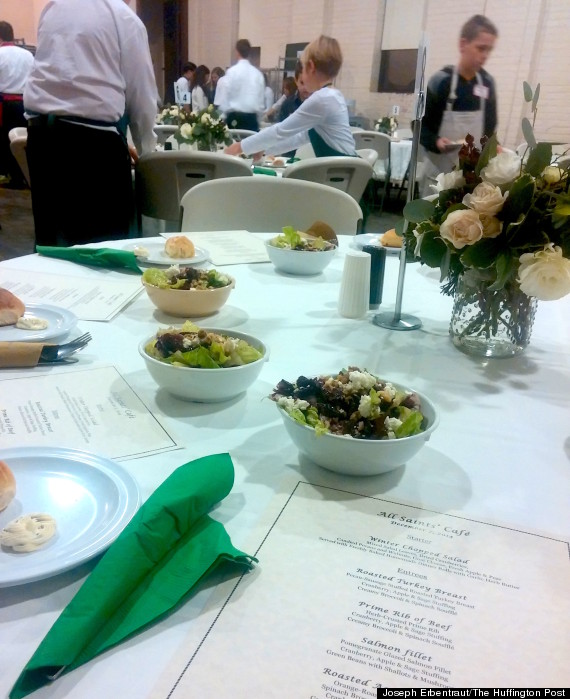 A table set with fresh flowers, bread and salads for All Saints Episcopal Church's latest "All Saints Cafe" special community dinner event on Sunday, Dec. 7, 2014.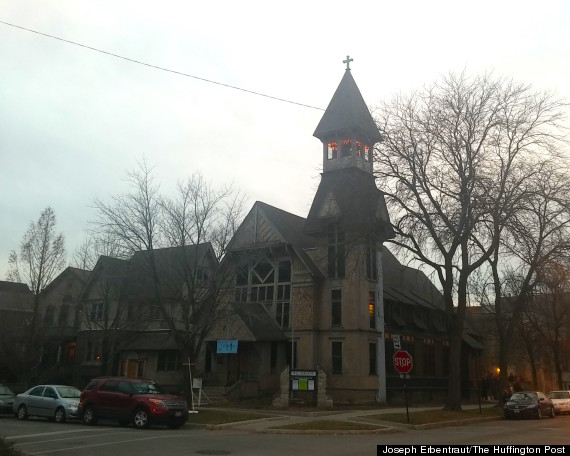 All Saints' Episcopal Church on Chicago's north side.
Despite All Saints' location in the relatively affluent Chicago neighborhood of Ravenswood -- where the median household income of just under $60,000 is well above the city average -- many of the guests at the community dinners live near the church, which happens to be just blocks away from the home of Mayor Rahm Emanuel.
According to Perry, the "vast majority" of the guests at the Dec. 7 All Saint's Cafe event are either employed or are retired seniors, and about 10 percent of the church's regular guests for its Tuesday pantry and dinner events are experiencing homelessness.
"It is inordinate the amount of people who happen to be hungry," Perry added, noting that on one particular Tuesday they hosted 17 people who all lived within two blocks on the same street as the church.
The Dec. 7 dinner came on a busy day for All Saints. In addition to its three regular Sunday morning services, the church also led a demonstration protesting grand jury decisions not to indict the police officers who killed Eric Garner in New York and Michael Brown in Ferguson. Alderman Ameya Pawar, state Rep. Deb Mell and dozens of parishioners took part, carrying large signs, some of which read "I Can't Breathe," Garner's last words. Perry also addressed the police killings in a fiery sermon she adapted for an essay published on HuffPost.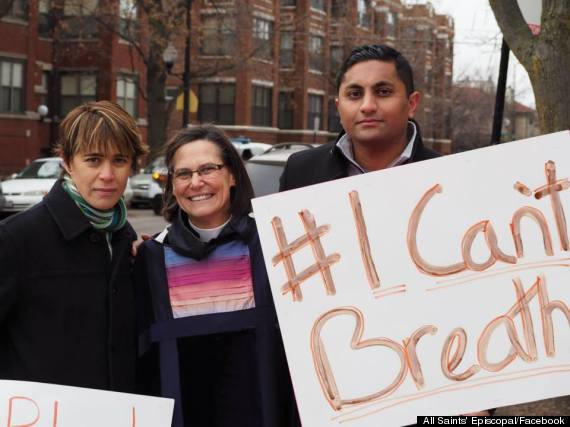 Mell, Perry and Pawar take part in the All Saints-led demonstration along busy Ashland Avenue.
Though some religious groups might shy from taking a stance on any remotely volatile issues, Perry said social justice has always been a cornerstone of the progressive parish's actions.
Perry, who is openly gay and has been with her partner, Susan Harlow, for over 25 years, plans to continue to push for gay and lesbian inclusion in the Episcopal Church and Anglican Communion. She also plans to continue the parish's work on anti-violence initiatives in Chicago, its outreach to South Sudan, New Orleans and Mexico and its work on racial justice.
"I want us to continue to ask how are we, as progressive people of faith, living our beliefs out in such a way that our city gets better -- and why would we not want to?" Perry said.
Calling all HuffPost superfans!
Sign up for membership to become a founding member and help shape HuffPost's next chapter
BEFORE YOU GO
PHOTO GALLERY
Quotes By Inspiring Religious Thinkers