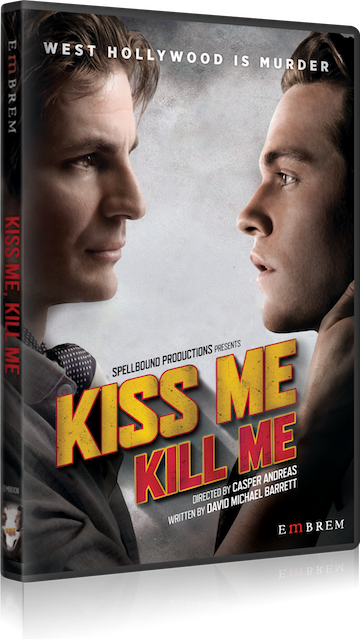 From director Casper Andreas (GOING DOWN IN LA-LA LAND) and screenwriter David Michael Barrett (SUCH GOOD PEOPLE) comes "Kiss Me, Kill Me."  This multiple LGBT film fest winner is led by gay icon Gale Harold in his first gay role since QUEER AS FOLK along with AS THE WORLD TURNS four-time Emmy nominee Van Hansis (EASTSIDERS), and also stars Brianna Brown (DEVIOUS MAIDS), Yolonda Ross (HBO's THE GET DOWN), Jai Rodriguez (QUEER EYE), Kit Williamson (MAD MEN), Jonathan Lisecki (GAYBY), D.J. "Shangela" Pierce (RUPAUL'S DRAG RACE) and Michael Maize (MR. ROBOT).
This film, which has played over three dozen film festivals worldwide, is extremely well put together. From the Saul Bass-inspired animated opening titles to Rainer Lipski's gorgeous cinematography, to Jonathan Dinerstein's heart pounding score, which all come together in service of David Michael Barrett's fast-paced and twist-loaded screenplay with nods to the best of the genre.  The tagline says "West Hollywood is Murder" and on that this movie delivers.  Like all the best "who-done-its" director Casper Andreas will keep you guessing to the very last moment.  But what audiences will connect to the most are the characters, the heart, and the final shocking, ironic twist you'll have to see to believe.  It's the perfect ending to an incredibly fun ride.
This is Casper Andreas' seventh feature as a director.  "I don't see myself as a 'gay filmmaker,'" he said, and he shouldn't.  "Kiss Me, Kill Me" is much more than a gay film.  "One of the things I loved most about David Michael Barrett's script was that it wasn't a spoof of a thriller; it was the real thing," said Andreas.  "It also didn't take itself too seriously, and even had characters commenting on the outrageous events, often balancing them with humor."
"It is time for a gay thriller," said screenwriter Barrett.  "The genre, which traditionally features a mix of sex, violence and melodrama, is perfect for the gays.  In fact, it's kind of surprising no one has ever done a film like this before."
The film tells the story of Dusty (Van Hansis) who discovers his boyfriend Stephen (Gale Harold) has been cheating on him with Craigery (Matthew Ludwinski).  As Dusty confronts Stephen, he blacks out.  And when he comes to, Stephen was murdered and Dusty's the prime suspect.  Evidently in LA, sometimes it's hard to tell your friends from your enemies, and each person in Dusty's squad seems capable of murder. 
Unlike traditional film noir, the film portrays LGBTQ characters, and does so in a modern, matter-of-fact way. The gay characters are not solely motivated by sex or their sexuality; they are driven by grief, love and loss of a spouse.  And at the center of this thriller the film does ponder the serious theme of monogamy and loyalty, exploring what that means for a gay couple.  "Love and sex, for gays… it's complicated," says one character.  Without giving anything away, the answer to that question is found in the heart of the relationship.  Further, the film can also be proud of showing us a drag queen out of drag in an unself-conscious way. This kind of gender-honest scene is rare in cinema.  That, along with the strong acting, directing and writing place "Kiss Me, Kill Me" as a serious entry in the genre.  
DVD and On Demand release is scheduled for Dec. 7, 2016, following the Dec. 6. Los Angeles red carpet premiere and release party.  The movie will be available on Amazon, iTunes, and other platforms.  You can Pre-Order the DVD, loaded with behind-the-scenes extras, today at the www.kissmekillmemovie.com
The DVD features subtitles in English, Spanish, French, German, Italian, Russian, Swedish, Hebrew, Japanese and Chinese.
Calling all HuffPost superfans!
Sign up for membership to become a founding member and help shape HuffPost's next chapter
This post was published on the now-closed HuffPost Contributor platform. Contributors control their own work and posted freely to our site. If you need to flag this entry as abusive,
send us an email
.