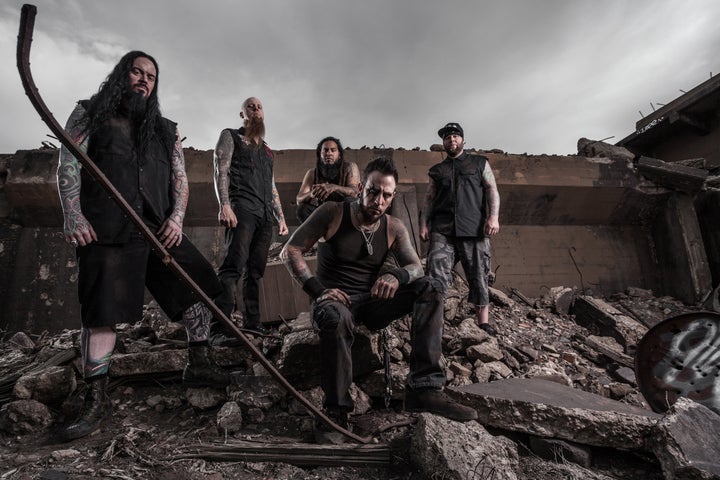 We have teamed up with all-star rockers INVIDIA to premiere their new full length album "As The Sun Sleeps". This isn't the band's first rodeo - having member(s) been in Five Finger Death Punch, Skinlab, and In This Moment.The new album comes out March 31st via SPV. Stream it here:
They premiered their video for "Feed The Fire" on Loudwire and they won March 2017's Most Anticipated Release of the Month, fending off some stiff competition from Body Count's Bloodlust, Art of Anarchy's The Madness, Mastodon's Emperor of Sand, Bush's Black and White Rainbows, Night Ranger's Don't Let Up and John 5 and the Creatures' Season of the Witch.
When asked about the new effort:
"It feels great to finally be able to release this record. It's been finished and mixed now for about a year, but we wanted to make sure we had all the right outlets in place before we released it to the world and to the public. We are very excited to hear everybody's feedback and are looking forward to what the new year will bring us all. I want to thank everybody that's been involved along the way and I hope to see you all on the road soon!" - Brian Jackson, guitarist of INVIDIA
"I haven't been this excited to release a new record in years. In a sea of 'by the numbers' music, As the Sun Sleeps will truly be a stand out!" - Matt Snell, bassist of INVIDIA
INVIDIA is Travis Johnson (Vocals), Brian Jackson (Guitars), Matt Snell (Bass), Marcos Medina (Guitars), Darren Badorine (Drums), and Logan Mader (Producer).
Find the band on Social Media
Related
Popular in the Community