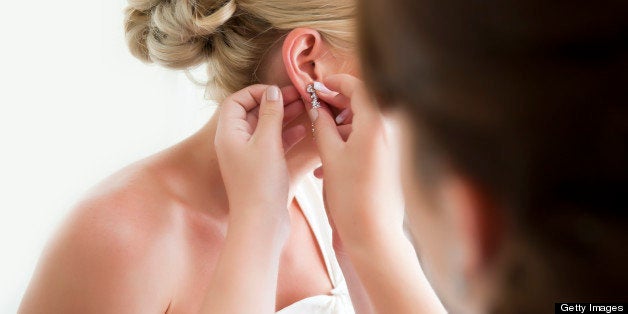 For decades, brides have been asking themselves this question: when I go to buy my wedding dress, why do sales attendants try to decorate me?
So you've found the one -- the dress of your dreams -- you spot it from across the room and it's love at first sight. Suddenly, shop assistants appear with glittering ear baubles and shimmering wrist candy, assuring the panicked bride that the company knows best -- you must buy this statement necklace/waist belt/hair piece (delete as applicable) OR ALL IS LOST!
Time out, ladies, this is getting a little OTT.
There's nothing wrong with your choice of jewelry. It's your w-day and you'll accessorise your gown however you want to. If you don't like what the sales assistants drag out from their treasure chest of bridal jewelry (or it's too expensive), run a mile.
At the end of the day, you know what looks good on you.
Over the years, I've been to all sorts of weddings; from the modestly minimalistic to the excessively sparkly (the bride wore a tiara which looked as if it had been pulled out of a six-year-old's dressing-up box). And I've learned that there's no wrong way to accessorize your wedding dress.
Whether you choose to rock up to your wedding in Grandma's pearls or chic, diamond chandeliers, trust your instincts and feel beautiful!
But if you're still experiencing a little nervousness about picking out your bridal accessories, we've got a few tips to give you a nudge in the right direction:
Don't rush into buying anything. Choose your dress first and think carefully about the overall look. For example, if you've got a particularly low neckline, you should fill that space with a cute pendant. Select your focal piece and stick with it.
Find inspiration by checking out wedding pictures online (or in magazines) and know exactly what you're looking for before you start popping tags. Panic shopping often leads to purchases that you don't feel happy with, which is exactly what you wanted to avoid in the first place!
Although it may be tempting to indulge in bridal treats, they sure can break the bank. Besides, over-accessorizing detracts from the main star of the night -- your dress.
Try to work on your balance. If your gown is glam, choose minimalistic accessories which complement, rather than clutter, your look. If your dress is a little plain, invest in something on the sparkly side. When in doubt, under-accessorize. If there's a whole lotta glitz going on, your natural beauty can't steal the show!
If diamonds never were your best friend, now's not the time to hang a hefty rock around your neck. Your wedding accessories should enhance your prettiness on the day, but most of all, they should reflect your personality.
Don't be afraid to look at your jewelry box before you go shopping. Is there a gorgeous statement piece there that means a lot to you? Problem solved.
Whoever said that you had to splash out on wedding jewelry? Let's be honest, the whole shebang is already costing you an arm and a leg. You can find some amazing pieces for sane prices on sites like eBay, Folksy, and hey, even your favourite costume jewelry page.
All that glitters is gold, but it certainly comes at a considerable price. Fortunately for broke brides out there, budget jewelry can be just as beautiful.
Are you a bride-to-be who's already planned out your bridal bijoux? Let us know your tips in the comments, and read more of Zoe's style-centric posts on the blog section of online costume jeweler, Pearl & Butler.
Popular in the Community