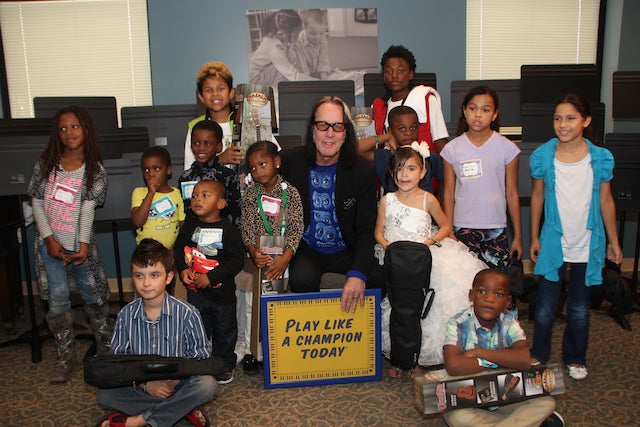 For five decades, Todd Rundgren has synthesized his seemingly limitless artistic abilities into a wondrous web of creative achievements. As a songwriter, producer, guitar player, bandleader and technical visionary, his prodigious talents have helped shape and alter the musical and cultural landscape in ways that are hard to measure.
But Rundgren has rarely shown interest in hyper-analyzing (or paying much mind) to his past. A futurist in every sense of the word, his reputation for looking on to the next horizon has become something of a trademark, and if it has frustrated the world that he always refused to take the easy road, one gets the sense that he could care less. And to his fervent, faithful legion of supporters, his tendency to forge ahead is not a bad thing, but rather a badge of honor.
At one of his now annual weeklong events where he hangs with and communes with fans, he became inspired to add yet a new title to his ever-growing artistic resume: philanthropist. It occurred during a 2013 gathering in New Orleans, and the resulting non-profit project, the Spirit of Harmony Foundation (the name an homage to a late-70s musical fairytale) was born amidst encouragement from those in attendance.
The simple, stated goal is as follows: The Spirit of Harmony Foundation was formed in order to promote the enduring importance of music education in our schools across the nation. This program is the inaugural gathering of concerned and influential citizens asserting their combined efforts to stimulate our society to act on those issues that support music education.
Like anyone that enters the non-profit world, Rundgren understood up front that he needed support staff; people of like-minded vision that he could trust. Enter Executive Director Jean Lachowicz and Chairman/COO, Ed Vigdor.
Lachowicz told me, "I've been working for nonprofit organizations my entire adult life, and have been an officer on numerous boards, particularly in the areas of youth development and social justice. When Todd became interested in formalizing our group's philanthropic efforts, he asked me in his own special understated way "Do you know how to do this?" After that, Ed and I were off and running to incorporate, secure our 501(c)(3), and develop a strategic plan to implement Todd's vision of music education advocacy."
And she has been impressed with the amount of latitude Rundgren gives them.
"Todd has very strong ideas regarding the mission and vision of the organization, but leaves much of the implementation to us. Integrity and focus are always of paramount importance and he thinks very deeply and brilliantly about this endeavor. Our Foundation is unlike any other, as our focus is on matching music programs with the resources they need to excel. We develop relationships and networks, and help music programs "fill in the cracks" in their operations. The work is extremely labor intensive, and has both micro and macro aspects. We are in contact with large organizations, and also spend a great deal of time working one-on-one with individuals, and everything in between."
Vigdor, who has worked in the past with Rundgren on a variety of productions, echoed Lachowicz's enthusiasm. "Working with Todd is always a great experience, interesting, challenging, always fulfilling. He is always in the driver's seat, certainly the case with the foundation, but also allows me to make meaningful contributions. To the foundation specifically, it has been a process. He immediately embraced it and led the development, in complete conceptual control, but he also needed time and space to define what the mission/vision/implementation of the foundation would be. Having never led a non-profit he also need time defining his role getting comfortable as president."
I asked Rundgren if there was a moment in his early musical life where someone made a positive difference; providing some valuable influence or simple direction.
"I was substantially self-taught but I did I have something special that happened while I was in junior high," he explained. "I got into a chorus class which automatically became my favorite thing in school, but that was also primarily due to a teacher who was especially skillful. He was avuncular in a way and never told you you were terrible (laughs). But I learned fundamentals of singing from him that I still apply to this day. Little things like knowing how to pronounce the words-when you're singing it's different than what you do when you're talking – again, basic fundamentals I never forgot.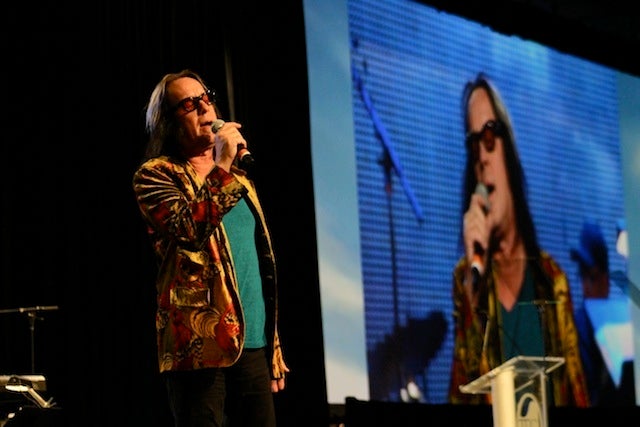 Rundgren also explained to me some of the science behind his foundation's mission, and why it matters.
"I think music classes were always fun for most people and provided certain positive reinforcements for students. Learning how to work with others, being social and things like that. That's the conventional wisdom. But what we've gotten recently is actual hard scientific data about the effects that learning music has on the brain; how we process sound. It turns out there's a window in there when it's most effective. Certainly there's nothing wrong with learning how to play an instrument in your teens or your 20s but you won't get the same effects as you would by learning about music at a younger, more developmental phase. And the reason why we refer to this as a 'moral imperative,' is that in addition to all the benefits that it gives kids for the rest of their lives (because it does re-wire your brain and change the way you process sound), it also can even the playing field for kids that come into the educational system disadvantaged for instance by growing up in a home we're perhaps the parents don't have a broad vocabulary, so parts of the brain don't develop properly because they're not challenged.
"And there's also things like malnutrition which makes it harder for certain kids to learn properly and focus and we've found that a lot of these problems can be ameliorated if kids get into music programs early enough. It's more than just 'feel good.' We've got some science to back it up. And when you listen to the world differently and you process sounds differently, it has a great effect on how you react and respond to things. We think what we are doing can really make a substantial, positive difference in many lives."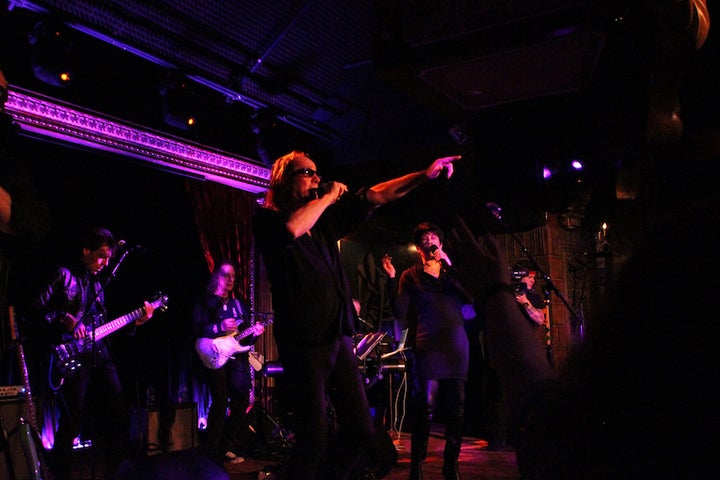 Recently, the foundation hosted a rousing, sold-outbenefit concert in New York City featuring Rundgren and special guests. The funds raised will go toward operational costs and the show further helped draw focus to the moral imperative of music education. But as Vigdor points out, "Every charitable organization needs monetary donations, but we are also very interested in people who would like to offer resources of all kinds—everything from musical instruments and accessories to band uniforms and sheet music."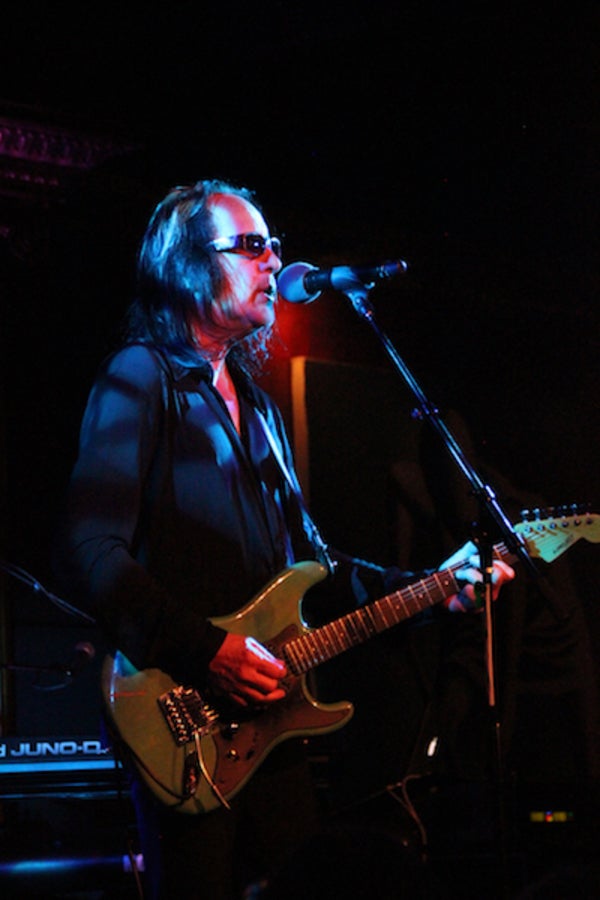 Short term goals for the charity include continuing to develop their Ensemble program, a database that allows music programs to request what they need, and then find a match with the resources to fulfill those needs, along with updating and refining their Advocacy Toolkit and web-based resources. Additionally, they'd also like to develop more opportunities for grassroots involvement in their advocacy work.
In the long term, the charity would like to build a network of professional musicians and experts others in related areas, willing to lend their expertise and education to the cause.
"Shining still, to give us the will," Rundgren sang on the shimmering atmospheric anthem, "Just One Victory," originally recorded back in 1973. Thankfully, Rundgren still understands and embraces the power of music and its ability to give people the will to do good; to learn, to live, to thrive.