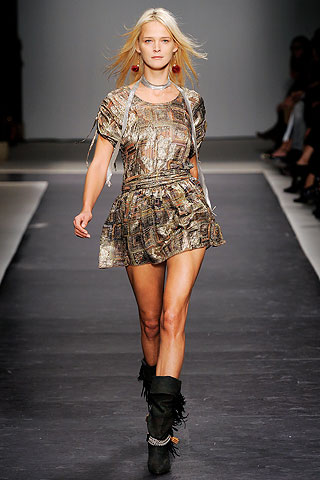 I fell in love with fashion, and French fashion in particular, at a café on the corner of rue du Buci in Paris. I've flirted with fashion my entire life - but witnessing the endless parade of effortless Parisian street style at this five street intersection sealed the deal. There was certainly a theme to how women dressed, but it was hard to put my finger on it. Blazers, scarves, little printed dresses, chiffon skirts and flat boots - I studied every woman walking through that intersection and found each look individual, different from the last. On that trip a decade a go, I spent hours scouring the racks of dozens of stores and uncovered the secret that is Isabel Marant.
This fashion love affair began in my honeymoon. Don't pity the husband because he fell in love too - with wine. We returned every year, often twice, to pursue our respective passions. My husband became friends with the co-proprietor of Fish, a restaurant with an excellent selection of wine in Saint-Germain-des-Prés, located almost directly across the street from Isabel Marant's Left Bank store. He spent many afternoon's there - tasting, learning, and cultivating his palette, eventually leading to a career in wine. We frequently walked to Fish together from our rented flat and then separated. I made a beeline for Isabel Marant - an epicenter of French cool girl fashion, a block away from that five street intersection.
A visit to Isabel Marant's store at 1, rue Jacob bridges-- the divide between shopping and cultural experiences. On weekends, there is a congregation of fashionable French women, from teens to a certain age, parading in and out of the store's four tiny dressing rooms trying on clothes. They share in common great style. That is the thing about Isabel Marant - her clothes are a style, not a trend or season. They are not too precious, not overdone - they are the kind of clothes that stand out, but not in an obvious way. Basic in that you want to wear them everyday, but not at all blah. These are little jackets with an interesting shoulder or sleeve, day dresses in cool patterns, tops with interesting details, patterns, and very cool boots you can walk in. They are clothes to collect and build upon as part of your wardrobe.
When I talk to women in Paris about fashion - Isabel Marant always comes up. Even my practical Petit Bateau - wearing friends, who can't be bothered with fashion, adore her. She is independent, an entrepreneur and a successful businesswoman who has not sold out. Isabel Marant's clothes are special. All the cool French girls love Isabel Marant.
My friend Trina of Métier, widely regarded as San Francisco's most fashionable clothing boutique, says there has been an explosion of interest in Isabel Marant in the last year. Isabel Marant combines femininity and edge in a way women crave today - effortless, chic and wearable. According to Trina, customers love Isabel Marant because they can incorporate her pieces into their existing wardrobe. Here's what interesting - women who buy Isabel Marant pieces are downtown urban, bohemian and career women that want to look sophisticated but not stuffy. They are moms who want to be comfortable, but not at the expense of sacrificing their style to sweats. Style is what these women share in common.
Over the course of a decade of visits to Paris I've acquired dozens of Isabel Marant pieces, every one as "of the moment" today as the day I bought them. This spring, Isabel Marant will become more widely available on net-a-porter.com and at the designer's first U.S. outpost in Manhattan. She is suddenly in the press by way of Emmanuelle Alt, Sienna Miller, Diane Kruger, Claudia Schiffer, Milla Jovovich and Chloë Sevigny - fashion superstars who wear her clothes. Will her clothing become less special? I don't believe so. Isabel Marant's designs are not a trend you can put your finger on. She makes pieces that define a style within yourself - original in how you wear them and make them your own. And that is why all the cool girls love Isabel Marant.