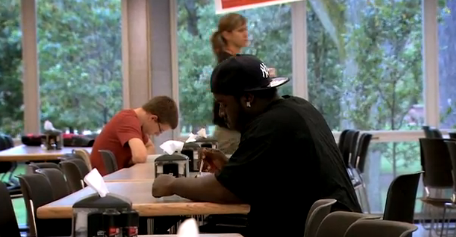 His father killed his mother when Robert Henderson was just an infant. His grandmother, who didn't have more than a fifth-grade education, raised him and his six siblings. The family lived in one of Chicago's most violent neighborhoods. 
Krishaun Branch grew up in the same neighborhood, in public housing with his mother and brother. Both of Branch's parents have gang histories, and by the time Branch reached high school, he had also been involved in gang activities.
Henderson and Branch weren't the type of kids who typically get into and graduate from college. And yet, despite many bumps in the road and thousands of dollars of student debt, both earned college degrees in four years. Their stories ― glimmers of hope for a struggling community ― are the subject of a recent PBS documentary called "All The Difference."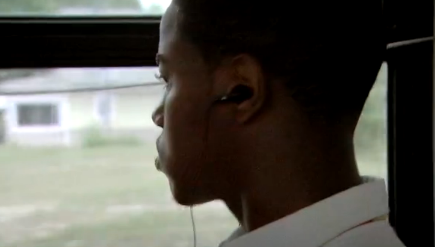 The documentary follows the two young men through their senior year of high school and four years of college, including several moments when ― had they not had the right mix of luck, family support and resilience ― they might have easily fallen off track. For disadvantaged students like Henderson and Branch, the film shows, the combination of many little things that can make all the difference. 
"All The Difference" was also inspired by writer Wes Moore's book, The Other Wes Moore. It tells the story of someone with the same name as the author, from the same neighborhood and background, who went down a vastly different path. The other Wes Moore is serving a life sentence for murder, while the author is a military veteran, former White House fellow and social entrepreneur.
Wes Moore and his mother, Joy Thomas Moore, served as executive producers on "All The Difference." Together with filmmaker Tod Lending, they said they want the film to highlight the many structural barriers to success for low-income students of color. HuffPost recently spoke with them about making the documentary. 
How did Robert and Krishaun become the subjects of this documentary?
Tod Lending: They both represent their community in that they both come from very tough backgrounds. Both of them had entered high school two to three grades behind in reading, writing and math. We felt like these two young men, they have stories that we think a lot of young African-American men can relate to, coming from situations of poverty. We made it a real point to not select two guys who were considered exceptional students, who were, of course, going to make it through college.
We also wanted to tell a story that was not a pull-yourself-up-by-your-bootstraps story. The success that they ended up finding was a result of not only their own self-determination ― which, of course, that plays an important role ― but most importantly it was about the support systems and support structures around them.
Joy Thomas Moore: One of our goals in making this film is that we wanted to flip the script on who is considered college-worthy: Who do you expect to go to college? Who do you expect not to go to college? So many young men, early on, are told by those around them, their teachers, others in society, that they're never going to make anything of themselves. 
What do you want the takeaway of this film to be for audiences?
JTM: People need to believe that kids who they might not assume can make it can, in fact, make it ― if we as a society put those opportunities in place.
TL: We want audiences to walk away with a sense of a counter-narrative of what we see when we think of young African-American men coming from backgrounds of poverty. Especially this year and in Chicago, we have just been inundated with negative media. It instills in the public a stereotype of young African-American men being violent and uneducated, unmotivated, uncaring. We desperately need these types of stories, like "All The Difference," that present a different story of what's going on in these communities. 
Wes Moore: We need people like Robert and Krishaun to win. Our communities are better, our society is better, our neighborhoods are better if students like them win. One of the things I really like about the film is the idea that oftentimes, a narrative about why people don't make it through is 'Oh well, they should have focused more or worked harder,' or all these other false narratives that exist about all the challenges so many people are having. Is that a portion? Absolutely. But people have to understand why people don't make it through ― it's because structural barriers do exist. 
How are the boys doing now?
TL: They're doing well. Krishaun is working at [his former high school] Urban Prep Academies in admissions and doing recruiting as well. He's excellent at it ― the young men can really relate and identify with him.
Robert did really well at [the education-focused nonprofit] City Year ― he did a year of community service. Once he completed that, he went to Colorado to do more math tutoring with students coming from situations of poverty. He's in transition right now. He's been accepted into the Peace Corps, so he's thinking about that. And then he's also applied for the police academy in a suburb outside of Denver.
That's the other beautiful thing about this film, and there's no way we could have predicted this ― that the young men, upon graduating each with over $40,000 in debt, they decided to go into jobs that were public service oriented.
This interview has been edited for length and clarity.
REAL LIFE. REAL NEWS. REAL VOICES.
Help us tell more of the stories that matter from voices that too often remain unheard.