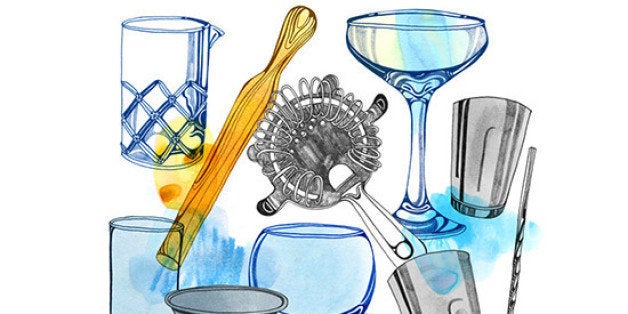 Oh, you like
,
Champagne? No need to purchase separate cocktail glasses and Champagne flutes for those high-class tastes. The coupe glass--commonly referred to as a Champagne coupe--was invented as a bubbly receptacle in 17th Century England. Later, it was said to have taken the design of many a royal's bosom, including
. Those rumors may or may not be true, but the unique shape of the coupe is nonetheless ideal for a variety of homemade cocktails.
As the name implies, this glass commonly houses the ultra-classic Old Fashioned--but doubled in size. It does double-duty in another way: with this glass, there's no need to own both an Old Fashioned glass
a double Old Fashioned glass. Instead, opt for the larger size, which can hold around 10 ounces of booze, mixer and ice. It doesn't have to be filled to sloshing. This glass looks enticing filled to just a third, with a nice, big ice cube and a good-lookin' garnish.
Some of the easiest drinks to make while entertaining are made in these slenderly tall glasses and often topped with soda water or tonic. The Collins glass, named after the refreshing
, can hold much more liquid than a double Old Fashioned glass, making it ideal for a sturdy pour of gin topped with tonic and everything from
to
.
Love great brandy and cognac, but don't have the space for a fancy snifter? Opt for a rocks glass with curved edges. The convex sides give a similar effect to a snifter, encapsulating the aroma. The glass encourages a special bond between you and that very special spirit. These rocks glasses are also great for hosting parties. Repurpose your fancy salad bowl as a punch bowl and use these rocks glasses as punch glasses. No one will know the difference.
While having the right glassware is key, having the right tools to make the cocktails properly is, arguably, even more crucial. If you're a big fan of spirit-forward drinks like the
and the
, a mixing glass is the one tool you can't skimp on. Be sure to buy one that has a thick, solid base, so it doesn't scoot around the counter when you're mixing a drink.
Ever notice bartenders behind the stick shaking two cocktails at once? It's certainly a skill to aspire to. For the home mixologist, one shaker ought to do the trick. The two-part shaker, like what's often used in craft-cocktail bars, is as easy to use as it is to clean. Simply employ the larger half to mix together the ingredients, add ice and put on the smaller half at an angle, giving it a good smack to make sure it doesn't fly off while you're shaking. That's a mess no one wants to clean up.
If you've ever mixed a cocktail before you'll know that this handy spoon is as important as any mixing vessel. While it's not terribly useful for eating a bowl of cereal, the extra-long and narrow handle makes it easy to chill and dilute a cocktail in a mixing glass before it's served. (
) Plus, many recipes call for a "barspoon" of one ingredient or another, so it's useful to have around even if you are more apt to fix yourself a shaken drink.
The trick to a cocktail that tastes fantastic every time is mastering the art of the perfect measurement. And the best tool for achieving this is with the humble jigger. Often with one side measuring one ounce and the other measuring two ounces, it's simple to measure precisely.
Got that mixing glass and spoon and ready to transfer your Martini over to a coupe glass? Well, if you want to do that without a big
of ice cubes, invest in a Hawthorne strainer.
, the strainer has been around since the late 1800s. And while, yes, there is also a Julep strainer that is also quite handy, for beginner at-home mixologists, the Hawthorne is a great tricycle. Its simple design fits easily on a mixing glass or shaker to keep ice, muddled fruits and other ingredients from mucking up the bottom of your glass. No one wants a chunk of muddled strawberry hitting them in the face when they take a sip out of an elegant coupe glass. No one.
With summer quickly approaching, fresh fruits and herbs are in top form. That means muddled ingredients will be showing up in cocktails on the regular. If you want to emulate some of these drinks at home, buy a wooden muddler. The handle is about as no-slip as you'll find and the blunt end and stable design make it easy to put as much pressure as needed behind the tool to extract juices and oils--a must if you're making a
or a
.
Related