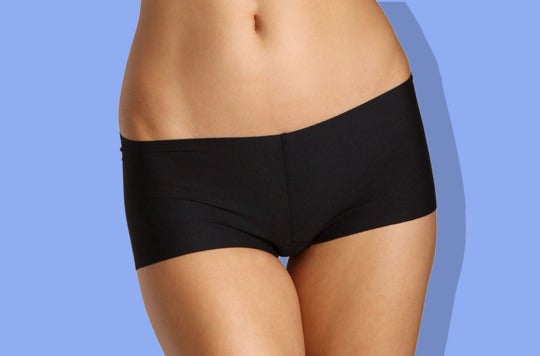 As a Hollywood costume designer, I once worked with a 90s sitcom star who only wore cotton bikini briefs and didn't care one bit about panty lines. As she put it: "I quite like them—can you imagine if people thought I wasn't wearing any underwear?" Her attitude was refreshing, as the amount of time I've spent discussing celebrity underwear choices in my 15 years of this profession could have been better spent doing literally anything else (like knitting a sweater out of chihuahua hair). Not many clothing issues provoke as much discussion among stars and civilians alike as to what, if anything, we should be wearing underneath form-fitting pants, tight dresses, or workout leggings.
For years, I wore nothing under my workout gear until a rip in my leggings mid-Pilates class caused me to rethink every life choice I'd ever made. I asked around, and one of my friends pointed me toward raw-edged cotton blend microfiber boyshorts by Commando, made right here in the USA. They are whisper thin, lay perfectly flat like a second skin, and are absolutely invisible underneath every single pair of pants I own. If you've ever wondered what the stars on the red carpet were wearing underneath those sheer, unforgiving gowns, the answer is almost certainly a pair of Commandos.
Commando's boyshorts are both elastic and trim-free—which means they won't dig in, bunch up, or cause lumpy, unflattering bulges under a flattering pair of pants. They don't ever shift around, slide, twist, or reveal themselves once you start moving and sweating. The brand also offers multiple styles (including thongs, bikinis, granny panties, and even Spanx-like tummy-concealing underwear), but wearing the boyshort truly feels like wearing nothing at all. Best of all, the wide sides help them stay securely in place — because a wedgie under a body-conscious dress is not a good look or feel.
Commando Women's Cotton Boy Shorts
___________________________________________________
Every editorial product is independently selected. If you buy something through our links, New York and/or HuffPost may earn an affiliate commission.
More from The Strategist:
Related