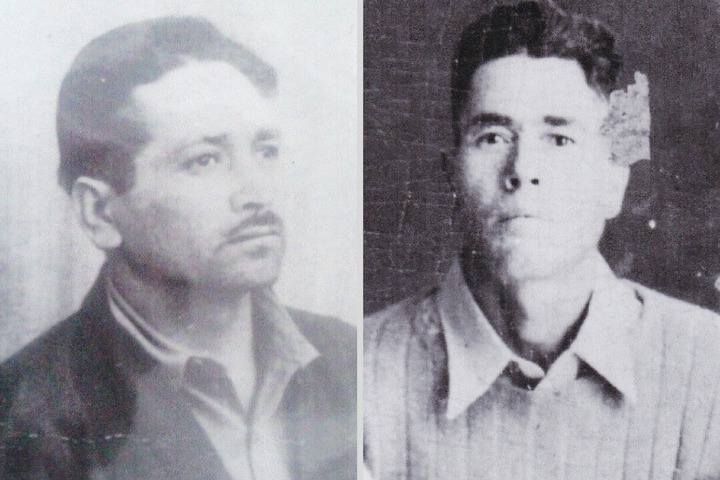 On the morning of January 28, 1948, a plane traveling from Oakland to the Mexican border crashed in Los Gatos Canyon, California, about an hour southwest from Fresno. All 32 people on board died that day. Twenty-eight of them were Mexican farmworkers who were in the United States because of the Bracero Program.
All the people on the plane died the same way, but in death, they were not treated the same. For the four American crew members, U.S. officials gathered what remains they could, and sent caskets to their families. The remains of the 28 Mexican braceros were not sent back to Mexico to be repatriated or given proper burial by their families. Instead, they were buried in a mass grave under a tiny plaque that read only "28 Mexican citizens who died in an airplane accident near Coalinga." Even the media that reported the accident referred to the 28 Mexicans only as "deportees."
These migrant workers were invisible in life and nameless in death.
But now, 70 years later, the world finally knows who they were, and their stories are being told in a book called All They Will Call You by Mexican-American author Tim Hernandez. We follow Tim's 7-year journey to shed light on this incident — a journey that all started with a Woody Guthrie song.
Listen to the story by clicking on the following NPR.org link:
Story produced by Fernanda Echavarri and Maggie Freleng.
We've posted Tim's full list of the Mexican passengers below. If you or anyone you know might be related, please email Tim at TZhernandez@yahoo.com.
*Families who have been located
Miguel Álvarez Negrete, original de Puebla, familiares desconocidos
Tomás de Gracía Aviña, madre Rosa Mercado, calle Juárez, Tepic, Nayarit
Santiago Elizondo García, de Cotija, Michoacan, padre Valentino Elizondo, Ocotlán, Jalisco
Rosalio Estrada Padilla, de San Juan de los Reyes, Jalisco, esposa Concepción Padilla
Bernabé García Lopez, de Magdalena, Jalisco, calle Ochoa 248, Tijuana, B.C.
Salvador Hernández Sandoval, padre Jesús Hernández, Jalpa, Zacatecas
Severo Medina Lara, padre Hipólito Lara, Jua—, Zacatecas
Elías Macías Trujillo, padre Juan Macías, Esenada, B.C.
José Macías Rodríguez, de Mamalisco, Jalisco, parientes desconocidos
Luis Medina López, padre Daniel Medina, calle Cinco de Mayo, Monareal, Michoacán
Manuel Merino Calderón, padre José Merino, Calle Once Oriente 213, Puebla
Martín Navarro Razo, de La Barca, Jalisco, parientes desconocidos
Ignacio Navarro Pérez, padre José M. Navarro, esposa María Luisa Zarate, Rancho Cerrito, Michoacán
Román Ochoa Ochoa, padre Roman Ochoa, esposa María
Apolonio Placencia Ramírez, padre Ramón Placencia, calle Torquemada 77, Colonia Obrera, México D.F.
Alberto Raygoza Carlos, padre Cruz Raygoza, calle Florida 325, Colonia Noche Buena, Mexico D.F.
Guadalupe Rodríguez, padre Guadalupe Rodríguez, avenida República Brasil, México D.F.
María Rodríguez Santana, esposa del anterior, padre Hilario Rodríguez, de Juchitlán, Jalisco
Wenceslao Flores, padre Jerónimo Ruiz, de Nochistlán, Zacatecas
Juan Ruiz Valenzuela, padre Jerónimo Ruiz, de Nochistlán, Zacatecas
Jesús Santos Meza, padre Sabino Santoy(s), Ahualco de Mercado, Jalisco
Baldomero Torres Marcas, padre Martín Torres, Mexicali B.C.
*Ramón Paredes Ramírez, padre Vicente Paredes Villa, Santiago, Guanajuato
*Guadalupe Ramírez Lara, padre José Ramírez Villa, Santiago, Guanajuato
*José Sánchez Valdivia, de Nochistlán, Zacatecas, parientes desconocidos
*Luis Miranda Cuevas, madre Isabel Cuevas, Fortuna 3, Jocotepec, Jalisco
*Tomás Márquez Padilla, padre Tomás Márquez, San Julián, Jalisco
*Francisco Durán Llamas, de Aguascalientes, Aguascalientes, padre José Duran
CORRECTION: An earlier version of this story indicated the plane crashed on Feb. 27, 1948, instead of Jan. 28, 1948.
Calling all HuffPost superfans!
Sign up for membership to become a founding member and help shape HuffPost's next chapter