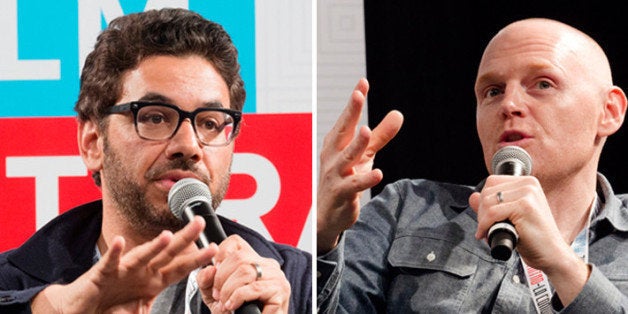 The idea behind All Things Comedy is the opposite of selling out. It's to give comedians the promotional support they need without sacrificing ownership. What a novel idea.
Founders and comedians Bill Burr and Al Madrigal started the by-artist, for-artist comedy network with 10 podcasts in 2012, and now have around 80 professional comedians and 60 podcasts working together. With nearly 5 million listeners per month, according to Madrigal, the strategy of having "lone wolves banding together" helps comics get exposure and promote each other instead of paying a lot of money for someone else to do it and sacrificing creative control.
During a panel at Austin's South By Southwest festival on March 16 called Owning Your Work: The Future of All Things Comedy, Burr and Madrigal discussed the ins and outs of their operation and how they are working to help comics carve out their own paths in show business and avoid traditional gatekeepers. Doug Benson also sat in on the panel moderated by Chris Kerns of Trendology. As a comedian who has been podcasting longer than most -- "Doug Loves Movies" has been going on since 2006 -- he certainly knows a thing or two about being an independent comedy contractor.

Photo by Mindy Tucker
Here's what we learned from the three veteran comedians and podcasters about building a self-owned comedy career.
1. Own your work, even if it means turning money down in the beginning.


Photo by Mindy Tucker
Bill Burr: "Artists are always coming up with scenes, whether music or comedy, and what ends up happening is a business person comes in, corrals it, turns it into a business model and says, 'Hey, this is great, what you guys created. We're gonna own it and we'll let you know how much money we've made.'"
Al Madrigal: "All Things Comedy started in the Comedy Store parking lot about four or five years ago. We were both ranting to each other about how people are going to try and come in and take [podcasting] away too."
Bill Burr: "I said, you know someone's going to come in and corral all these podcasts, just like radio shows and turn them into a network. There's no reason why we can't do this. So we just decided we were going to get the best podcasts we could get, and unlike the old school business models where you join our network and we own either your podcast or you gotta give away 50 percent of it, there wasn't any of that. You get to keep all of your content and through the strength of all the artists, through the exposure we can give each other we all rise up, and at the end of it whatever money is to be made for once the artist gets it."
"We actually approached these people to build our first website and they saw the potential and wanted to buy in. So we said, 'All right, we need start up money. What's your offer?' And they said 'We're going to own 90 percent of it, you're going to own 10.' We were like, 'Dude you were just building our website! No!'"
"They kept whittling down to the best they came up with was like 65/35, and then we just walked. They couldn't believe it. They were so used to fucking people that hard they didn't even think they were doing anything wrong."
Madrigal: "They ended up offering us 50/50 and they were going to pay the two of us $100,000 a year and we said no, thank you, and did it on our own. We started with 10 podcasts in 2013 and now we have 60 and are well on our way to becoming this multi-channel network for professional comedians and everyone gets to own it. It's a collaborative effort and we really want to make sure that we don't fuck over anyone."
2. Don't be 'Bitter About Burnham,' A.K.A. Keep up with the times.


Photo by Mindy Tucker
Doug Benson: "The great thing about how it is now, is that you don't have to move anywhere, you can make content wherever you are and put it out there. Whether or not it will be accepted on a massive scale is another thing, but at least you have the opportunity... Especially YouTube stars."
Burr: "The first time I saw that happen was with Bo Burnham. People were saying there's this guy who just wrote these funny songs and sold out his first stand-up gig at this club, The Comedy Connection in Boston, which is like a 400-seater, on a weekend. With my generation, how you did that, was you did stand-up for 10, 12, 15 years, slugging it out, hoping to get a deal and get on TV or have some kind of killer half-hour special to get out there."
Madrigal: "I did it through the old system, tried to do it the old fashioned way, and here you have some kid just out of nowhere that's 21 that's never set foot in the comedy clubs just crushing it. It hurts a little bit, but then you don't concentrate on it. You jump right in there with him [...] There are plenty more Bo Burnhams out there."
Burr: "Of course, there were the negative people who said [Burnham] didn't earn it... I said I wish I did it the way he did it! He skipped all the, 'Hey, come out here, work for free and get completely screwed over with money' and all that. He went right to selling tickets... I thought it was a great thing."
Benson: "Welcome to the 'Bitter about Burnham' panel!"
Burr: "I feel that it's moved in a great direction and I don't think it's hurt comedy or anything like that. It's like music, it just changed. Now you're completely in your own driver's seat. You're in charge of your own destiny. I mean, there are a zillion more people because of it but I firmly believe that if you're funny, like back in the day, you're going to rise up."
3. Together, you can harness the power of social media.


Photo by Mindy Tucker
Madrigal: "We take all of our social followers and channel that into each other's efforts.
Burr: "I've been amazed at how easy it is if you get everyone to tweet at the same time, you can actually move stuff... We pool all of the [All Things Comedy] listenership together so when other comics have albums come out, we tweet about it at the same time."
Madrigal: "A good recent example is Ari Shaffir, who has the Skeptic Tank podcast [on All Things Comedy] and a new show on Comedy Central that a lot our comics are on. He had an hour special that had just come out... And we all got behind that. If you look at our Twitter feeds, we all jumped on that and promoted Ari on a traditional network."
"We're independent contractors banding together because we believe in this... I'm not going to make money off the backs of other comics. So if we get an investor who trusts us, and hopefully that will happen soon, everyone's going to share equally."
4. Advertising doesn't have to be a comedy-killer.


Photo by Mindy Tucker
Burr: "I think [advertisers] are starting to realize that they really have to relax way more than they did in the past. Shit that used to get you fired is not only something that will actually help the product, it will actually increase sales. Like when I did the Shari's Berries thing, I was laughing at the ad because it was so homophobic and homoerotic at the same time, I just started laughing. I thought it was a joke. At first they were upset and wanted me to take it down, but I didn't, and then they saw the sales go up and then they just rolled with it and re-tweeted it which was the smart move.
Benson: "I just get through the ads as quickly as possible, barely add anything and just hope everyone knows how to fast-forward through them... I don't say that, but I'm saying it now. Commercials exist so that there are things you might hear if you don't bother to fast-forward through them."
Madrigal: "I just want to take this moment to remind you that Doug is not part of All Things Comedy."
Burr: "But I think advertisers are realizing... You can actually sell it by making fun of [it]... Back in the day, if I worked for a radio station I would have had to sit there and be browbeaten, have to apologize and probably lose my job, and if I didn't I'd have to kiss everybody's feet."
Benson: "Plus, you gotta keep in mind is that our [podcast] content is going to be using a lot of language, inappropriate language and ideas that you can't get away with anywhere else, so the ads are kind of married to that. The roughest one for me was this product called Snus, a chewing tobacco that you shove in your mouth or whatever. But in the copy that they had me read, the last line was, 'This product causes cancer.' Um, now back to the comedy!"
5. Anyone can do it.


Photo by Mindy Tucker
An audience member at the panel asked for advice for people starting out in comedy and podcasting.
Madrigal: "It's just like with stand-up, I just tell them to start. You just have to start."
Burr: "And don't give up ownership of anything. There's no reason to ever do that. It might hurt you in the short run but in the long run, you own everything. It's all about content and you're creating it, why shouldn't you own it?"

REAL LIFE. REAL NEWS. REAL VOICES.
Help us tell more of the stories that matter from voices that too often remain unheard.
BEFORE YOU GO
PHOTO GALLERY
SXSW Comedy 2015