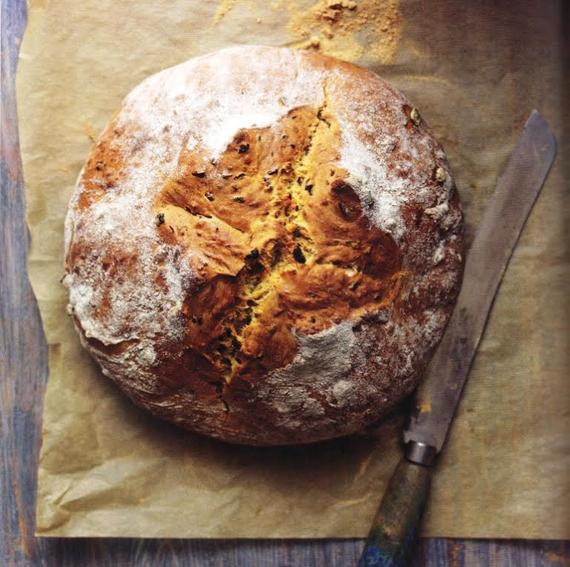 If you're celebrating St. Patrick's Day in Chicago, have an Irish Burger at Lucky Strike (topped with bangers, white cheddar and Guinness bbq sauce). In Boston, Anna's Taqueria has a corned beef and cabbage burrito. And in New York, Trattoria Bianca is featuring, of all things, a corned beef and cabbage pizza.
Beyond all that inauthentic annual silliness, I've fallen in love with Irish poets and writers. As an MFA candidate in poetry at the New School in New York City, I'm now one of Colm Tobin's adoring fans and am crazy about Paul Muldoon, Pulitzer Prize-winning poet and New Yorker poetry editor. Mr. Muldoon, a guitarist of some repute, is curator of Muldoon's Picnic -- a love fest of music, poetry, spoken word (and humor, of course) staged at the Irish Cultural Center here. It's sensual and delicious with an upcoming "Picnic" on April 13th. Equally exciting (and an idea for all cities as a way to connect their citizens) is the Irish Arts Center Book Day, when thousands of books by Irish writers are given away free in all the boroughs (until they run out) on March 17th.
I am also a fan of Irish soda bread and still enjoy a seductively simple three-ingredient pottage of pork shoulder and cabbage - a dish more famous in Ireland (I am told) than corned beef. Curiously, this recipe can be found in Low Carb 1-2-3, my low-cal, low-carb collection of recipes published ten years ago by Rodale (and still in print.) I am told it is authentic and known as "Irish Bacon" -- the traditional fare in Ireland served on St. Patrick's Day. The idea? A brined pork shoulder or Boston butt (with the bone) gets simmered with copious amounts of garlic until the sinews dissolve into obscurity. Into this broth a jolly cook sinks wedges of taut cabbage and boils them until their veins are tender and their leaves become silky, meanwhile passing the time with a Harp's or a Southwick. Then slice the pork thickly, recite some boisterous Irish poetry, and dig in.
While there are myriad books about Irish cookery on the market, The Best of Irish Country Cooking (Interlink 2015) by Nuala Cullen just arrived on my desk. It is fetching, with beautiful photography and sumptuous recipes. Her gratin of parsnips and pears scented with nutmeg; salad of lamb's lettuce and dandelion greens flecked with bits of crumbly blue; and lusty beef and mushroom pie deepened with Guinness and a surprise of anchovy, has me longing to cook. In the meantime, here is her recipe for a gorgeous-sounding savory Soda Bread with Onions. Ms. Cullen, the founding editor of the Irish Food Writers Guild, is an acclaimed culinary figure who has penned other books about Irish cuisine: Savoring Ireland and Irish Soups & Breads. I have not been to Ireland yet but will always remember that my best friend Arthur Schwartz (award-winning food writer and critic) told me the greatest steak he ever had in his life was in Dublin. Have a good St. Patrick's Day. You might consider celebrating all week. Buy some good Irish butter; cheddar, Irish whiskey...
Soda Bread with Onion (from Nuala Cullen)
This variation on classic Irish soda bread is especially good with pate.
1 large onion, finely chopped
¼ cup olive oil
3 cups white bread flour
½ teaspoon salt
1 teaspoon baking soda
2-1/2 cups buttermilk
2 teaspoons caraway seeds
Preheat oven to 350 degrees and grease a baking sheet. In a heavy pan, cook the onion in 1 tablespoon olive oil until dark brown and crisp but not burned. Cool. Sift the flour and salt together. Add this, with the remaining 3 tablespoon olive oil, to the rest of the buttermilk. Add the onions and caraway to the flour. Make a well in the center and add the liquid. With a fork, mix it all together thoroughly, mixing lightly until you have a fairly smooth texture, but don't knead. With floured hands, shape the mixture into a round cake, cut a cross in the top, transfer to the baking sheet and bake about 40 minutes; until the loaf makes a hollow sound when tapped on the bottom. Let cool. Serves 6 to 8
Rozanne Gold is a four-time James Beard award-winning chef and author of Eat Fresh Food: Awesome Recipes for Teen Chefs, Healthy 1-2-3, and Radically Simple: Brilliant Flavors with Breathtaking Ease.