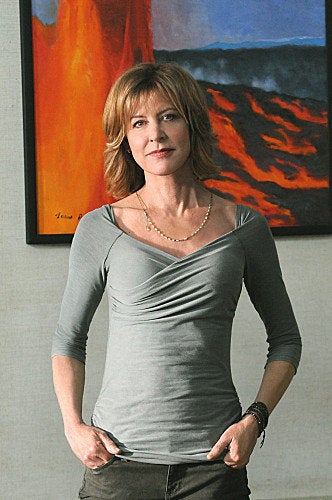 In 2010, one of the most popular shorts at the Frameline 34 Film Festival put a comic spin on what happens when a straight woman whose biological clock is loudly ticking convinces her best gay friend from college days to help her make a baby. The big question on everyone's mind was whether Jonathan Lisecki would be able to transform a tightly-written 12-minute short into a 90-minute feature film.
The full-term Gayby is a delightful new addition with no noticeable birth defects. Now in her thirties, Jenn (Jenn Harris) really wants to have a baby. A healthy woman who teaches Bikram yoga for a living, she turns to her best friend from college, Matt (Matthew Wilkas), to be her sperm donor. However, after considering the various options (Jenn doesn't even own a turkey baster), they decide to make a baby the old fashioned way.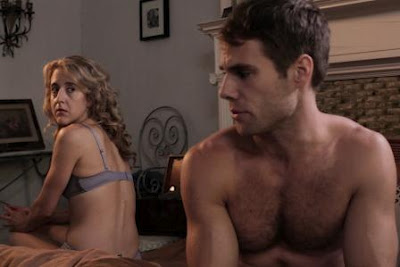 Jenn (Jenn Harris) and Matt (Matthew Wilkas) try to make a baby
Matt has a never-ending supply of dishy advice from his close friend Nelson (Lisecki), who trusts in the magical powers of his dead cat's ashes. Nelson has also taken on a new identity as a feminine bear. As soon as Matt commits to trying to make a baby with Jenn (who is staying over at Matt's while her apartment is being painted), complications ensue.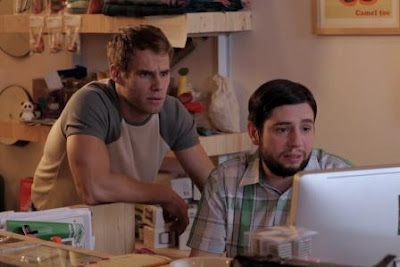 Matt (Matthew Wilkas) and Nelson (Jonathan Lisecki)
Matt (who lives in the apartment above his comic book store and is still trying to get over his ex-boyfriend) has been single for a while and is convinced that, as a man, he can stick his dick in anything. When Jenn has trouble getting pregnant, she turns to Ushma (Sarita Choudhury), an herbal counselor who gives her a special tea to spike her libido.
Soon Jenn is screwing Louis (Louis Cancelmi), the man she hired to paint her apartment. Louis is also her boss's brother.
After briefly meeting a string of horny Internet dates, Matt realizes he is not all that eager to have sex with another man without some kind of emotional investment in the event. While working in his comic book store, he gets cruised by Scott (Mike Doyle), a handsome young father who has come in to buy his son, Parker, a birthday present.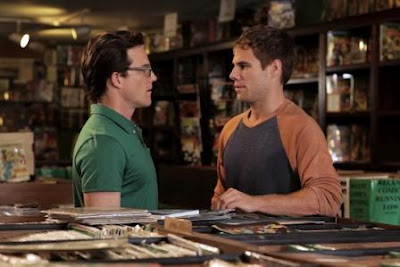 Scott (Mike Doyle) and Matt (Matthew Wilkas)
One night, Matt and Jenn's dates (Charlie Barnett and Dulé Hill) arrive at the same time at Matt's apartment. Meanwhile, Jenn's gossipy gay co-worker, Jamie (Jack Ferver), has spilled the beans that Jenn fucked their boss's brother.
After the baby is born, Jenn ends up with Neil (Adam Driver), one of Matt's geeky employees. True to form, Nelson ends up being a combination fairy god-bear and babysitter.
Lisecki's film is filled with easy laughs and bitchy repartee. The two leads are sympathetic, charming actors who easily win over the audience. Jack Ferver and Jonathan Lisecki steal every one of their scenes with the same kind of mischievous energy enjoyed by Sean Hayes and Megan Mullally on Will & Grace. Here's the trailer:
Whereas Gayby focuses on a woman who desperately wants to get pregnant, Petunia features a pregnant young wife who has absolutely no desire to bear children. Written and directed by Ash Christian (Fat Girls, Magnus), there's a great deal about Petunia that feels like a young filmmaker's homage to Woody Allen. In a way, I'm surprised Christian didn't just go for it and name this black comedy about dysfunctional New Yorkers Michael and His Brothers.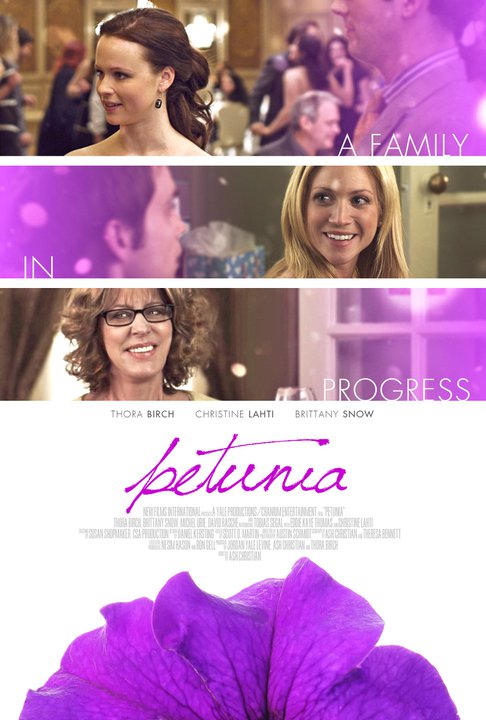 Poster art for Petunia
As the film begins, the audience meets Michael Petunia (Eddie Kaye Thomas) and his sarcastic new bride, Vivian (Thora Birch). Michael's head is filled with all kinds of what-if fantasies and a desire to explore the world. While not a stereotypical Debby Downer, Vivian could drain the life out of any party. She's already screwed Michael's younger brother Adrian (Jimmy Heck) who, as a confirmed sex addict, likes to paint images of female genitalia he has known and loved. Needless to say, Adrian's most recent paintings were all inspired by Vivian.
Then there is Michael's youngest brother, Charlie (Tobias Segal), a nerdy intellectual who is less than thrilled to inherit Adrian's collection of cunt paintings ("cunt kunst"?) while Michael and Vivian visit Adrian. Charlie may be a romantic dreamer, but he's somehow managed to catch the eye of fellow employee George McDougal (Michael Urie).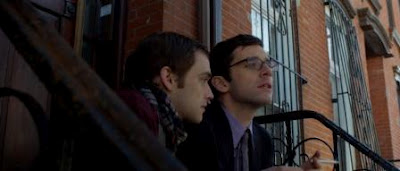 Charlie (Tobias Segal) and George (Michael Urie)
sit on the front steps of their building
The mother of the three Petunia boys, Felicia (Christine Lahti), is a psychologist with a lot of repressed anger who is stuck in a loveless marriage to another psychologist (David Rasche). Her professional training doesn't stop Felicia from inviting George over to tea and trying to goad him into anally raping her gay son, Charlie.

There's just one problem: George is married to Robin (Brittany Snow), a health freak who, because she is terrified of carbs, spends much of her time running and working out.
No trailer has been posted yet for Petunia (which is scheduled for release next winter), but some scenes from the film can be seen in the early part of this interview with two of Petunia's producers.
By the end of Petunia, dramatic changes have occurred in the lives of its principal characters:
Vivian has given birth and left Michael.
Michael and Robin are now a couple and she's consuming carbs like crazy.
Adrian has a new girlfriend named Lynn (Kathy Searle) and is painting women's faces instead of their cunts.
George and Charlie have become a same-sex couple who are raising Michael and Vivian's baby.
Felicia and Percy have moved all of their son Adrian's cunt paintings into their bedroom and are enjoying a healthy sex life again.
While Ash Christian still needs to tighten up some scenes, Petunia shows great potential to entertain and offend.
Calling all HuffPost superfans!
Sign up for membership to become a founding member and help shape HuffPost's next chapter