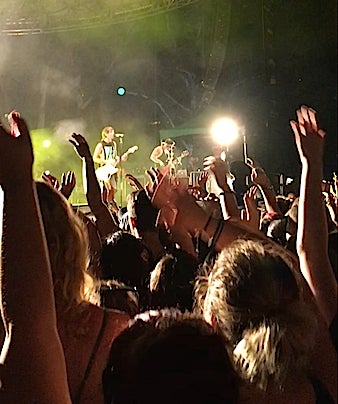 I just took my 14-year-old daughter, Lea, to her first rock concert. Writing the words 'rock concert' makes me giggle. I went to a lot of rock concerts as a kid. But it's been a while. Or, I should say, it had been a while.
Going was entirely Lea's idea. I was thrilled that she asked me, even as her means to an end. Lea wanted to see her favorite band, All Time Low, at SummerStage in Central Park.
My first rock concerts were at Madison Square Garden, where I worked my way through high school as a vendor ("Hey, soda here!"). I only remember a few of those shows, the ones that moved me to plunk down my soda tray (once emptied) and perch myself in an aisle to sit and actually listen. The Beach Boys, Elton John and Yes come to mind. Remember Yes?
I saw lots of shows at the old Academy of Music on 14th Street and remember most of them -- The Band, Santana, Lou Reed. I watched Johnny Thunders, the New York Dolls' lead guitarist, throw up on a table full of people at Max's Kansas City while trying to sing "Do You Love Me?" ("Watch me now!") I saw Mountain on New Year's Eve at the Felt Forum (remember them, and that?) I spent an entire night, into the early A.M., communing with The Grateful Dead as they closed the Winterland Ballroom out in San Francisco. I saw Springsteen at the Bottom Line when I barely knew who he was. I heard a lot of music at the Bottom Line.
I took up residence down at CBGB around 1978 for at least five or six years. There, I soaked in the sonic boom of The Ramones, also Television, and the boomlets of my pals, The Student Teachers.
I saw The Gang of Four, The Go-Gos and even Philip Glass at Hurrah in the West 60s; The Cramps and X at The Peppermint Lounge near Times Square; and The B52s (a lot) at the Mudd Club in what is now Tribeca.
Then, at some point approaching the millennium (and the impending birth of my children, as it turned out), I just stopped. I continued to go to jazz clubs and Broadway theaters, as I had throughout those rock concert years. The idea of a rock and roll show, though, particularly once CBGB and the Bottom Line closed, simply lost flavor for me.
Accompanying Lea was a re-tasting sensation. All of the essences came rushing back: The lines — knotted with kids sitting in communal pow-wow circles on the sidewalk. (Why would you want to sit on a New York City sidewalk kids, even in Central Park?) The race for a good spot close to the stage. Lea desperately wanted to be on her own once we were inside and I let her. She ran to the front. I found a nearby spot from which I could still more or less see her -- and reach her. I spread out my newspaper and dropped down on it, my back against a fence.
There were four bands in all. Here is what I noticed as they played:
Volume. What used to deafen me has been denatured by technology. The guitars still thrashed and the drums crashed but the sound system at SummerStage delivered the noise at surprisingly tolerable levels; which is to say, I never once felt the need to jam toilet paper in my ears. This also made the sound seem safer. Volume was no longer an intimidating presence.
Security. There was more of it everywhere, and more heavily muscled than ever. The duties of all this muscle, however, now included cooling off the crowd close to the stage with hoses, fans, atomizers of rose water (kidding). It was all very dainty and considerate.
Crowd Surfing. That whole crazy business has been child-proofed. In my day, when crowd surfers heaved toward the stage, bouncers literally grabbed them and heaved them back. People got hurt. At SoundStage, kids crowd-surfed nonstop, virtually all of them female, I couldn't help noticing. (Of course, Papa," Lea later explained, "the girls want to get to the band.") As the surfers reached the stage, though, the beefy bouncers literally caught them, like helicopter parents pillowing their toddlers off the jungle gym, setting them down on their own two feet. Those frisky surfers then scampered off to do it all over again.
The Bands. All the bands looked incredibly young (to me), of course. The Wrecks really didn't look old enough to shave; Waterparks looked like their slightly bigger brothers; SWMRS may have just gone off to college but they still keep stuff in their bedrooms at home, I'll bet (including the lead singer's dress).
All Time Low is what these kids will all look like in ten years. Doddering they're not, but All Time Low has been around now for over a decade, almost all of it spent touring. They are clearly wizened pros running down an act they've polished for some time, with precision and studied slovenly craft.
I liked them. I liked all of the bands actually. The music they all make could be called Pop Punk. In fact, it is called "Pop Punk" for award category purposes, I learned. This seems oxymoronish to me but, hey, I'm old. Guitars dominate, with speed-ripped three-chord riffs that have Ramones written all over them (and Green Day, to be slightly less prehistoric). The choruses tend to tunefully sing, rather than thrash. They also run a lot longer than three minutes. The Ramones' less is more seems to have gotten lost in translation.
All of the lead singers boasted keening boy sopranos. That seemed a little weird. Their high-pitched vocals crossed the commercial threshold into bubblegum pop. So palatable. It made me yearn for Stiv Bators and The Deadboys. Call me old-fashioned.
Listening to All Time Low I heard a catalogue of predecessors: The Buzzcocks, U2, The Bay City Rollers, Roxy Music even. Everything the band writes is catchy, which is a tribute. One tune, though, in particular, hit me where I live.
The song is called "Missing You." I've heard Lea play it around the house now for months. Listening to a park full of All Time Low kids singing it as a full-throated anthem moved me. The lyrics are the reason:
"I've heard that you've been/Self-medicating in the quiet of your room,/Your sweet suburban tomb;/And if you need a friend/I'll help you stitch up your wounds.
"I heard that you've been/Having some trouble finding your place in the world./I know how much that hurts,/But if you need a friend/Then please just say the word."
This refrain is the chorus of my innermost thoughts as a loving father, ever more worried about the impact of the encroaching culture on my maturing daughter. It is a song sung to a child secreted behind her closed door but it is a song of hope reaching out; a song of support and connection.
I admire All Time Low a lot for writing it. I very much doubt they had fathers in mind. Still, it is enormously reassuring to know that such a song exists.
I actually was knocked out by the shared concern that all the bands displayed for the well-being of their listeners. Time and again announcements were made from the stage reminding the crowd to watch out for one another. All Time Low even interrupted their set to ask everyone near the stage to back away for a young lady in danger of getting trampled. And they did. It all made Woodstock's "don't take the green acid" seem tame.
On a couple of occasions (it was a long night), I brought bottled water over to Lea, who was hemmed in but deliriously happy up close to the stage. I called her name and she turned, beaming, I reached for her and she reached for me and the water. Hands bobbed up all around us and politely passed the water bottles to my daughter. I was genuinely touched.
Later came another moment. As a member of the press, I was invited to move into the photographer's trench directly in front of the stage for the first four tunes of each band's set. I accepted for All Time Low. It was a cool spot to be, as the crowd surged and seethed behind us and the band leapt about, filling the night with noise. Suddenly, from over my shoulder, I distinctly heard Lea's voice: "That's my Dad!" she was crying out over the roar. "That's my Dad!"
Calling all HuffPost superfans!
Sign up for membership to become a founding member and help shape HuffPost's next chapter
This post was published on the now-closed HuffPost Contributor platform. Contributors control their own work and posted freely to our site. If you need to flag this entry as abusive,
send us an email
.