This is one story from Huff/Post50's new series "This Will Be Our Year: 15 Women Over 50 Shaking Things Up In 2015." We'll be following 15 remarkable ladies throughout the year as they make a radical change in their lives, whether it's embarking on a 500-mile hike, starting a new career or attempting to find love on the Internet. Start from the beginning here.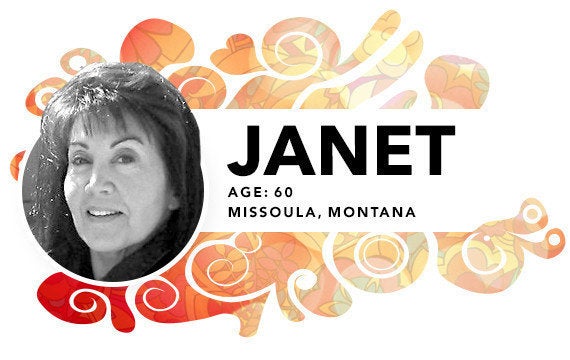 Janet Rose, 60, is launching the first all-equine film festival in Montana, EQUUS International Film Festival.
"I can't believe it's just a month away. All of the film entries are in, the speakers and venues are lined up and the issues and the topics are scheduled. We have filmmakers coming from all over the world -- it's quite amazing. We also have outfitters, authors, paralympians and other production companies coming. There just seems to be a tremendous amount of passion and interest. That's what makes it so heartening.
I'm shocked at how quickly people from all over the world have gotten involved. They're really recognizing how unique and special the the relationship between horses and humans all over the world is going back through time. From this event, we'll be in a position to really promote what was the foundation of this: adoption. We get to say, 'These are all of the horses available for adoption -- come take a look!'
I would say we're beyond where I thought we would be at this point. It's always a challenge having enough funding and time to do everything that you need to do. Having worked in news and film festivals, I know that this goes with the territory. You get done what you have to get done however you can do it. Fortunately, a lot of people are very supportive and generous with their time and resources, so that's how I've worked around it.
Will everything be perfect? No, because we're doing it with a very limited budget and I have to do a lot of other things in my life that have come up beside this. I've ended up working a lot of nights and weekends. But I'm very hopeful because of all of the support.
The biggest challenge now is the logistical details and getting the word out to publicize it. The next couple of months I'll be fine-tuning things, dealing with the logistical details, like making sure there are enough microphones, getting the awards ordered and checking that the technology is right. I'll be really busy on the details and just trying to ensure that it is a valuable experience for everybody attending."
PHOTO GALLERY
This Will Be Our Year: 15 Women Over 50 Shaking Things Up In 2015
Calling all HuffPost superfans!
Sign up for membership to become a founding member and help shape HuffPost's next chapter