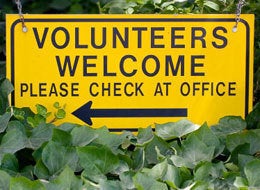 All volunteers are not created equal. Certainly three people may be equally able to read to a child, plant a tree, or serve in a soup kitchen. But what if you knew this group included a marketing executive, an editor for a publishing house, and a software engineer? Surely the marketing executive might better serve the education nonprofit by helping to craft a marketing strategy to get the nonprofit's name out to more donors, the editor might help the environmental nonprofit develop an online newsletter to reach more supporters, and the software engineer could help the soup kitchen create an intranet that manages volunteer logistics so that the nonprofit's full-time staff could spend more time with the homeless.
Although more than one quarter of the American population volunteered in the last year, most volunteers don't use their professional skills on behalf of nonprofits, even though those who do are more satisfied volunteers. The gross mismatch in the supply and demand of pro bono service is highlighted by the results of a recent Deloitte study in which 95% of nonprofit leaders indicate a need for more pro bono support, and yet 97% of those nonprofit leaders do not know who to approach to solicit skilled volunteers.
These are tough times for all of us, but the impact of the financial crisis on nonprofits is especially stark. Charitable giving fell last year by the largest percentage in 50 years, according to a recent study by the Giving USA Foundation. With so much on their plates already -- constantly seeking new sources of funding, managing employees, and of course the hard work of serving the greater good -- most nonprofits lack both the time and the tools to recruit, manage and utilize skilled professionals. As such, the people who can help make the biggest impact in our communities, our brain trust of highly-skilled professionals (many currently unemployed and seeking ways to volunteer while keeping their resume up-to-date), are not serving in ways that take full advantage of their skills.
Web-based solutions are not new solutions by any means. Idealist.org has been serving the nonprofit community for nearly 15 years, and VolunteerMatch.org has been matching nonprofits with volunteers for over 10 years. However, new volunteer matching Websites such as Serve.gov and, most recently, All For Good, blow away the cobwebs from the old notion of service and volunteerism with their Web 2.0 technologies (AFG is open source) and fresh vibe (Obama's marketing campaign is certainly cool). Functionally, these platforms solve one major part of the service dilemma, which is simply connecting supply with demand, by offering up a myriad of volunteer opportunities with just the click of a mouse. You can even volunteer while still in your pajamas! It has never been easier to find your cause and volunteer for it, either in your local area or abroad.
Yet, while the fundamental goal of these sites is to increase civic engagement, matching nonprofits and volunteers does not solve a much less discussed problem facing nonprofits, namely, the lack of organizational infrastructure and resources needed to effectively manage and utilize volunteers and their specific skill sets. In the same Deloitte study, it was revealed that 1/3 of nonprofits lack the structural ability to effectively deploy volunteers. As many nonprofit managers can attest, even when a nonprofit has overcome the hurdle of finding the perfect volunteer, figuring out ways to make efficient use of a volunteer's time and skills remains a challenge for many nonprofits.
The legal profession is a leading example of a field where its professionals use their skills when performing their volunteer activities. This "pro bono" model is beneficial to both the volunteer and the nonprofit client. The lawyer gets a welcome break from the monotony of her regular caseload (from the firm's perspective, good for employee morale), knows that her skills are being put to good use (making repeat volunteering more likely), and receives the emotional reward of helping someone in need (good for the volunteer). The client of course, receives quality legal counsel that would otherwise be unaffordable. With the American Bar Association codifying the decree that "a lawyer should aspire to render at least 50 hours of pro bono public legal services per year" it is not surprising that legal professionals have one of the highest rates of service performed of all occupations at 47.1 percent.
And while other professional associations have yet to push their constituents to volunteer their skills, professionals across all other business sectors are lining up to give their skills. In fact, the Taproot Foundation, a leading facilitator of pro bono business services, saw a 171% increase in demand from professionals who want to donate their skills. "The glut of laid-off volunteers has forced Taproot to stop all marketing and start turning away applicants", Taproot Founder Aaron Hurst said.
With the recent increase in volunteer participation throughout the country, bolstered by the President and First Lady Obama's passion for service, and now with the contribution of Web giants Google, Yahoo and Craigslist helping to make it easier for people to give anytime and anywhere, we are making important strides towards creating a national culture of service. However, as always, there is more work to be done.
We are still far from a world where every nonprofit can access pro bono services or where every professional can easily give his or her skills. Through the Web, we've brought volunteers and nonprofits together, but now we must figure how to get them work together in ways that consistently result in positive outcomes. The cultural gap between the nonprofit and for-profit worlds is vast. We need a scalable solution that helps nonprofit managers and for-profit professionals communicate effectively so that both parties get the most out of their volunteer experiences together. When we've accomplished this, not only will service be part of the fabric of American lives, but nonprofit and for-profit professionals will be finally speaking the same language.