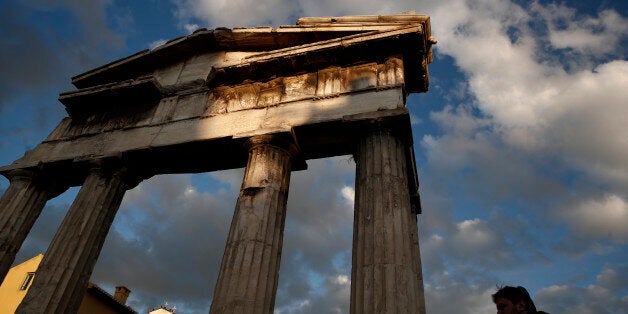 To whom it may concern, and it concerns hundreds of millions ...
Two weeks ago, the Greek people cast a decisive vote that reflects a number of desires that can be summed up in one word: dignity.
Ultimately, the Greek people chose this government not out of desperation but out of optimism; out of a belief that they can put the challenges of recent years behind them if...
Greeks simply don't feel they're getting that chance right now, with good reason.
With all of the talk of GDP growth, primary surpluses, and repayment schedules, what is being lost is the continuing human cost of austerity.
Unemployment in Greece right now is 25.8 percent. As a point of comparison, that is higher than the highest unemployment ever reached in the United States at the height of the Great Depression. Youth unemployment is even higher -- over 50 percent. My family is incredibly lucky to live comfortably, but too many Greek families can no longer put food on the table, much less help the future of their children. One study shows that Greece suffers a suicide a day due to austerity.
For too long, Greece has been unfairly singled out. Nations around the world run afoul of financial obligations, but we are called to account. People around the world work less hard then Greeks, but we are stereotyped as lazy.
Inspiring movements and capturing potential requires time, and it requires leadership.
When I served in the Greek Parliament, I was a member of a center-right party. Our new Prime Minister represents the left. You might think that I would reflexively oppose him, but I believe he represents the new leadership Greece needs. Now what he needs, is time.
The Prime Minister-elect had yet to be sworn in before he was subjected to an unprecedented attack from leaders throughout Europe. The media immediately started splashing front pages with dated headlines that told the story of our past, as if it was necessarily the story of our future.
The Greek people voted overwhelmingly for a new start. But Prime Minister Tsipras cannot deliver that new start alone. He needs help from World leaders and Europe's other leaders and the involved Eurozone officials, easing up the strict -- non-workable rules imposed -- on the Greek people.
And I believe if World and European leaders help Prime Minister Tsipras deliver dignity to the Greek people, the Greek people will deliver for themselves -- and the world.
Calling all HuffPost superfans!
Sign up for membership to become a founding member and help shape HuffPost's next chapter