Have you ever wondered where you should spend your next vacation?
Ever envisioned an extended period of tranquility?
Whether you just want to visit, or you have a bigger plan in mind, you will find this small Central American country a paradise, tucked away with beauty and nice experiences.
Located just south of Mexico in the heart of the Caribbean Basin is this rather interesting place known as Belize, where people of different kinds meet and mix in a subtropical climate that makes their world feel like there is no other.
Belize is the former British Colony, known as British Honduras, covering an area of almost 9,000 square miles, and with a population of less than 400,000 people, Belize has lots of "wide open spaces" to explore and discover. The population density is the lowest in Central American and one of the lowest in the world. The country was granted its independence from Great Britain in 1981 and is a member of both the British Commonwealth and the United Nations. In 2010, Belmopan, the capital city had a population of less than 15,000 inhabitants.
Belmopan is located in the Cayo District, east of the Belize River, 50 miles inland from the former capital, the port of Belize City. It was built after that city experienced a near destruction by Hurricane Hattie in 1961. The government was moved to Belmopan in 1970 to a newly built Pre-Columbian-Mayan-designed National Assembly Building that reminds the country of its past.
How to get to Belize?
Want to get there? If you ever wondered how you will get to Belize, or better yet, how you might get around once you get there, it's simple. The Belize international airport code is BZE and trips ending in Belize originate from cities around the globe. The airport is known as Philip Goldson International Airport. The airlines flying to Belize include United, TACA and American.
If you're still trying to figure out where Belize is, take Gail's (a Belizean child) view of location. In many schools, children like Gail are taught, "Belize is bounded on the north by Mexico, on the south and west by Guatemala, and on the east by the Caribbean sea."
Got it? You can literally drive to Belize from anywhere in the Americas!
Once there, you can choose to travel on the land or can head out to the largest barrier reef in the hemisphere. An in-country-flight airport, Belize Municipal (airport code TZA) is available. Two airlines provide in-country flights using both airports. There are daily flights between Belize International Airport, Belize Municipal Airport, Dangriga, Placencia, Big Creek, Punta Gorda, Corozol, Caye Caulker, Caye Chapel, Ambergris Caye, Flores, Guatemala, and Cancun, Mexico. As you get to know Belize, you will get to know some of these places.
Passports are required to enter Belize. If you do not already have a passport, you will need to acquire one long before you depart.
The Belizean dollar is pegged to the US dollar at the standard rate of $2 BZ to $1 US. US dollars are widely accepted in Belize, but bring small denominations. Travelers checks are accepted in only a few places and there is a charge for cashing them. Major credit cards are accepted in some large towns, but generally are worthless in rural areas.
You will want to bring some money to buy snacks and drinks while traveling. Souvenirs may be found at tourist destinations in Belize, and we will take some time in places where you can shop. Please note that there is a departure tax of about $15US that is paid at the ticket counter in the airport before you can leave the country. Please stuff this money aside for that purpose.
Wondering what to do in Belize?
Don't worry, there's lots! Here are some:
The area known as Belize was central to the vast Mayan Civilization existing around 2,000 B.C. Dozens of pyramids and ruins, most not yet excavated, can be found throughout the country. Some estimate as many as a thousand Mayan sites are in Belize. The Mayan influence can be detected in Belize, Guatemala, as well as other Central American countries and Mexico.
Here are two of the Mayan remains you should explore in Belize:
Caracol Ruins: This is Belize's largest Mayan ruin. It has recently received attention as the site of discoveries that have contributed to new understanding of the Mayas. This ruin is located deep in the Chiquibul Forest and only seven miles from the Guatemalan border.
Long thought to be a tertiary center, it is now known that the site was one of the most important regional political centers of the Maya Lowlands during the Classic Period. Caracol covered approximately 200 square kilometers, an area much larger than present-day Belize City (the largest metropolitan area in the country) and supported more than twice the modern city's population. Caracol was at first a client state of the more powerful city of Tikal, less than 50 miles to the northwest. Tikal's influence weakened during the mid-sixth century; losing control of Naranjo, located halfway between the two cities to rival Calakmul. In AD 531, Lord K'an I acceded to the throne. American archaeologist William Coe is said to proclaim Caracol, "The supreme Maya center."
Xunantunich (pronounced "CHEW-nahn-too-neech") is one of the easiest to reach and the most restored Mayan ruin in Belize. It is also recommend for your exploration. Xunantunich is situated about eight miles from the Guatemalan border. Perched high atop a hill overlooking the Mopan River, this complex was a major Mayan ceremonial center during their classic period.
It is said that Xunantunich was settled as early as the ceramic phase of the Preclassic period. It was not until the Samal phase in AD 600-670 that Xunantunich began to grow significantly in size, however. It's further noted that architectural constructions of Xunantunich boomed in Hats' Chaak phase (AD 670-750) when Xunantunich's connection with the polity Naranjo solidified. Beautiful stucco reliefs are on display and excavation projects continue at Xunantunich, also known as Maiden of the Rock.
From the top of its nearly 150-foot "El Castillo", one can see for miles into neighboring Guatemala.
Excited yet? How about a little thrill on the Caves Branch River?
This is a unique river that flows through the karst foothill region of the Maya Mountains in central Belize. Its headwaters are deep underground in a cave, and after it emerges it flows for 20-30 miles through rainforest before meeting the Sibun River. As the river travels through the jungle it encounters numerous limestone hills, and instead of following a path around these obstacles it plunges through them in a series of caves, some of which are 2 miles long.
Does this sound like something to explore? Those are only a few of a thousand things you can do in Belize, that is, if you make the time. Here are others.
Go kayaking on the Mopan River. The Mopan is a major tributary to the Belize River, the country's primary watercourse which flows across the country to the sea. Some tour companies run a whitewater section of this river as kayaking adventure. This section of the river contains exciting rapids, and guides include instructional sessions for the groups before they take off. Check that out.
Want to lay back on Caye Caulker for a day or two? Caye Caulker, is one of Belize's more popular cayes, only 20 miles north-northeast of Belize City. It is accessible by high-speed water taxi or small plane. If backpacking is your thing, this is your island! Food and accommodations are good. This caye is also great for snorkeling and diving. The nightlife of Caye Caulker is said to be one of the best in Belize. Caye Caulker is considered less expensive than its neighbour Ambergris Caye and is more relaxed.
Meet a new friend at Ambergris Caye.
This is Belize's largest caye with over one hundred hotels. It is also the island that many believe inspired Madonna's "La Isla Bonita." Ambergris Caye, pronounced /æmˈbɜrɡrɨs ˈkiː/ am-BUR-gris KEE, is located northeast of the country in the Caribbean Sea.
Though governed as part of the Belize District, the closest point on the mainland is part of the Corozal District. San Pedro Town is the largest settlement and only town on Ambergris. The caye is about 25 miles long from north to south, and about a mile wide. It is said to have gotten its name after large lumps of ambergris washed ashore.
A Maya community lived on the island in Pre-Columbian times, and made distinctive polished red ceramics. The island is generally considered busy as compared with the others in Belize and is more developed. The caye can be reached by plane from Belize City as well as by fast sea ferries. The main form of powered transportation on the island is the golf cart. Day and night activity on the island are abundant.
One writer wrote, "Ambergris Caye hovers in a vacation sweet spot: just enough amenities to make it exciting, but not so overdeveloped that you're tripping over flip-flopped tourists."
Learn some drumming in Dangriga or Hopkins.
It's been written that if you want to see the "real" Belize, you should not miss Dangriga and the village of Hopkins. "Although small by American standards, Dangriga is a regional center and has a distinct urban atmosphere," one author wrote, trying to induce the spirit of ecotourism. "Don't expect manicured beaches, good coffee, or shopping; this is where you go to immerse yourself in the culture." Dangriga is home to the Belizean Garifuna, a cultural and ethnic group, descendants of shipwrecked slaves and native Caribs.
The Garifuna adopted the Carib language but kept their African musical and religious traditions. Dangriga is the home of the Caribbean music, Punta Rock and where some of Belize's best music and dancing can be experienced. If you want to learn drumming, this is the place to be. The town of Hopkins, not far away, retains a more relaxed, small town atmosphere but has recently become the focus of much tourism development. New hotels, condo developments, and a new marina have recently been built on the outskirts of town. Hopkins is likewise a Garifuna settlement (in fact considered by some Belizeans, the cultural center of the Garifuna population) is know for welcoming visitors from all walks of Life. Here again is your chance to snorkel, as the second largest barrier reef in the world is waiting for you.
Experience the best of Belize at Glover's Reef Atoll.
About 70 miles from Belize City, thirty-five miles offshore due east of Dangriga, Glover's Reef Atoll is also an excellent place to spend some time when you make it to Belize. The atoll forms part of the outermost boundary of the Belize Barrier Reef and is an Unesco World Heritage site as well as a marine park. Here alone, in this one place, it is possible to see a hundred species within 15 minutes of jumping into the water! Glover's Reef Atoll harbors one of the greatest diversity of reef types in the western Caribbean.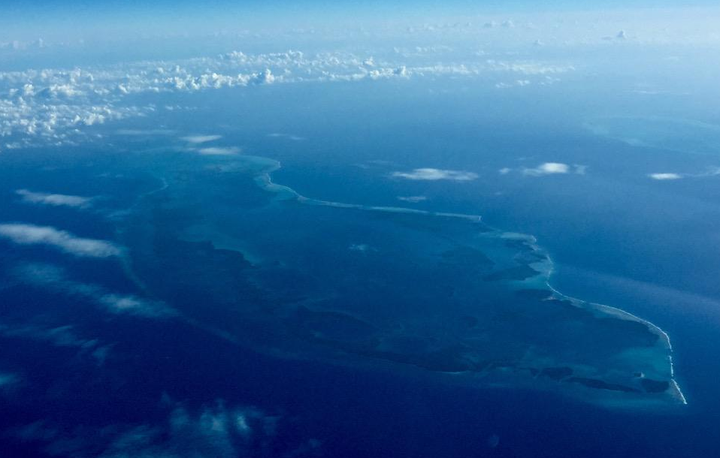 The Belize Barrier Reef ecosystem is world famous for this diversity of sea life. The coral here is pristine, the islands vast, and reef stretches on for miles. Glover's is one of the best places to experience Belize.
Spend time with the people and wildlife in Crooked Tree.
Crooked Tree is a village just over 30 miles from Belize City and some say may be the oldest village in the country. The story is that the village got its name from early logwood cutters who boated up Belize River and Black Creek to a giant lagoon marked by a tree that outwardly grew in every direction. This village also houses the Crooked Tree Wildlife Sanctuary, known to be one of the best birding areas in the country. The people population here is around 1,000 while the number of species of birds is more than 300; the land area is over 100 square miles. Crooked Tree is not New York City, but the people will make you feel like you are from the best city in the world.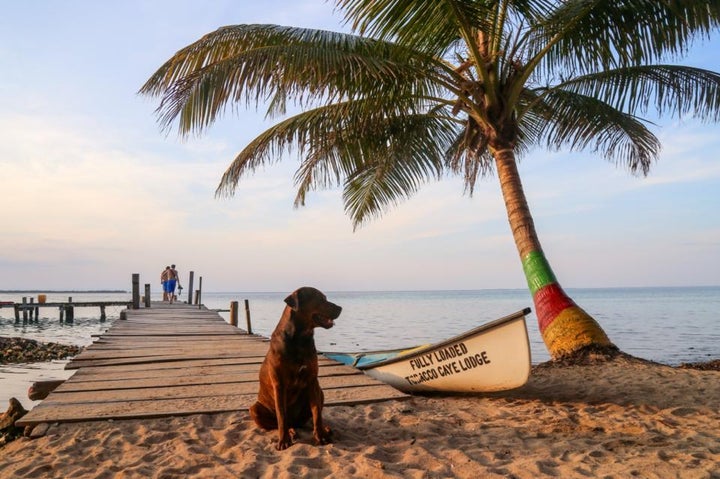 Make friends with a Baboon at The Belize Zoo.
The Belize Zoo and Tropical Education Center is home to more than a hundred animals of around four dozen species, all native to Belize. The animals are allowed to live in a natural environment within the zoo. It is said, "The dense, natural vegetation is separated only by gravel trails through the forest." The facility receives almost 15,000 school children every year. Located less than 30 miles west of Belize City on the Western Highway, The zoo focuses on educating visitors about the wildlife of Belize through encountering the animals in their natural habitat. Internationally known, the zoo was started as a home for abused wild animals that were used in making documentary films.
Later, the zoo's creators realized that Belizeans were unfamiliar with their native animals and they decided to develop the wildlife education center. The enclosures consist of large, natural pens. It's the perfect place to see the Belize national bird, the Toucan.
Spend some "quality time" with jaguars.. if they will let you! They won't at least not close-up with the ones at the Jaguar Preserve Cockscomb Basin Wildlife Sanctuary.
This preserve is known for some of Belize's best jungle hiking trails. Plants are identified along the trails and animals are often seen (jaguars are rarely seen, although they live here). It is somewhat difficult to get to this location as you would have to hike for about seven miles to get to the actual area. All precautions must be heeded. Don't forget, Jaguars are nocturnal creatures!
What to Eat in Belize
Belize has some of the best tasting food you will find anywhere, and much of it is made from the very rich and exotic fruits, vegetables and herbs planted and harvested locally. Belizean foods is the product of an incredible collaboration between peoples and generations, ingredients and cooking styles from Belize's most valuable asset … its people.
Here are three favorites you must eat before you go back home:
Belizean Tamale. In Belize, the tamale is a staple like all the other foods noted below. Generally, they consist of a corn dough, chicken, pork or beef. A mixture called the cull as well as spices are added. They are boiled in plantain (or lacking plantain, banana) leaves.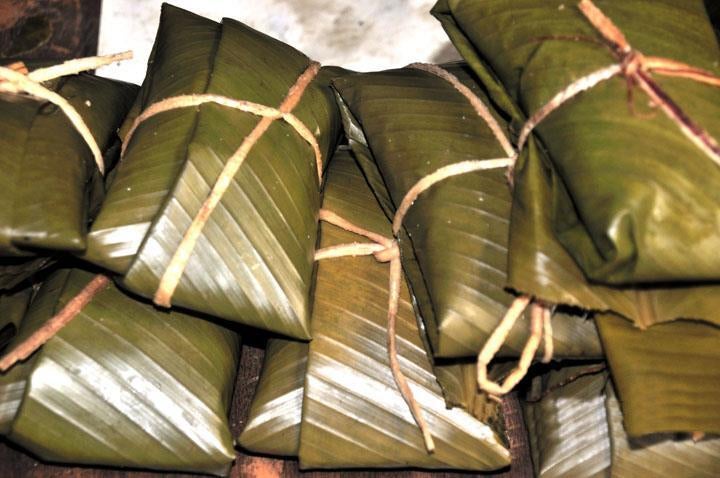 Hudut. This is a dish originating from the Garifuna Belizeans. It is made from half ripened mashed plantains and bananas that are often mashed by hand and includes coconut milk.
Creole Bread. Belizean Creole Bread is made with coconut milk and traditionally was cooked in an iron pot on a fire in the yard. Today most people bake the bread inside
A true Belizean experience, however, would not be completed without this one. Let's go in the kitchen to make it.
NOTE: Belizean Rice and Bean Recipe.
First put on your apron and boil to tender one piece of salt meat and cut into small pieces (If you eat this stuff). Boil about one pound of kidney beans until it is tender but whole. Adding the salt meat (previously boiled to soften). Add one cup thick coconut milk, one garlic clove (optional), one sliced onion, a little local hot pepper, salt and black pepper to taste. Wash 2 cups rice, and add it to the beans. Cook over gentle heat until liquid is absorbed. Take in the aroma, and share with friends while still hot, with a meat dish.
So, when you are in Belize and you're hungry, what do you do? Buy some Belizean food or make some. Belize has an interesting selection of excellent foods as noted. The country also produces some favorites including hot sauces and jams, many of which boasts the exotic fruits and other produce of the country including mango, banana, mixed tropical fruit, orange, pineapple, guava, papaya, and red or green habanero peppers.
If you ever get thirsty, which you will, there is a wide variety of homemade Belizean drinks, including sodas, beer and its classic rum. Just ask a local.
One of the great things about being in Belize is that there are lots of different foods available. With the many cultures come many different and distinct kinds of food.
Based on a mixture of native Belizean dishes, with dashes of Caribbean, Mexican and North American cuisine, the variety of food in Belize is almost too much to savor in one week."
Fried chicken, pizza, chow mein, hot dogs and the like are available as abundantly.
Each culture in Belize has brought its own food to the Belizean table, and no one is better than the other. Belizeans of all cultures eat food from all the other cultures. From the Spanish Belizeans come foods like panadas, enchiladas, garnaches, dukunu, tamale.
Belizean Creole food includes rice and beans, meat pies and powder buns. Garifuna food includes hudut (mash plantain with gravy made from coconut milk and local herbs) and Cassava Bread.
In Belize, much of the food is made from naturally grown fruits, vegetables and herbs planted and harvested locally. Many homes have fruit and nut trees in the yard providing supplies of fresh home-grown products from the yard.
The country is knows for producing high quality produce such as papayas as well as seafood, much of which it has been exporting for years. Expect the best of nature when you eat at a Belizean home or restaurant. The country is also known for its exotic and high quality medicinal plants.
Here are some locally grown produce you should try when you go to Belize:
Sour plum, Ju-Ju plum, mangos, dragon fruit, the fruit of the cashew tree, star fruit, sugar apple, craboo, and custard apple.
Soursop is also a favorite and is commonly used in the making of local ice-cream. Its flowering, evergreen tree is native to Central America, specifically Belize. The fruit is somewhat oval or heart-shaped and is about four to twelve inches long and up to six inches in width. A good, nice soursop weighs around ten pounds. When in Belize try a soursop, and if not, a custard apple.
In Belize you're guaranteed a never-ending experience with natural things and nature.
If you have visited Belize already and want to share your comments with our readers feel free to share your voice.