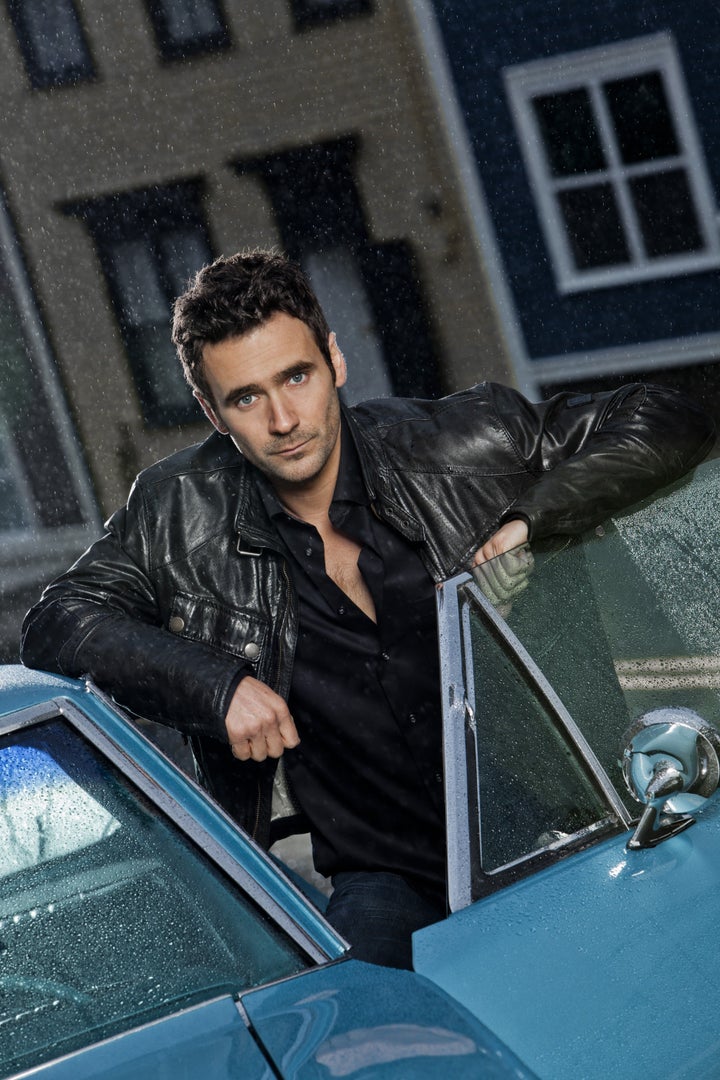 Actor-writer-producer Allan Hawco can hardly believe his good luck. His labour of love, "Republic of Doyle," has proven to be the little show that could. Since debuting two years ago, it's become a fixture in more than a million Canadian households each week, not to mention countless more in 100 countries around the world. To top it all off, the show recently scored a guest spot from Russell Crowe.
You can catch Crowe in the first episode of Season 3, which premieres Wednesday on CBC. He and his old pal Alan Doyle, lead singer of Great Big Sea, play members of a group of tough guys who show up and complicate Jake's life.
We lured the ever-multitasking Hawco out of the editing room to find out more about the season and its famous guest stars, including Crowe and Shannon Tweed. He dished on everything from what it was like hanging out with Gene Simmons of Kiss, to what he learned from Crowe, to why working with his real-life dad is a weird yet wonderful thing.
What can we expect to see from Russell Crowe this season?
Russell is in the first episode. He shows up as part of a group of troublemakers who make Jake's life very complicated. Russell was fantastic in the episode, obviously. He's one of the best actors I've ever met, let alone worked with.
What was it like working with him?
Russell's got a fantastic sense of humour, but he takes the work very seriously, as do I. As does all of our cast! When there's time for a good laugh to be had, he's awesome. We did have a blast. I learned a lot from him. Because I'm editing all of the episodes, I was able to do full comparisons of one of the best actors in the world. I'd watch his takes and then watch my own. It was like a master class in acting.
Are you picking up on things in editing that you didn't notice at the time?
Oh yeah. It's completely changed my life as an actor. I'm editing in my head while we're shooting. You can't focus on that in the moment. In the moment, you've just got to try to be the best actor you can be.
I know that Shannon Tweed also guest stars this season ...
Shannon is originally from Newfoundland. She was born in Dildo, believe it or not. She left when she was 16 and moved out west. She plays someone from the Doyles' past, and she comes back looking for something that she feels is owed to her. She's fantastic in the episode. This season has a pretty good lineup of amazing guest stars -- but Shannon was a rock star.
Speaking of rock stars, did Gene Simmons pop by the set?
He did. It's very funny. I'm from a little district called Goulds in St. John's, and we were shooting out by the racetrack where, as a teenager, we would spend some of our time idly standing in the woods listening to Kiss on an old ghetto blaster, and there was Gene Simmons standing with me at the monitors. It was very surreal.
Obviously St. John's is one of the show's major characters. Do you have any idea whether the show has increased tourism there?
Oh yeah, it certainly has. But it's a two-way street. There's a direct impact that the show's had because we're reaching more people than just their ad campaign could, and we're also airing in 100 countries around the world. We're showcasing the city through the goggles of how I view it, and I'm in love with the city. That being said, I really feel that a huge part of the success of the show is that it's set in such a unique and interesting city.
I read that your father is a crew member on the show.
It's the weirdest thing! Imagine you walk into work every day and hear your dad say, "Lord Jesus, I'm roasted!" It's so weird. You hear your father from your childhood speaking in your office. And he's not there to see you or have lunch with you. He's doing something, and everyone around knows who he is. It's so weird and beautiful at the same time. I work a lot of hours. Dad is a PA, and the team has titled him "senior production assistant" because he's a senior citizen.
He runs around town picking up packages, dropping off cheques, etc., etc. Every now and then, sometimes I work 21 hours a day, I'll need someone to go grab me a coffee at Starbucks or a coffee house downtown. Like a real heavily caffeinated one. They'll ask my dad to go get it, and he'll walk into my office and say, "I'm not going all the way down there in this traffic!"
It's fun, though. It's so great. Part of the reason why I wanted to be here was to be around my parents. My mother comes in and does background work sometimes. She's truly the sweetest thing on earth, so it's nice to be able to share that with your family that way.
Do people ever stop you on the street these days to talk about the show?
Oh yeah. Sure. That's a great thing about being Canadian. Every city and town I've been in since we've started making the show, I get stopped by people. But people aren't going through my garbage, y'know what I mean? People are always positive. Luckily, the negative people have left me alone!
Season 3 of "Republic of Doyle" premieres Wednesday, Jan. 11, at 9 p.m. on CBC.
PHOTO GALLERY
Canadian Television Shows
Calling all HuffPost superfans!
Sign up for membership to become a founding member and help shape HuffPost's next chapter