NEW YORK -- Robert Allbritton, chairman of Politico parent company Allbritton Communications, notified staff Wednesday that the company is considering the sale of its two Washington, D.C.-area channels, ABC affiliate WJLA-7 and NewsChannel 8, along with broadcast properties in seven markets.
It's an ambitious move for Allbritton and signals a generational shift for a family-run communications company built on local TV stations. The 44-year-old Allbritton runs the media company started by his father, the late Joe Allbritton. In the memo, he said the one thing he won't sell is Politico, which has shared office space in Rosslyn, Va., with the two channels since launching in 2007.
"Let me be unmistakably clear to you and potential buyers: there is no chance, none, I will sell POLITICO as part of the deal," Allbritton wrote. "My future is POLITICO and companies like it. In fact, my plan is to invest even more in POLITICO and to place additional bets on media companies that meet my definition of successful journalistic and business enterprises. POLITICO continues to carry no debt, funds all investment with operating income and will still turn a profit, again, in 2013. That is the textbook definition of a thriving, sustainable new media company."
Just before launching Politico, Allbritton passed on a deal to buy nine more TV stations that The New York Times put on the market, deciding instead to focus on getting the political news site and D.C.-area publication off the ground, according to a Washingtonian profile. Now Allbritton's looking to sell the stations he has in order to put more resources into Politico's future.
In a staff memo, Allbritton said his plan "is to use the resources and expanded mindshare that such a move would make available to increase my commitment to POLITICO." He continued, "Then we can plunge in further on a variety of other potential investments that intrigue me as I contemplate the next chapter for our business."
In 2010, Allbritton seemed interested in investing more into local Washington news through the launch of TBD.com and rebranding of NewsChannel 8 -- perhaps giving the Washington Post a run for its money. But Allbritton showed little patience for the ambitious project, and layoffs started the following year. Former top editors at TBD.com told The Huffington Post last summer that they had expected to have a few years to work toward profitability -- not unlike Politico.
Digital First Media Editor-in-Chief Jim Brady said at that time that Politico "got the runway it needed to take off" and that he "never got the sense the corporate folks got the same passion for local news as politics."
Politico has brought a great deal of prestige to Robert Allbritton, whose name has become increasingly tied to the outlet's success. He made Vanity Fair's "New Establishment" list in 2009, the same year the magazine profiled him and the publication's top editors, and now hosts a lavish brunch the morning after the White House Correspondents Dinner for big names in politics, media and entertainment.
The full memo from Allbritton is below:
I want to share some important news with all of my POLITICO friends and colleagues. This spring, after careful deliberation and discussion with my family, I have decided to explore strategic options for our television station company, including a potential sale of WJLA / NewsChannel 8 here in Washington, as well as all of our owned and affiliated stations as a group. As part of this process, we have retained a financial advisor to evaluate what we expect will be robust interest from blue-chip media companies in our broadcast properties in seven markets around the nation.
My plan is to use the resources and expanded mindshare that such a move would make available to increase my commitment to POLITICO. Then we can plunge in further on a variety of other potential investments that intrigue me as I contemplate the next chapter for our business.

As you might imagine, this is a thrilling moment for me – and for the entire POLITICO team. So I wanted to take the time to walk you through my bullish thinking on the publication, as well my hope to find and nurture future media enterprises infused with a similar journalistic and business spirit.

As you well know, the passion for media runs deep in the family. My dad bought the television stations some 30 years ago as part of a deal to get The Washington Star, and, ever the smart business mind, kept the stations instead of his beloved Star when the government instituted rules against cross-ownership in large media markets in the 1970s. Our shared passion for Washington and nonpartisan media inspired me to invest in the idea of POLITICO three decades later. I take tremendous pride in that decision.

Let me be unmistakably clear to you and potential buyers: there is no chance, none, I will sell POLITICO as part of the deal. My future is POLITICO and companies like it. In fact, my plan is to invest even more in POLITICO and to place additional bets on media companies that meet my definition of successful journalistic and business enterprises. POLITICO continues to carry no debt, funds all investment with operating income and will still turn a profit, again, in 2013. That is the textbook definition of a thriving, sustainable new media company.

This is the Golden Age of new media innovation, and I intend to stay on the leading edge of it. So, I will be looking to invest in or launch media companies that follow the POLITICO model of dominating targeted coverage – and then using multiple revenue streams to profitably fund it. I see a very bright future for media companies like this and plan to show this with substantial investment in coming months and years.

My immediate focus is growing POLITICO. I have spent the past year creating long-term agreements with our leadership team, including John Harris, Jim VandeHei, Mike Allen, Kim Kingsley and Danielle Jones, as well as most of our management team and top journalistic talent, in preparation for our next big burst of growth. I firmly believe we have the most talented team in media.

We'll have a chance in the coming days to talk about the next chapter for POLITICO. As you all know, there are big plans afoot about how we make our journalism better and more relevant, and our business bigger and even more responsive to the wealth of opportunities before us in this new media landscape. My direction to every person at POLITICO is to continue setting the agenda for journalistic and business innovation in the nation's capital in coming years.

As excited as I am about my future and the company's, it is not an easy decision to contemplate a break from something that is such an important part of our history. I love the television business, and am deeply appreciative of the success I have had in it. I have treasured working with the media professionals at all of our stations, and in recent years, I have especially enjoyed watching the collaboration here in Washington between POLITICO and WJLA / NewsChannel 8. I have always respected the deep connections with communities that our stations have, and am always humbled by the responsibilities—to citizens, to our employees, and to the next generation—that come with ownership. Those responsibilities are what led me to consider a sale now. This industry is in the midst of rapid consolidation and there are some clear advantages that come with increased scale. I want to ensure that our stations are well-positioned to continue their extraordinary success and participate in all of the new prospects for broadcasting going forward.

The media business is changing rapidly. POLITICO is a success story because we believe that in order to thrive, you must live in a state of constant innovation. We always have chosen - and will choose - innovation, because few things are more central to our city and a functioning government than a vibrant - and profitable - free press. We have learned so much from the POLITICO experience about how to do this, and that knowledge will infuse the next generation of products.

All of our ambitious plans rest on two pillars that aren't changing, and never will. One is first-class journalism, produced by recruiting and retaining the best reporters and editors of this generation. The other is making POLITICO home to the industry's most ambitious and creative team of business professionals. In other words, none of this works without all of you, and all of you are the reason I feel so confident in this fun adventure.

At age 44, I'm more enthusiastic than ever, and more appreciative than ever that you are joining me in building a profitable future for journalistic greatness.

Let's prosper and make a difference.

Robert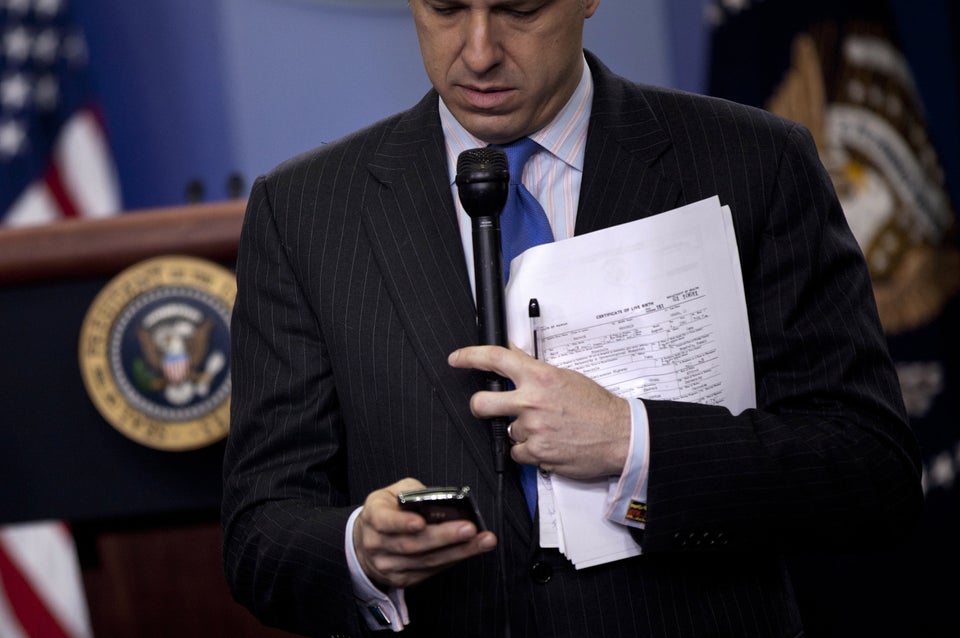 White House Reporters
Popular in the Community