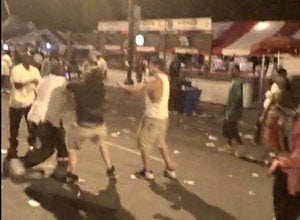 News reports characterizing the Taste of Chicago and Friday night's Independence Day fireworks show in Grant Park as "peaceful" have led some bloggers who witnessed more violence than was reported to challenge the official version of events.
This year's Taste of Chicago July 3 fireworks spectacular transpired relatively peacefully, viewed by 1.25 million people and unmarred by the shootings that took place last year.

As the huge crowd made its way home, police said the only serious incident was a man arrested outside the grounds who had been spotted with a shotgun sticking out of his backpack.
Some incidents were seen or reported. About 9:40 p.m., some 30 police officers had to break up a melee at Congress Parkway and Michigan Avenue as large crowds dispersed west out of Grant Park.

What started out as an altercation with a small group of people involved -- shoving, pushing, yelling -- within seconds became a larger fight with 10-20 people involved, according to a witness. Police quickly handled the disturbance.
Yet these reports, or at least the official police line included in them, don't jibe with what many bloggers say they saw with their own eyes.
At Chicagosphere, blogger Mike Doyle contends that far more violence took place than the city acknowledged and the media reported.
A YouTube video posted on Second City Cop shows a brawl that went unmentioned in the city's official statements.
In the Tribune, Police spokesman Roderick Drew made reference to "some sort of disturbance" near Buckingham Fountain but did not elaborate. Drew told the Huffington Post that he had not seen the video but denied that there were any shootings at the Taste.
"There were no shootings at Taste," Drew said Monday afternoon. "There were 80 arrests in 10 days, and 31 on the night of July 3. A handful were felony arrests but the majority were misdemeanors. All in all it was without a doubt a successful event."
Blogger Craig Kanalley reported seeing police beating people up after breaking up the fight at Congress and Michigan.
Drew said he was unaware of any incidents of police brutality. Asked whether he would consider the night of July 3 peaceful, Drew responded, "I don't want to underestimate or dismiss any incidents that occurred. Things happen, tempers flare, people are intoxicated. What incidents there were the officers dealt with as swiftly as possible. But it was by and large a peaceful event."
Calling all HuffPost superfans!
Sign up for membership to become a founding member and help shape HuffPost's next chapter