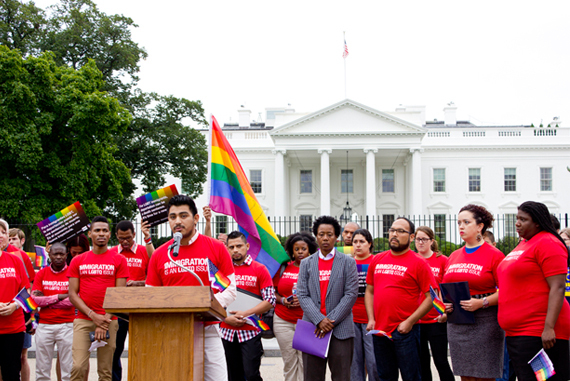 This Thanksgiving, we remember the millions of immigrants who have been separated from their loved ones, and the tens of thousands who will spend their holidays in unsafe detention centers. As a national coalition of immigrant and LGBT rights organizations, we call on President Obama to fulfill his overdue promise and announce a bold, broad and LGBT-inclusive administrative relief package immediately.
There are currently more than 267,000 undocumented LGBT adults living in perpetual fear of deportation to the over 80 countries where it is a crime to be lesbian, gay, bisexual, or transgender. For more than a year, our coalition has advocated for an executive order on immigration that would protect our uniquely vulnerable community. Our community has suffered from delays and broken promises, and now that we are closer than ever to witnessing the signing of an executive order on immigration, alleged leaked plans indicate that the LGBT community could be left behind.
Alejandro, a 38-year-old gay man originally from Mexico, cannot afford to be left behind. According to the leak, he would still be at risk of deportation.
"I came to the U.S. when I was only 22 years old and lived here for the past 16 years," Alejandro said. "I am not married and do not have a child who is a U.S. citizen, but I feel that I am part of America. I want to come out of the shadows so that I can finish college and become a nurse. As a gay man, I am afraid of being deported to Mexico."
President Obama must expand his executive action to include all vulnerable LGBT immigrants, even those without familial ties to U.S. citizens or legal permanent residents. President Obama must also ensure that there is leniency concerning criminal records of immigrants, especially those who have engaged in work of survival and desperation.
Joselyn Mendoza, an undocumented trans woman living in New York, continues to live in fear of falling into the hands of the deportation machine. "Waiting on someone for too long outside in the street can be enough probable cause for the police to simply question my presence and gender identity, which can easily escalate to questioning my immigration status," Mendoza said. "The high rate of criminalization of transgender woman like me further places us at risk of being put in detention centers that are unsuitable to protect my physical and emotional well-being."
We need the president to go beyond familial ties and deliver a broad executive order that recognizes all the distinct barriers that uniquely vulnerable LGBT immigrants face. When deported, many LGBT individuals experience threats, violence, rape, and even death in their countries of origin. They need a safe haven, not a return to the persecution they fled.
Undocumented immigrants are often unfairly profiled and targeted by law enforcement because of their accent or the color of their skin, and LGBT immigrants face additional discrimination based on their sexual orientation and gender identity. Furthermore, many undocumented LGBT immigrants, especially transgender women, have no choice but to resort to survival activities such as sex work because they cannot find employment due to discrimination. When LGBT immigrants ask for asylum at the border, they are thrown into one of the over 240 privately contracted prisons that make up the dysfunctional immigration detention system. Here in our own backyards, they often experience the same homophobic and transphobic violence from which they were attempting to escape.
An executive order overhauling U.S. immigration policies has the potential to safeguard the lives of countless LGBT individuals.
There have been numerous conjectures about what President Obama will and will not include. While the reports are highly discouraging to the LGBT community, our movement is committed and prepared to ensure that LGBT individuals and our families are included. We urge the Obama administration to ensure the relief package is bold, broad, and inclusive of the LGBT immigrant community.
This editorial expresses the values of a broad coalition of national LGBT and immigrant organizations, including Immigration Equality, GetEQUAL, Lambda Legal, the LGBT Faith Asylum Network, the National Center for Lesbian Rights, the National Center for Transgender Equality, the National LGBTQ Task Force, the National Queer Asian Pacific Islander Alliance, Southerners on New Ground, and United We Dream.
Calling all HuffPost superfans!
Sign up for membership to become a founding member and help shape HuffPost's next chapter