Earlier today, RadarOnline reported that Michael Lohan--with cameras rolling--left rehab to kick Michaele hubby Tareq Salahi out of the apartment Michael and Tareq were sharing because Tareq allegedly refused (or couldn't?) pay his share of the rent.
Alleged White House Gate Crashers Talk Dr. Drew, Release Iphone App
Tareq and Michaele Salahi released a statement this morning that says two things: a) Michaele is seeking help from Dr. Drew Pinsky for "private pains and personal struggles she endured" following her alleged crashing of President Barack Obama's first White House state dinner and b) she has released a new Iphone app that lets users "Crash any party with Michaele."
The statement almost, semi, sort of confirms that Michaele is set to appear on Dr. Drew Pinsky's VH1 reality show Celebrity Rehab. After stating "we are unable to discuss any Television Shows/projects in development" it proceeds to do just that:
Whatever new show she is participating in, it will be a focus for her on the private pains and personal struggles she endured that resulted from the White House issues, Congress and how these life changing events affected her Multiple Sclerosis. Michaele Salahi is consulting with Dr. Drew and she hopes he will be able to assist her about everything she has endured over the last year.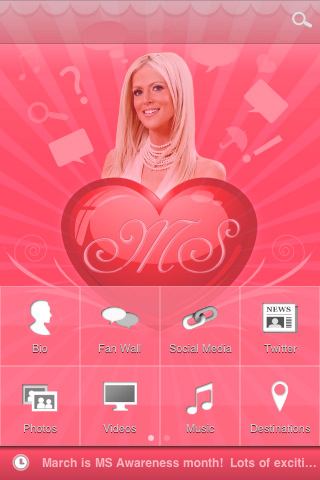 Speaking of love, the title of the couple's new all-things-Michaele app is "LoveYou!" It promises "Cutting-Edge Technology to Provide Exclusive New Features and Closer Interaction With Fans."
In addition to offering Michaele quizzes, personal photos and even a playlist of her favorite songs, the app allows users to "Crash a Party with Michaele: Fans can easily insert Michaele into any of their photos, which can be saved, e-mailed and shared with friends on Twitter and Facebook. Now you can crash any party with Michaele."
In a critique entitled "Rehab needed for this app for reals" VeganisAwesome writes:
I'm an absolute Real Housewives fan, but this app is absolutely the most ridiculous thing I have ever seen. A complete copy of Paris Hilton's app produced by the same company. If you want to know where to find tanning salons or have the words HOT and FUN relentlessly and repeatedly annoy you from you iphone then by all means go for it. No wonder it was free.
Fear not Android fans, the Salahis promise a version of the app just for you is in the works.
Dan McDermott publishes three Virginia newspapers including Warren County Report which has covered the Salahis extensively.
Popular in the Community