With the passing of Dr. Allen Counter, a Professor of Neurology at the Harvard Medical School and Director of the Harvard Foundation for Intercultural and Race Relations, this community loses a steward of some of our most enduring values. Over three and a half decades, Allen's skillful leadership created numerous opportunities for our students to understand the value that exists in our diversity. I had the privilege of serving on the advisory board of the Foundation and in this role work with Allen, and was able to admire his gift to listen to students and to support the development of their agency to advance their own understanding of the value of inclusion, respect and collaboration in creating a community truly better because of our differences.
In the monthly meetings in Philips Brooks House with the student leadership of the foundation, and with the faculty advisors, Allen was a gentle leader who gave each student an opportunity to bring up ideas, that gradually evolved into projects, initiatives that added to the informal curriculum that enriched Harvard for all. He acted in ways that honored the potential of each student to chart their own education, and to contribute to the education of others. He had thought hard about the necessary and fine balance between honoring students' identities and differences, supporting communities that helped each student be well grounded in their roots, while creating opportunities for students to come together, across lines of differences, to discover and celebrate not just their differences but their common humanity. Students loved Allen for his generous dedication and support to them. On several occasions we marched together during Commencement, the joy of the many students who stopped Allen to greet him as he marched towards the stage was contagious and invigorating.
He was eloquent when I invited him to address groups to discuss civic education and religious pluralism, and could illustrate his points with numerous examples of real dilemmas lived in the life of the university, handled with effective pedagogical skills, as well as diplomacy and empathy for all.
Allen combined a capacity for big picture thinking, with the skill to turn visions into plans and projects that made a difference. He led the portraiture project, an initiative to increase the diversity of the portraits that adorn many of Harvard dorms and buildings, recognizing the contributions of diverse faculty and staff.
In these and other actions I knew Allen to be a true global citizen. Not only because of the hospitality he extended to visitors from near and afar, or because of the distinction with which he carried the title of Honorary Consul of Sweden in Boston, or for his travels to the Karolinska Institute, or for his research on the effects of mercury exposure of children of miners in Ecuador. Allen was a global citizen in his intelligent choice of guest speakers and honorees of the Foundation. He brought Malala Yousafzai in 2013 to speak about her struggle for the education of girls, indeed of all children, everywhere. He invited United Nations General Secretary, and Harvard graduate, Ban ki Moon, to speak to a mesmerized audience of undergraduates in Memorial Church about Human Rights. In this work, Allen was also a global citizen educator, patiently stitching together a powerful curriculum outside the classrooms which provided opportunities for large numbers of undergraduates, to discover that we are all bound together in this small planet and that our future is contingent on our ability to collaborate
Allen Counter lived in ways that demonstrated that he understood how central human rights and common values are to enabling collaboration to advancing peace, and worked to make Harvard a place that created opportunities for students and faculty to live those values. In bringing us all together, across our differences, this good friend and colleague reminded us that the university is, above all, an ethical community, a place where we come to serve purposes bigger than ourselves, and to honor values that define deeply who we are, and to perfect those ethical sensibilities, so we can all become better versions of ourselves.
Godspeed Allen Counter. We will miss you.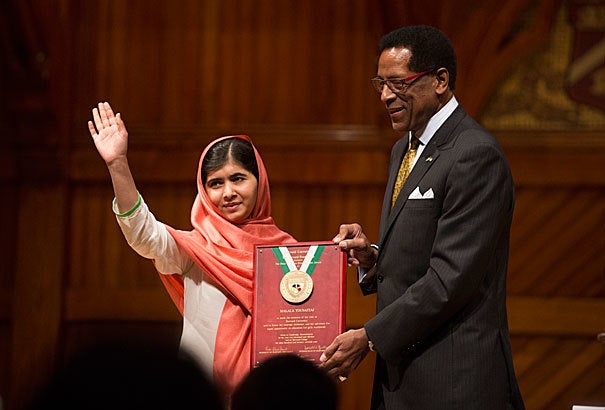 Related
Popular in the Community