Allen Iverson spent substantial chunks of his playing career going head-to-head with his NBA coaches. But with his life on the NBA court officially behind him, he can finally appreciate just how difficult their jobs are.
"I mean you're dealing with maybe 15 millionaires," he said last week in an interview with The Huffington Post. "I'm talking about guys that make more than you and then you're trying to tell them what to do, you're trying to take all of these egos and put them into one for the same common goal, to win a championship."
Yet, despite all that, Iverson said NBA coaches have to make sure "all the selfishness, all the egos, everything goes out the door."
And Iverson should know how difficult that is. He certainly made it harder for some of his own coaches. The New York Times once said that "coaching rift is par for the course" for Iverson. Perhaps most publicized was his love-hate relationship with Larry Brown, who served as Iverson's head coach from 1997 to 2003 on the Philadelphia 76ers.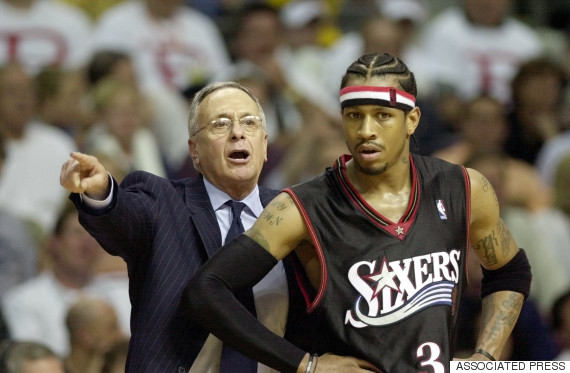 Brown and Iverson didn't always see eye to eye.
In, "Iverson," Showtime's new documentary, about the player that aired over the weekend, the former NBA player admits that "99 percent" of his rifts with Brown were his fault. "We clashed at times but I knew that the love was always there," he added.
Brown, who also appears in the documentary, directed by Zatella Beatty, said nothing could prepare someone for coaching Iverson. "No one trains you for that," he said.
"But when you know every single night whether he's hurt or not he's going to the lay it on the line for you, that's the thing that's most special for me," Brown added.
As for his own future, Iverson admitted to HuffPost that on the coaching bench is "not where my talent is."
"Nah, uh-uh, no. Not the coaching part of it," Iverson said.
"It takes a Gregg Popovich-type of dude to be able to do something like that," the former MVP said of the Spurs head coach. "Your tolerance level have to be so high."
"Anything else in the organization, like scout and stuff like that, or being able to give my advice on different thing, okay, I'm fine with that," he added. "I'm fine with being an ambassador and coming in and doing whatever you all need me to do. But that part of it, coaching? No way."
"Iverson" premiered Saturday, May 16, at 9:00 p.m. ET on Showtime and will be airing throughout the month. It is also available on Showtime On Demand and on mobile via Showtime Anytime.

More from our sit-down interview with Iverson:
REAL LIFE. REAL NEWS. REAL VOICES.
Help us tell more of the stories that matter from voices that too often remain unheard.