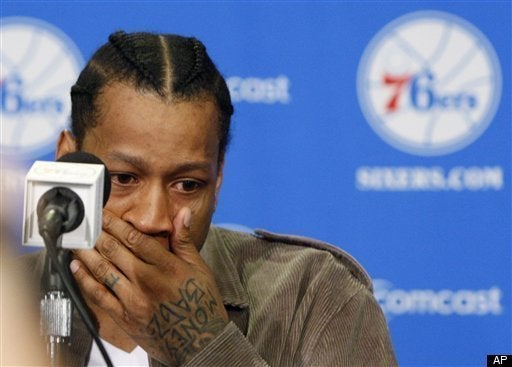 *** SCROLL DOWN FOR VIDEO ***
(AP) PHILADELPHIA - Allen Iverson was teary almost from the time he sat down, his usual stream-of-consciousness talk now a more subdued style of speaking.
The player who once repeated the word "practice" nearly 20 times during a rambling monologue had little time for one-liners. It was contrary to the image Iverson sculpted over a 14-year career filled with coaching run-ins and contradictions.
Iverson could always somehow get away with his transgressions when he was an MVP and a regular All-Star. At 34 and considered a bench player by his last two teams, the lengthy list nearly ended his career.
When the Philadelphia 76ers, his former team, offered him an NBA lifeline -- A.I. snatched his last shot.
"When I had the opportunity to come back here," Iverson said, a pause as his voice cracked, "I couldn't turn it down. I'm just happy."
Iverson returns to the organization he led to the NBA finals in 2001 and won four scoring titles. The 76ere are the only team known to make a serious run at Iverson once he announced his intention to retire last week, a fact that humbled Iverson and made him realize he may have cupped his ears to the roaring crowd for the last time.
"It's just a bad rap," Iverson said Thursday at the Wachovia Center. "Once guys in the front office start calling about a player, and you've made the mistakes that I've made, you could see why that guys were laying off me. I never thought it had anything to do with basketball issues. It was always stuff off the court."
Iverson will play his first game against Denver on Monday night in a city absolutely thundering over his arrival.
His returned generated the kind of buzz the Sixers haven't felt in Philly since he was traded in 2006. The Sixers said they had 327,657 page views on their Web site Wednesday once his signing was announced -- up from 36,000 the previous Wednesday.
The Sixers, 29th in the NBA in attendance, have not yet sold out Monday's game. His No. 3 jerseys are expected to be on sale at the team's merchandise store Monday.
Team president Ed Stefanski again insisted the move was not designed to sell tickets, merchandise or make them relevant in the city sports scene. He simply needed a point guard to replace Lou Williams, out two months with a broken jaw, and Iverson was the best available free agent.
"If the byproduct is we get more attendance, this guy brings more excitement to the building, that's great," Stefanski said. "But to consistently have that going forward, you've got to win basketball games."
The Sixers need all the help they can get to avoid totally free-falling out of the Eastern Conference playoff race. The Sixers (5-14) have lost eight straight entering Saturday's game at Charlotte.
The 10-time All-Star guard who has scored more than 24,000 points signed a non-guaranteed deal with the 76ers on Wednesday, and said he's ready to prove he can play like the Iverson of old.
"I want to fit in. I want to be a part of any success we have," Iverson said. "I just want to be one of the guys. I don't need a whole bunch of praise. I don't need a whole lot of accolades. I just want to play basketball."
Iverson will not travel to Charlotte. He will practice Sunday and on Monday pull on his 76ers jersey for the first time since Dec. 6, 2006, in Chicago -- when he refused to play in the fourth quarter of what became his final game with the team.
His frosty relationship with the former coach and GM led to his trade to the Nuggets. He played most of last season in Detroit, where he complained about coming off the bench, and had a similar experience in his ill-fated stint in Memphis.
"I always thought it was strange having another uniform," Iverson said. "I couldn't feel comfortable with another uniform."
Stefanski said he didn't promise Iverson would start, but there's little doubt he'll be introduced with four other Sixers against Denver. Iverson has started 877 of 889 career games and said he doesn't have a role player's mentality.
"It was so hard for me because I never had to do it my whole life," Iverson said. "Even from grade school."
Iverson said he won't complain in Philadelphia and told coach Eddie Jordan to "just give me an assignment."
Former Pistons coach Michael Curry and Grizzlies coach Lionel Hollins must be somewhere rubbing their temples.
Iverson was the No. 1 overall pick in the 1996 draft, but his 10 turbulent seasons in Philadelphia were marred by rants about practice, arguments with former coach Larry Brown, arrests and a failed rap career.
"With the mistakes I've made in my life, I've created a picture of me that's not me," Iverson said. "I did a lot of things when I was young that I'm not proud of. But I think those things helped me to be the man that I am now.
"The last couple of years have been hell. All I want to do is play basketball and help the guys that I play with."
Iverson posted the highest scoring average in Sixers history (28.1), was second on the points list (19,583) and holds the record for 3-pointers (877). He was a seven-time All-Star and won two All-Star game MVPs.
He found some success in Denver, but his career unraveled in Detroit and Memphis. He took an indefinite leave from the Grizzles to deal with a personal matter, never returned, and was set to retire.
And the next time he calls it quits, Iverson vows it will be as a Sixer.
"This is where my love is at," he said.
Popular in the Community