Freddie Gray. Walter Scott. Tamir Rice. Eric Garner. Michael Brown. Trayvon Martin. All of these black men, and many others, have died at the hands of police officers, each of their deaths leading to anger, protests and unrest across the nation.
Oftentimes, that anger has found its way into the sports world, too. It found its way onto our basketball courts in the form of "I Can't Breathe" T-shirts donned by NBA players like LeBron James and Derrick Rose. And it found its way onto the football field when the St. Louis Rams put their hands up last year in solidarity with protestors in Ferguson, Missouri.
Allen Iverson is in a unique position to understand both the influence of the superstars and the anger of the family's victims. He has been a star basketball player himself, an influential figure who could have donned an "I Can't Breathe" T-shirt alongside other athletes, should he have been in the league. But 20 years ago, he looked more like the men whose lives were cut short. Back then, an 18-year-old Iverson found himself sitting in a Virginia courtroom being unfairly sentenced to 15 years in prison.
A star athlete in both football and basketball at Bethel High School in Hampton, Virginia, Iverson was considered a top recruit coming off of two state championship victories. But after a violent and racially-charged fight broke out at a local bowling alley in 1993, he was seen by some as a target to those who didn't want him to succeed.
"I strongly believe that there was a conspiracy to destroy the future of a young, gifted black person," Gary "Mo" Moore, Iverson's former football coach (and now personal manager), said in the documentary.
While many people know Iverson as the MVP and larger-than-life basketball star, it is this experience that continues to shape the man to this day.
The retired NBA player spoke with The Huffington Post about whether he feels that progress has been made since his own experience, whether young, black men have less to fear today than they did back then.
"I feel like it's basically, it gets better and then it gets worse. It's gets better -- it's an up and down thing," Iverson said. "But all we can do is pray and hope and have faith and think positive about it."
While he did not address the aforementioned cases specifically, Iverson acknowledged said it's important we don't take the actions of one person and use them to make generalizations about the people we believe they represent:
There's always going to be one bad apple, but don't take away from the rest of them. Everybody's not bad and sometimes we -- a lot of times we gotta deal with the devil. Lot of us believe in God, but the devil is always on our heel. So he's always gonna be there, so it's always going to be a problem, it's always going to be someone complaining about something. Sometimes rightfully so, sometimes not.

And it's something that we're just going to have to deal with as a society. We're just going to have to get by the best way we can. That's -- it's not just going to completely be a clean slate and then everything's going to stop happening it's not going to happen that way. We gotta understand that this is the world we live in. Just like good is evil.
Iverson, his coach and many others have said that race has played a factor in the athlete's case, too. And while Iverson did not face violence at the hands of the police, a widely criticized trial, echoes similar criticism today of a failing justice system. Statistics show a widening gap between the incarceration rates between whites and blacks nearly every year.
In Iverson's case, video footage taken the night of the bowling alley fight shows Iverson leaving as the fight escalated. But the player said a detective called and threatened to arrest Iverson off the court of his basketball court if he didn't come in to take photos at the police station. He was again threatened with arrest and charges if he didn't take photos.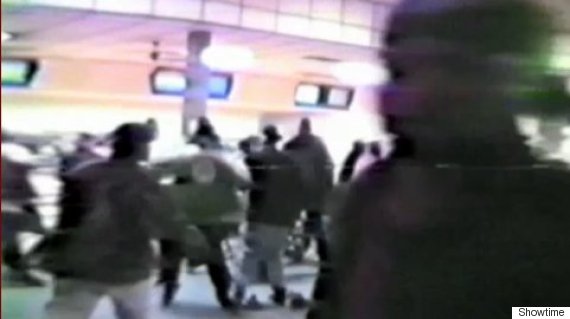 A still of the footage taken the night of the bowling alley fight. Iverson is at the right. (Source: Showtime)
He was eventually tried and charged, as an adult, on three counts of maiming by mob -- ironically, the law passed in Virginia following the Civil War to protect black people from lynching. Facing up to 20 years for each count, Iverson was ultimately sentenced to 15 years, with 10 suspended. Coverage of his story by Tom Brokaw and NBC garnered more attention and Iverson was granted a conditional clemency and released.
"You'd have to think there was a plan. People wanted to make an example of Allen," Mike Bailey, Iverson's high school basketball coach said in the film.
"That was true injustice," Janet Bailey, his wife, and Iverson's math teacher added.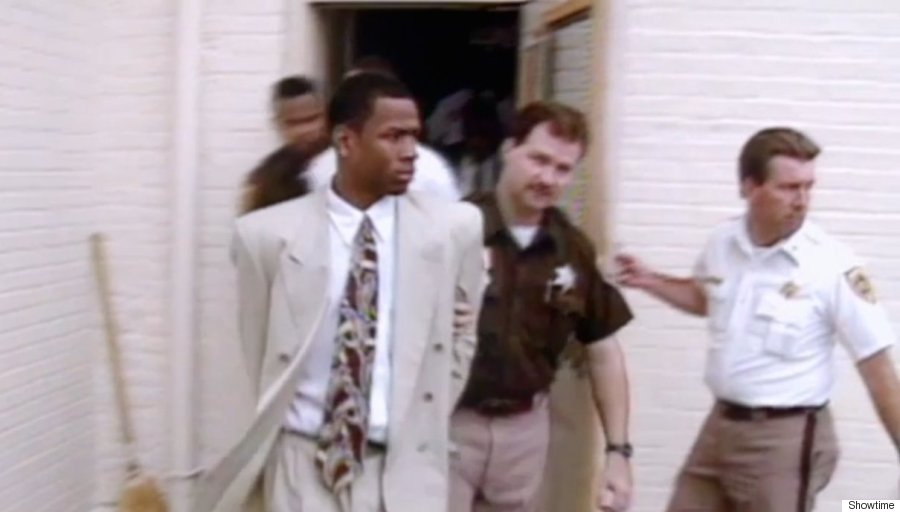 Iverson leaving the court room in custody after sentencing. (Source: Showtime)
But Iverson told HuffPost that he hopes the entirety of journey -- not just his success in the NBA, but his hardships before and since then -- inspire and serve as a lesson to others like him.
"They might like Allen Iverson on the basketball court, but, 'He went through this? I'm going through this same similar things and I'm trying to become this, so I know I can -- I believe I can make it,'" he said.
When asked what advice he'd give to young men in a similar situation, Iverson emphasized inner strength.
"A lot of people, they fall, but then they content with just sitting there, laying there. They act like they don't have the strength to get back up. You do," he added. "Everybody has a chance. And regardless of where you from, what you're going through, you gotta know and believe that. And if you don't, you're in trouble."
Visit HuffPost Sports for additional segments from a sit-down interview with Allen Iverson.
REAL LIFE. REAL NEWS. REAL VOICES.
Help us tell more of the stories that matter from voices that too often remain unheard.