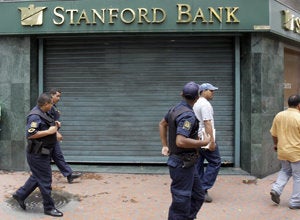 R. Allen Stanford, the Texas billionaire who has been on the lam since the SEC charged him for fraud on Tuesday, has been found in Virginia.
MSNBC is reporting that the "FBI served civil papers" to the banker, who is accused of trying to bilk 50,000 clients out of $8 billion.
Stanford is not under arrest and is not in custody because he has not been charged with any crime, according to the AP:
A law enforcement official said the billionaire was served around 1:45 p.m. while sitting in a car, and authorities do not believe he had been purposely hiding or fleeing. Under the terms of the court case, Stanford had to surrender his passport. The official spoke anonymously because he was not authorized to discuss specifics of the case...

Stanford's father, James Stanford, told The Associated Press in Mexia, Texas, on Thursday that he hopes the allegations aren't true. "I have no earthly knowledge of it," said the elder Stanford, listed as chairman emeritus and a director for Stanford Financial Group. "I would be totally surprised if there would be truth to it. And disappointed, heartbroken."

Asked what advice he would give his son, Stanford, 81, said: "Do the right thing.
ABC is reporting that Stanford turned in his passport to federal prosecutors.
Quoting one of Stanford's lobbyists, Ben Barnes, who is a former Texas public official, ABC reported that Stanford is "very depressed," and wanted to end the manhunt for him by going to the Justice Department.
Earlier this week, U.S. Marshals seized Stanford's assets, and clients have been flocking to Antigua to try and withdraw funds.
ABC is also reporting that Stanford is also under investigation in connection with an alleged drug money-laundering scheme for Mexico's Gulf Cartel.
Stanford's fleet of six private jets were recalled to the corporate hangar at Sugarland Airport outside Houston, including the Bombardier 500 luxury jet that was used exclusively by Stanford.

According to flight records, the Stanford jet flew into Washington, D.C. earlier this week and returned to Houston yesterday afternoon. Flight crews said Stanford was not seen on the plane when it unloaded.

Stanford's 120 foot yacht, the Sea Eagle Bikini, docked at a marina in St. Croix is also likely to be seized, and SEC attorneys contacted marina owners in St. Croix to determine the precise location of the yacht.
Sean Hannity, conservative radio host, endorses Stanford's company.
Golf Pro Vijay Singh, who has a multi-million dollar endorsement deal with Stanford, is "astonished" at the allegations of fraud.
Stanford gets into trouble by flirting with women other than his wife.
Related
Popular in the Community