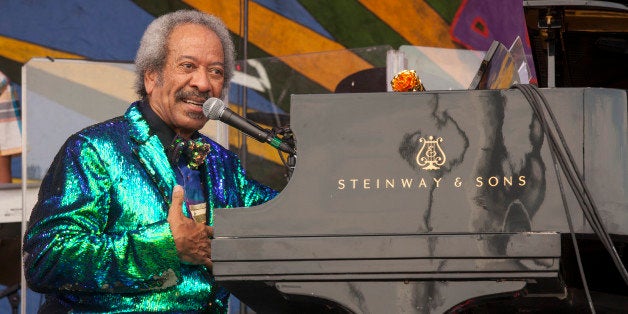 Legendary musician, songwriter and producer Allen Toussaint passed away on November 9, 2015, at the age of 77, after a performance in Madrid.
The New Orleans native was instrumental in creating and sustaining much of the music that has come out of the Crescent City since the late 1960s.
Toussaint, who was inducted into the Rock & Roll Hall of Fame in 1988, worked with virtually every major New Orleans musician in some form.
Among many other accomplishments, Toussaint wrote Ernie K-Doe's iconic "Mother-in-Law," ushered in the career of the legendary soul queen of New Orleans Irma Thomas, and worked extensively with the Meters, Lee Dorsey, Jessie Hill, James Booker, and Chris Kenner.
Toussaint arranged, produced, or recorded (sometimes all three) Dr. John, Albert King, Paul McCartney, Paul Simon, Robert Palmer, Patti Labelle, and many others at his Sea-Saint Studios.
In person, he was the personification of Creole class and elegance.
Donning his extravagantly adorned custom suits at outdoor festivals despite the brutal New Orleans heat, Toussaint was unflappably cool under any circumstances.
Toussaint would drive his gold-plated Rolls Royce right up to the stage at the New Orleans Jazz and Heritage Festival every year.
The Riverboat Natchez interrupted his headlining set at this year's French Quarter Festival with several ear-shattering blasts of its steam horn as it passed on the Mississippi River, but Toussaint took it all in stride.
Springing up from his perch at the piano, Toussaint smiled broadly at the passing riverboat, gave the passengers lining the deck a gracious wave, and sat right back down to continue his set.
Musicians around the globe took to social media as news spread of Toussaint's untimely passing, sharing stories of working with the great man and expressing shock and sadness at his untimely passing.
"Allen Toussaint" immediately became a trending topic on Twitter, with hundreds of thousands of tweets sent within hours of Toussaint's death.
Rolling Stone Magazine shared a "lost interview" with Toussaint from the days after Hurricane Katrina.
Meters bassist George Porter Jr. posted a lengthy tribute on his Facebook page.
The Rolling Stones tweeted a YouTube video of the band performing a Toussaint song, "Pain in My Heart."
On an Instagram post accompanying a picture of a young Toussaint, John Stirratt of Wilco told the story of Wilco's first performance on Late Night with David Letterman in 1997, when Toussaint sat in with the band.
Actor and musician Hugh Laurie summed it up nicely when he tweeted "Allen Toussaint. Poor old world, lucky old heaven."
The entire music world has been dealt a huge loss with Toussaint's passing. There simply aren't very many musicians like him left in New Orleans or anywhere else in the world.
Rest in peace Allen Toussaint. Thank you for sharing your music with the world.
Calling all HuffPost superfans!
Sign up for membership to become a founding member and help shape HuffPost's next chapter