Allen Toussaint won me over long before I knew his name.
If I live to be 200, for example, I won't forget holding my new black-and-gold Realistic transistor radio up to my ear back in eighth grade and hearing Ernie K-Doe's "Mother-in-Law."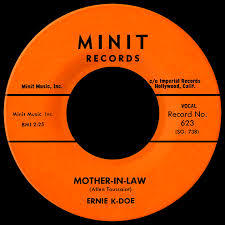 It had a killer hook and a catchy beat, and right near the end, K-Doe threw in a shudder that's unlike anything I had heard on a record before. Or have heard since.
It was a great radio record, and it never occurred to eighth-grade me to ask who exactly was writing and producing rock 'n' roll songs about a mother-in-law.
Especially one with lines as literate as "Says her advice is a contribution / But if she would leave / That would be the solution."
It wasn't until years later, when I was looking at the orange label of the Minit 45, that I connected it to Allen Toussaint. Oh, so that's who wrote it.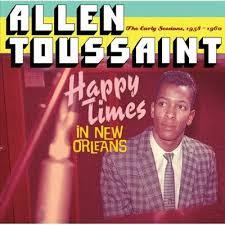 Even then I didn't make the further Toussaint connection to another song I won't be forgetting, Lee Dorsey's "Working In The Coal Mine."
"Coal Mine" was a radio hit during my first summer as a construction worker, when six of us would often ride back from the job site together.
That included four of us school kids, the summer workers, and two full-timers, Don Lyons and Bobby Regan.
Whenever "Coal Mine" would come on the radio, which was all the time when it was in the top 20, Bobby would crank the volume, turn around and lead all of us in a loud sing-along.
As time passed, I gradually realized Toussaint was also behind like Dorsey's "Ya-Ya" and Chris Kenner's "I Like It Like That" and several more of the best songs from my top-40 youth.
After Toussaint died this past Monday, at the age of 77, most obituary writers sensibly focused on the great musicians who had called on his talents over the years.
He worked extensively with Aaron Neville and the Meters. He arranged for Paul Simon on There Goes Rhymin' Simon. He arranged horns for The Band on "Life Is a Carnival." He produced Dr. John's "Right Place, Wrong Time" and LaBelle's "Lady Marmalade."
He recorded Paul McCartney and Wings and played with Elvis Costello. He's in the Rock and Roll Hall of Fame for a reason.
But beyond that, he was just a music guy. He taught himself to play on the family piano when he was a teenager and 60 years later, on his last night, he was still playing piano.
He started as a performer, following the usual pattern of adapting his own music from the sound of people he admired, in this case notably including Ray Charles and Professor Longhair.
Fairly soon he moved into production, where he learned the deceptively difficult trick of creating music that wasn't tied to a single sound.
While he was pure New Orleans, beginning to end, he also used the whole musical field.
It's great that the Rolling Stones remade the underappreciated gem "Fortune Teller," which he wrote for Benny Spellman in 1962. It's just as telling that he was recorded by Lawrence Welk and that one of his songs became the theme for "The Dating Game."
One of his biggest later hits came when Glen Campbell put "Southern Nights" on the country charts, ironically adding a funkier tempo than Toussaint gave it himself. Bonnie Raitt's version of "What Do You Want the Girl To Do" shows how flexible a Toussaint song could be, bending smoothly and easily to accommodate what she wanted it to say.
Hurricane Katrina drove Toussaint out of New Orleans and up to New York, where he dusted off his performing skills. Then in the end he went back to New Orleans, which was the way it needed to be, because New Orleans was the taproot of his music.
Back in New Orleans he was considered quirky in the best ways. He drove around town in a Rolls Royce and would show up at formal events in a suit and sandals.
That helped make him endearing. It was the music, though, that made him respected.
His name has a secure permanent spot in the long New Orleans sentence that runs from Buddy Bolden, Louis Armstrong and Jelly Roll Morton through Fats Domino, the Neville brothers, Dave Bartholomew, Harry Connick Jr., the Marsalis family, Professor Longhair, Dr. John and Bobby Charles.
The last song he performed, at Madrid's Teatro Lara on Monday, was "Play Something Sweet."
By then, even the slowest of us top-40 fans knew he'd spent a lifetime doing just that.
Popular in the Community