Rep. Allen West (R-Fla.) released a tough ad on Friday, going after Democratic opponent Patrick Murphy's 2003 arrest for disorderly intoxication and possessing a fake driver's license, and including his nine-year-old mugshot next to a picture of West in a suit.
The ad says on Feb. 16, 2003, West "had just received deployment orders and prepares his men to go to war." It then goes to a map of Florida, where Murphy was attending college at the University of Miami.
"That night, South Beach, Miami: Patrick Murphy is thrown out of a club for fighting, covered in alcohol and unable to stand," a voiceover says. "Murphy then confronts and verbally assaults a police officer."
Murphy, who is challenging West in the 18th District, was 19 at the time of his arrest. He has called the incident "the biggest mistake of my life."
The Murphy campaign quickly pointed out in a statement to Roll Call that West was fined $5,000 in December 2003 for an incident earlier that year involving the interrogation of an Iraqi policeman who he thought was planning his assassination. West threatened to kill the policemen and fired a gun near his head as an interrogation tactic. Then he was forced to retire.
"Allen West is now opening up what his military record was in 2003," said Eric Johnson, a senior adviser to Murphy's campaign. "In 2003, he was criminally charged by the military with assault and for violating the Uniform Code of Military Justice and was subsequently kicked out of the military. I find it odd that he's trying to brag about that particular year of service. And he's attacking Patrick Murphy for drinking as a teenager, which I think is a silly attack."
West campaign manager Tim Edson refuted that statement to Roll Call, saying West "fought and defended his country honorably for 22 years" and "while Patrick Murphy was getting drunk and getting arrested, Allen West was shipping off to war. The ad speaks for itself."
UPDATE: 2 p.m. -- The Murphy campaign is now fundraising off of West's ad with an email calling it "outrageous."
"Allen West is attacking Patrick with his most despicable ad yet," Murphy campaign manager Anthony Kusich wrote in the email to supporters Friday afternoon. "We have got him on the ropes -- and he is desperately turning to vicious personal attacks."
The West campaign, meanwhile, put up a website "Patrick Murphy's Law" prominently featuring the mug shot and explaining his "night out," including a link to the police report from 2003.
UPDATE: 11:57 a.m. -- Also on Friday, House Majority PAC, a super PAC devoted to helping Democrats get elected to the House, began airing its second ad against West.
The new spot highlights some of his extreme comments: accusing the majority of the Democratic lawmakers of being "members of the Communist Party," saying that the government should be "censoring the American news agencies" and calling Social Security a form of "modern, 21st century slavery." It also highlights the fact that the IRS filed a lien against West.
The ad will air for a week in West Palm Beach.
The group originally planned to spend $1 million against West, but it announced on Friday that it had increased that amount to $1.5 million.
Amanda Terkel contributed reporting.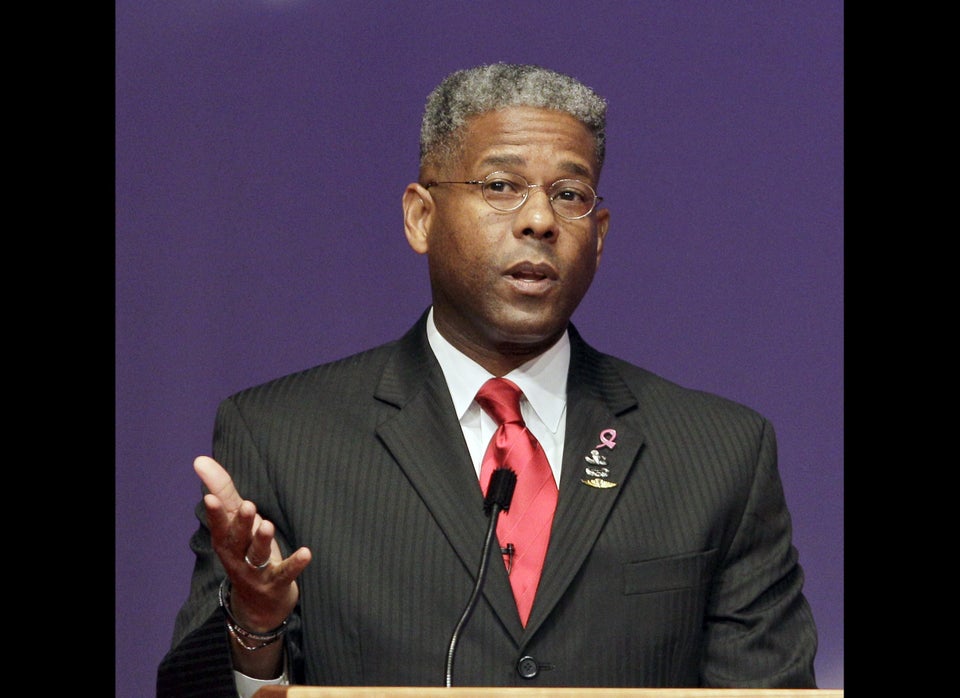 The World According To Allen West
Popular in the Community