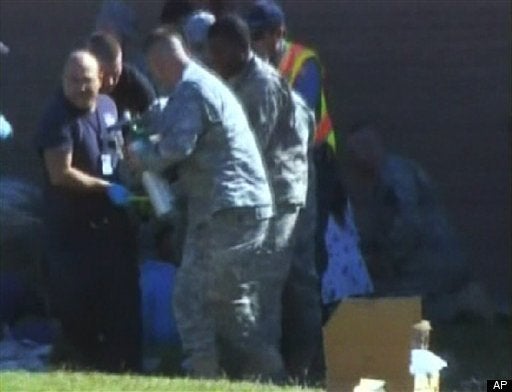 Hours after 13 soldiers were shot to death in a massacre at Fort Hood, a Republican candidate for Congress (and former Fort Hood commander) is warning that terrorists are infiltrating the military and brainwashing U.S. soldiers.
Lt. Col. Allen West (Ret), who is running for Congress in Florida's 22nd District, released a statement on Friday morning that heavily insinuated that Maj. Nidal Malik Hasan -- the soldier responsible for the Fort Hood killings -- was a Muslim extremist.
"This enemy preys on downtrodden soldiers and teaches them extremism will lift them up," West said, in a statement titled "Terrorists Are infiltrating Military". "Our soldiers are being brainwashed."
While admitting that more information was needed about Thursday's tragedy, West nevertheless called for a renewed effort on the part of the military to prevent Islamic extremism from penetrating its ranks.
"The most importantly thing right now is that we objectively assess this situation," West said. "But it is imperative that we take steps to make sure this does not happen again."
In releasing his statement, West appears to be the first politician to claim a link between Malik Hasan's shooting rampage and Islamic extremism or terrorism. Reports on the incident aren't 100 percent clear. But they generally suggest that Malik Hasan was acting out of intense stress over a pending deployment to Iraq. That said, authorities have not ruled out that Hasan was acting on the behest of an unidentified radical group. Hasan was a lifelong Muslim who worked at a psychiatric hospital in Bethesda, Maryland.
A veteran of Iraq and Afghanistan, West ran and lost a race for the 22nd Districts House seat in 2008. In 2003, he was forced to resign from the army, just shy of 20 years of service, after soldiers under his supervision (and he himself) were accused of assaulting an Iraqi detainee. West claimed his actions (which included firing a 9mm pistol close to the man's head) helped prevent a planned ambush by Iraqi insurgents.