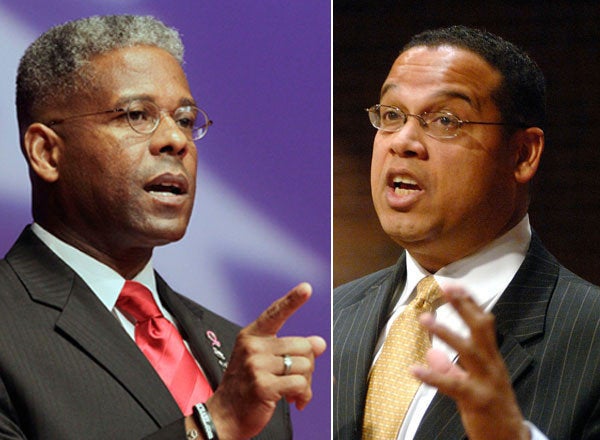 Freshman Tea Party-backed Rep. Allen West (R-Fla.) recently got personal in an attack on one of the House's two Muslim representatives, declaring that Rep. Keith Ellison (D-Minn.) represents "the antithesis of the principles upon which this country was established."
During an interview with "The Shalom Show," West also said that he plans to "defeat" Ellison, an outspoken Democrat who "supports Islam," according to host Richard Peritz, "intellectually in debate and discourse."
As ThinkProgress notes, West has repeatedly sought to connect Islamic religious beliefs to supposedly anti-American views.
At a town hall meeting during his campaign, West claimed that people who display the popular "Coexist" bumper stickers, which use various religious symbols as font, are those who would "give away our country" and "our rights and freedoms and liberties because they are afraid to stand up and confront that which is the antithesis, anathema of who we are."
If the connection between the bumper sticker and Islam wasn't made clear by that statement, West went on to drive home his claim that Islam is a "very vile and very vicious enemy that we have allowed to come in this country because we ride around with bumper stickers that say 'coexist.'"
For more on West's controversial views of Islam, check out ThinkProgress's report here.
Popular in the Community