 WASHINGTON -- Rep. Allen West (R-Fla.) is trailing his Democratic challenger Patrick Murphy by nine points, according to a new Democratic poll.
The poll, conducted by Garin-Hart-Yang Research on Sept. 26-27, found that 52 percent of those surveyed support Murphy, compared to 43 percent for West, a Tea Party favorite. The margin widened even more among Independents: 58 percent said they backed Murphy versus 40 percent supporting the freshman Republican.
The poll surveyed 401 likely voters in Florida's 18th District and has a margin of error of 4.9 percent.
"It's clear that with his extreme, offensive rhetoric and record, Allen West is turning off voters all across the spectrum," said Alixandria Lapp, executive director of House Majority PAC, which released the poll on Monday. The PAC is currently airing its second TV ad against West as part of a $1.5 million TV buy in the district.

A West campaign spokesman did not immediately respond to a request for comment.
Monday's poll is the latest in a series of polls that show the preferences of the district's voters to be all over the map. Republican pollster Kimball Political Consulting showed Murphy leading West by 49 to 45 percent in a Sunday poll, while West's campaign released a poll last week that showed West ahead by nine points. Another poll released in August showed the candidates to be statistically tied.
The West-Murphy race is one of the most closely watched in the nation. West's campaign released a brutal ad last week targeting Murphy's 2003 arrest for disorderly intoxication and featured his mugshot from nine years ago next to a picture of West in a suit. Murphy's campaign hit back by highlighting that West was "kicked out of the military" that same year for assault.
UPDATE 11:41 a.m. -- West campaign spokesman Tim Edson said the "concocted poll" doesn't reflect reality.
"After a week where everyone, including liberal pundits, were writing Patrick Murphy's obituary, Murphy and his allies have to do something to make liberal contributors believe he is still viable," Edson said in a statement to The Huffington Post. "The fact that the DCCC cancelled advertising for Patrick Murphy validates the internal poll that we released last week showing Patrick Murphy down double digits."
*************************
What's happening in your district? The Huffington Post wants to know about all the campaign ads, mailers, robocalls, candidate appearances and other interesting campaign news happening by you. Email any tips, videos, audio files or photos to election@huffingtonpost.com.
Before You Go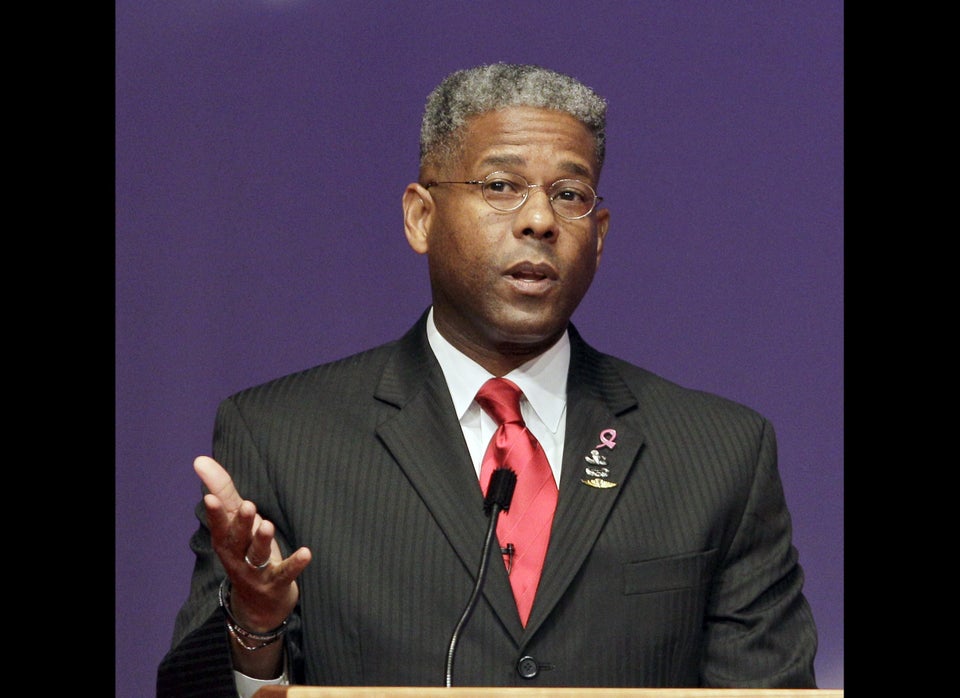 The World According To Allen West
Popular in the Community