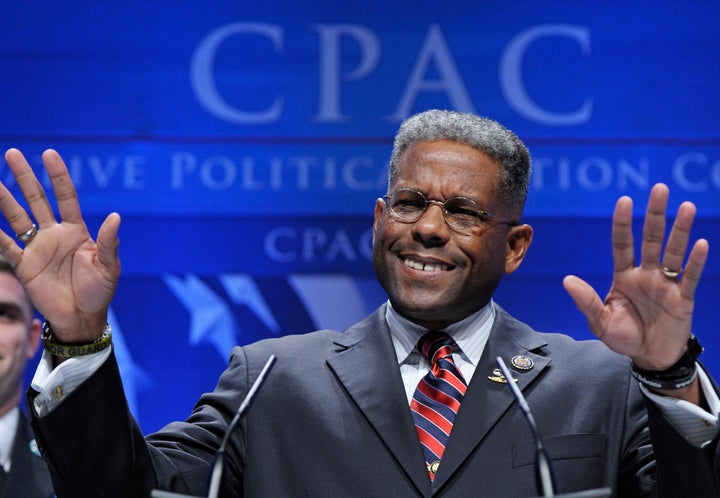 WASHINGTON -- No shortage of hyperbole has accompanied the ongoing budget debates threatening to end in a government shutdown this week. And the perpetrators, it can reasonably be argued, come from both sides of the aisle.
Rajiv Shah, the president's administrator of USAID, raised the specter of 70,000 children dying as a byproduct of passing the Republicans' budget. Delegate Eleanor Holmes Norton (D -D.C.) called the idea of a shutdown the "functional equivalent of bombing innocent civilians." And House Appropriations Committee Chair Hal Rogers (R-Ky.) equated support of a one-week stopgap measure that would fund the Pentagon for the remainder of the year with lawmakers' personal appreciation of the armed forces.
"If you vote against this bill," Rogers said Thursday on the House floor, "you are voting against the troops."
And yet a statement Rep. Allen West (R-Fla.) released on Thursday made even those outlandish statements appear relatively benign in comparison. The freshman Republican drew historical analogies between current times and pre-World War II Europe, comparing those who were unwilling to sign off immediately on the one-week stopgap measure -- which ended up passing the House in a near-party-line vote -- to Neville Chamberlain and his fellow appeasers.
The congressman's office had the following statement placed in the Congressional Record with respect to the stopgap measure, alternatively known as the "Department of Defense Appropriations Bill."
Mr. Speaker: Will we be Chamberlain or will we be Churchill? Neville Chamberlain, the Prime Minister of the United Kingdom between 1937 and 1940, will forever be known for his foreign policy approach of appeasement. Prime Minster Chamberlain, even with Germany's increasing aggression in Europe, turned a blind eye to the impending danger and did not prepare his nation for war.

Winston Churchill, who saw the dark clouds approaching, was looked upon as an alarmist at the time, even though he saw the true danger. Churchill stated: "An appeaser is one who feeds a crocodile, hoping it will eat him last."

Mr. Speaker: I once again will not be feeding the crocodile. I once again will not be voting for yet another Continuing Resolution. However, having spent 22 years in uniform, having served on the battlefield in defense of this nation, I will be voting for the Department of Defense Appropriations bill in order to support our men and women in uniform. Our nation is involved in two conflicts and our President has now involved us in a third. It is my constitutional responsibilities to provide funding for the service members in uniform who are defending our nation both at home and abroad.

Some would argue that comparing World War II to the debate on the budget for Fiscal Year 2011 is not an appropriate comparison. However, I would argue that Winston Churchill was prepared to lead his country courageously, in the way that would ensure England's future. Today we are also faced with the question of protecting America's future.
West, it should be noted, went on to chastise members of his own party for using Pentagon funding as a bargaining chip in the ongoing budget debates. Republican leadership, he wrote, could have acted on the matter during its first few months in office, but chose instead to use "the men and women in uniform, the individuals who are defending our freedom, as a way to pass yet another continuing resolution."
Still, the fact that West preemptively admitted that evoking WWII in the context of a budget debate may strike some as "not an appropriate comparison," indicated that he was not only expecting a few howls, but he was inviting them.