 WASHINGTON -- Former Rep. Allen West (R-Fla.) is raising eyebrows again, this time by accusing decorated veteran and Rep. Tammy Duckworth (D-Ill.) of not being loyal to America.
West questioned Duckworth's patriotism because of her role on a new House committee investigating the 2012 attack at a U.S. consulate in Benghazi, Libya. Republican leaders formed the committee this month, despite the existence of several other committees already doing the same work, and Democratic leaders reluctantly agreed to participate to push back on GOP politicization of the matter. Duckworth was named as one of five Democrats on the panel.
West appears to be arguing that, by participating in a committee that Democrats have chalked up as a stunt, Duckworth is more loyal to the Democratic Party than to the truth.
"I just don't know where her loyalties lie," West said of Duckworth, during a Wednesday night interview on "The Janet Mefferd Show."
"You know, for her to have been a veteran, a wounded warrior for the United States Army, she should know that this is not the right thing," West continued. "And hopefully, you know, she will remember the oath of office that she took as an Army officer and not the allegiance I guess she believes she has to the liberal progressives of the Democrat Party."
Duckworth spokeswoman Kaitlin Fahey called West's remarks "disappointing."
"The congresswoman is committed to working with her colleagues on both sides of the aisle to prevent the tragedy of what happened in Benghazi from happening again," Fahey said. "It's disappointing, though sadly not very surprising, to see Mr. West choose to politicize such a serious issue for personal and political gain."
Duckworth has certainly put in her time as a public servant. In addition to serving in Congress, she was one of the first Army women to fly combat missions in Iraq, until her helicopter was hit by a rocket-propelled grenade in 2004. Before passing out, Duckworth somehow managed to help land the helicopter, despite injuries that led to both of her legs being amputated and one of her arms being damaged. She was awarded a Purple Heart for her combat injuries.
West is also a decorated Iraq War veteran, though in 2003 he was forced to resign to avoid a court martial for assaulting an Iraqi detainee during interrogation. An Army lieutenant colonel, West admitted to ordering his soldiers to beat the detainee and then threatening to kill him as he fired his pistol next to the detainee's head. West was ultimately fined $5,000, though the punishment didn't affect his eligibility for retirement and pension.
Curiously, Duckworth's GOP challenger, Larry Kaifesh, posted a flier on his Facebook page on Thursday afternoon touting his endorsement from West -- and then pulled it down less than an hour later, just as news was circulating about West's criticisms of Duckworth. Kaifesh says in the post that he is "honored" to have West's backing and invites supporters to join him at a Florida fundraiser hosted by West.
The Huffington Post obtained a screenshot of the flier before it was yanked: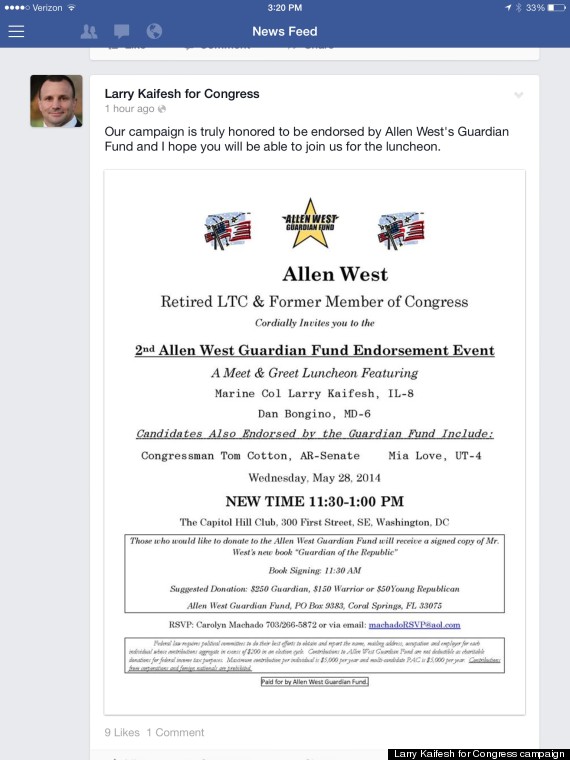 A Kaifesh campaign spokesman did not respond to a request for comment.
Before You Go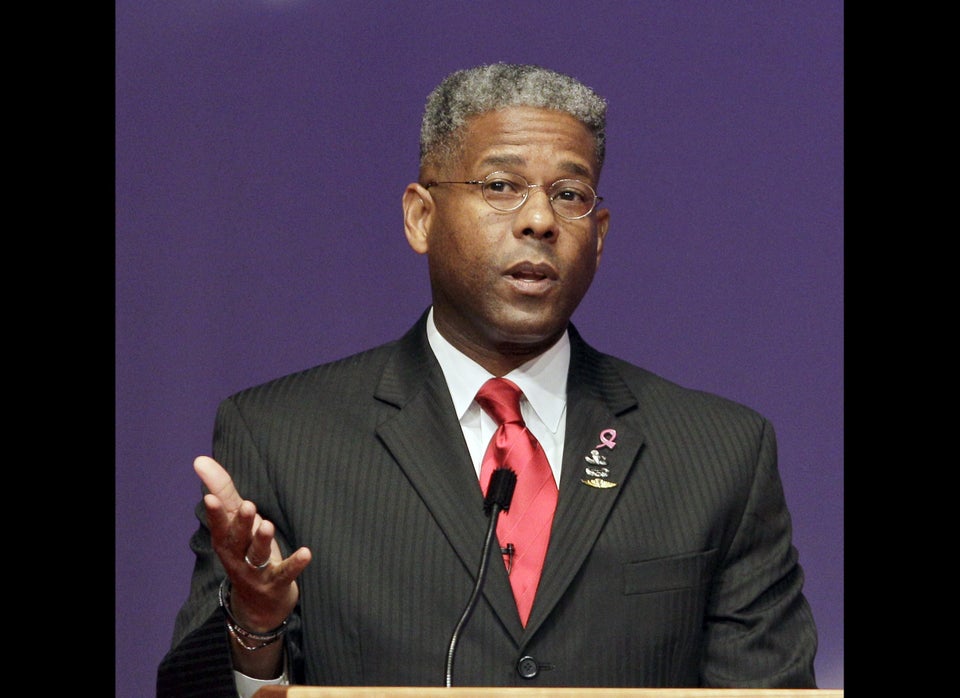 The World According To Allen West
Popular in the Community