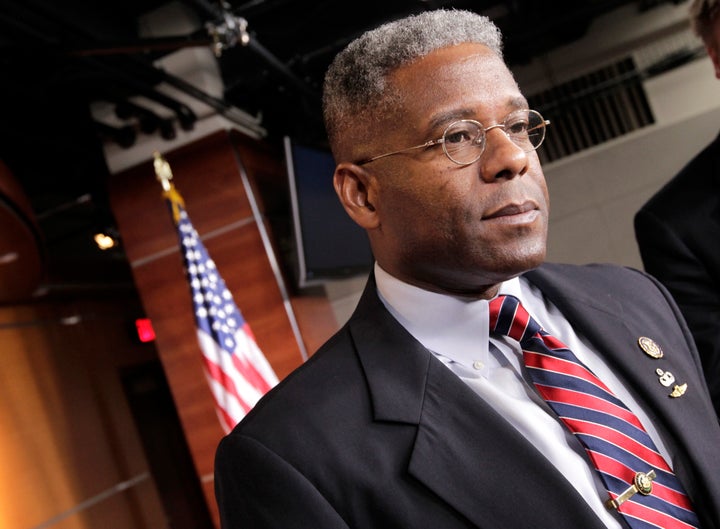 WASHINGTON -- It turns out House Minority Leader Nancy Pelosi (D-Calif.) and conservative Rep. Allen West (R-Fla.) might actually have one thing in common: they both like key pieces of President Barack Obama's signature health care law.
But during the constituent event, West also conceded that he agrees with parts of the law that one often hears only Democrats singling out for praise: the provision that allows young adults to stay on their parents' health insurance plans until the age of 26, and the provision that prevents insurance plans from discriminating against people with preexisting conditions.
"The things I just outlined could probably fit in about 10 to 15 pages," West said at the event, according to TCPalm.com. "It's the other 2,680 pages of the Patient Protection Affordable Care Act that will be detrimental to the United States."
Democrats regularly point to those two provisions as reasons why the health care law is so important. Pelosi cited them both when, during remarks on the House floor last week, she slammed the House Republican budget proposal put forward by Rep. Paul Ryan (R-Wis.) because it would, among other things, repeal the entire law.
"Would it be a statement of your values if you said in your budget that all of those young people who now have children who have a preexisting medical condition -- asthma, diabetes, birth defect -- any of those preexisting medical conditions ... may not be discriminated against in obtaining health insurance? But the Republican budget says they should be, because we're going to eliminate that," Pelosi said. "To the 2.5 million young people who are now on their parents' policies until they're 26 years old, this budget says 'no' to you, too. We're eliminating that. We're too busy giving tax breaks to the richest people in America."
Obama also frequently brings up those provisions when boasting of the success of his signature legislative accomplishment to supporters.
"Change is the health care reform that we passed after a century of trying because we believe that in America, in this great country of ours, nobody should go bankrupt just because they get sick," he said at a campaign event in Maine last week.
"As a consequence of what you did, 2.5 million young people have health insurance now that didn't have it before because they're staying on their parents' plans ... We're going to make sure the people with preexisting conditions are finally able to get coverage. That's what change is. That happened because of what you guys did in 2008."
Popular in the Community