The shirt, which essentially told girls that being pretty and smart were mutually exclusive, was quickly pulled from the retailer's website.
But now another shirt has popped up that's strikingly similar... but is it equally offensive?
Forever 21 released a tee as part of its fall arrivals that read, "Allergic to Algebra" with a sort of varsity tee design. ABC News found a few more tees guilty of anti-education cheekiness, some of which read "Skool sucks" and "A+=amazing, B=brilliant, C=cool, D=delightful, F=fabulous" with the advertised tagline, "F doesn't always mean fail!"
But is this really sexist? J.C. Penney designating boys as the homework doers and girls as the lookers is one thing. Saying that math is simply unpleasant is another. This writer happens to find algebra extremely unappealing -- allergy-attack inducing, in fact -- and might wear the shirt herself (if she was still 15).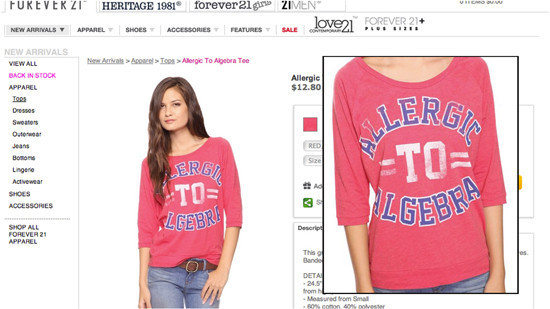 Popular in the Community