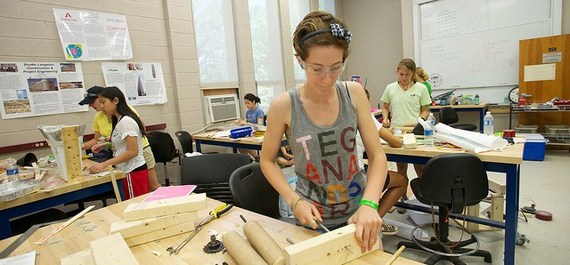 Sweet Briar College's Explore Engineering for High School Women program
Photo Credit: Meridith De Avila Khan/Sweet Briar College
Summer STEM camps provide girls with an opportunity to experience the fascinating world of science, technology, engineering and mathematics (STEM). For girls new to STEM, summer programs provide a fun way to explore unfamiliar subjects -- potentially discovering new areas of interest. For girls already interested in STEM, these camps build on existing interests or knowledge. Experiences such as these effectively encourage and inspire the next generation of female STEM professionals. And, even if your daughter decides upon a different career path, providing her with the opportunity to sample from the STEM smorgasbord is invaluable.
In this blog post, I'm spotlighting girls-only STEM camps held this summer at women's colleges across the country. Even though it's too late to attend one this season, keep them in mind for next summer.
I'll begin with the program offered at Wesleyan College, Spectacles.
Spectacles is a one week residential math and science camp for girls in seventh, eighth and ninth grade. For the past twenty-three summers, this program has attracted girls from around the globe who are interested in math and science and looking for more one-on-one STEM time with other likeminded girls. Held on the campus of Wesleyan College in Macon, GA, Spectacles provides various hands-on opportunities to apply mathematical and scientific principles both on and off campus. Participants have at their disposal the college's science labs and electronic classrooms as well as faculty members from the college's science and mathematics departments.
The Camp Director is Dr. Holly Boettger-Tong, Professor of Biology at Wesleyan College. Her goal for Spectacles is to make science and math cool, thereby inspiring the next generation of future STEM women: "We want them to see the creativity and purpose in science and math - something that's exciting, fun, and accessible - something they can take with them."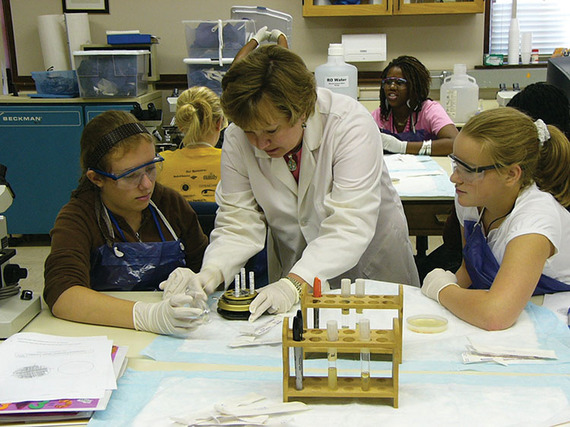 Caption: Pictured above is Wanda T. Schroeder, Ph.D. as she guides budding scientists at Wesleyan College's math and science summer camp, Spectacles. Dr. Schroeder is a Biology Professor at the college and also is the Munroe Chair of Life Sciences, Pre-medical Program Director and Pre-Nursing Program Director. Hailing from the Class of 1980, Dr. Schroeder receives great satisfaction mentoring future STEM women.
Photo Credit: Wesleyan College
Sweet Briar College's Explore Engineering for High School Women program takes place on the college's 3,250-acre campus located in Sweet Briar, VA. In addition to a weeklong residential program held each summer, weekend programs are held twice a year -- in the fall and spring. Since the goal of this program is to afford girls with an opportunity to see what engineering is all about, no previous engineering experience is required to attend. The college's engineering faculty and students ensure participants have fun while being introduced to the exhilarating world of engineering.

Heading up the program is Hank Yochum, Ph.D., professor and director of the Margaret Jones Wyllie '45 Engineering Program at Sweet Briar. Joining the other faculty members this year is Kaelyn Leake, Ph.D. After earning her Bachelor of Science degree in engineering science and physics in 2009 from Sweet Briar, Leake went on to receive a Ph.D. in electrical engineering from the University of California-Santa Cruz in 2015.
Mount Holyoke College offers two summer STEM-themed programs for high school girls. One provides the opportunity to create an interactive electronic component via the college's iDesign Workshop and the other, Restoration Ecology Summer Scholars Program, introduces participants to the field of environmental restoration. Both programs take place on the college campus of Mount Holyoke College in South Hadley, MA.
Shani Mensing '15, one of the iDesign teachers this summer, said this about the workshop:

The goal of iDesign Studio is to demystify technology for women with little or no background in programming. By introducing a more creative and accessible side to Computer Science, women have the opportunity to take on projects that they may have never deemed possible otherwise. Our hope is to engage students, who largely come from underrepresented demographics, and create a strong pipeline to college and beyond. We hope to establish a cohort, and a network, which will provide the professional support necessary to sustain these students both throughout their education and in their careers once they move into the professional realm.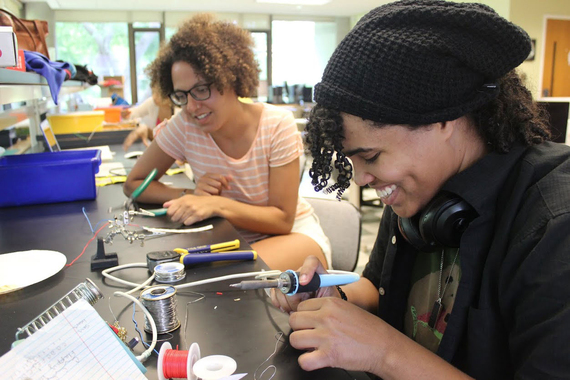 Photo Caption: iDesign teaching assistants Shani Mensing '15 (right) and Safae Alaoui Lahgazi '17 (left) soldering Neopixel LED strips.
Photo Credit: Mount Holyoke College
Mount Holyoke College's restoration ecology project is headed up by faculty member Dr. Kate Ballantine from the environmental studies department. Campers engage in field work, where they are introduced to techniques utilized by the top restoration ecology scientists from around the world. At the same time, they gain knowledge about various components of environmental science and restoration, including soil health, water quality, wildlife management and plant biodiversity. Students also learn and discuss social issues that impact the environment, including how individuals are influenced by these social issues.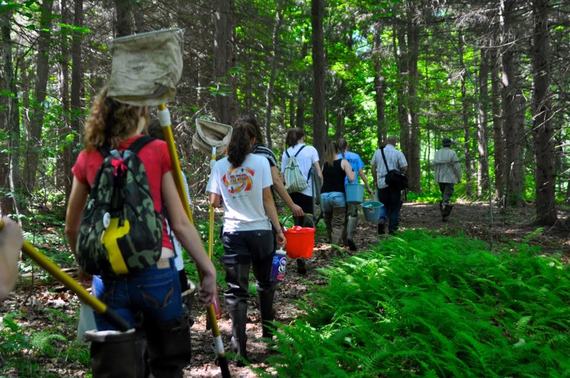 Photo Caption: Campers and instructors from the Restoration Ecology Summer Scholars Program en route to a day of field work.
Photo Credit: J Busa Photography
For girls in high school with a strong interest in science, engineering and/or medicine, there's The Smith Summer Science and Engineering Program (SSEP). SSEP is a month-long residential camp held on the Smith College campus in Northampton, MA. Participants engage in research courses taught by faculty members from various STEM departments, including both life and physical sciences and engineering. Camp attendees are immersed in scientific pursuit, learning how scientists and engineers think to solve problems as they engage in research, but there's also ample free time on weekends and after classes for non-STEM activities. And, since STEM professionals today are often required to present their research findings orally, SSEP participants have opportunities to develop their platform skills via presentations of their coursework to peers, professors and family.
Another STEM program Smith College offers to high school girls is their two-week Field Studies for Sustainable Futures program. Also hands-on, this interdisciplinary program is designed for environmentally conscious girls who want to learn more about sustainable practices. Staff from the college's sustainability office and area leaders in environmental education, green building, renewable energy and organic farming contribute to this holistic approach to sustainability that goes beyond the current "green" conversation.
Two other women's colleges, Bryn Mawr College (Bryn Mawr, PA) and Mills College (Oakland, CA), host the all-girls Alexa Café program designed to build tech skills in girls ages 10 to 15. Back to back, one-week programs for learning to code apps, produce films, design websites and develop wearable electronics are available.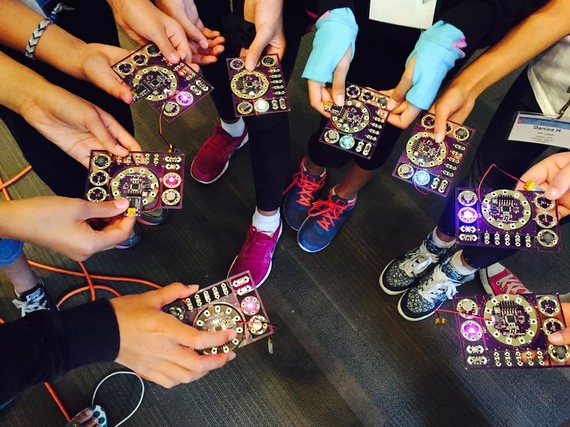 Caption:At Alexa Café, girls ages 10-15 discover a passion for technology in this unique environment that emphasizes leadership, philanthropy and innovation.
Photo Credit: Alexa Café
Saint Mary's Summer Academy is held on the campus of Saint Mary's College in Notre Dame, IN. This summer the Academy's STEM related programs included one for forensic science and digital photography. These residential, weeklong camps are designed for girls entering grades 8-12.
Solving a staged crime scene is what the forensic science camp is all about. Campers apply biology, chemistry and mathematics, tap into their deductive reasoning skills and learn how to gather evidence. After solving the mystery, participants present their findings in a public forum for family and friends and gain valuable presentation skills in the process. The camp also includes a field trip to a professional crime lab.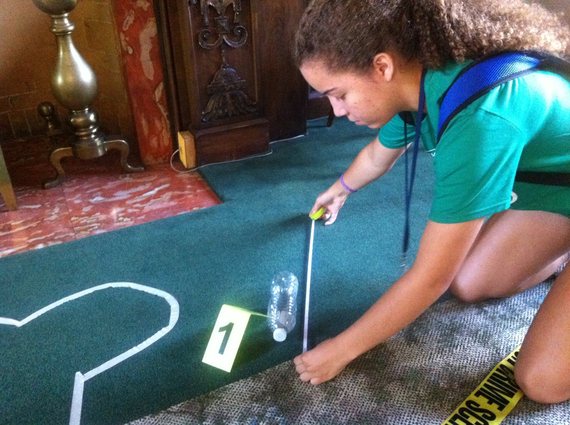 Photo Caption: Forensic Science Summer Academy provides campers with the opportunity to solve a staged crime scene.
Photo Credit: Saint Mary's College
For girls interested in learning the fundamentals of digital photography, The Academy also offers a digital photography camp. Here girls learn tech skills, including Adobe Photoshop, and apply their knowledge when creating their own portfolio.
"Our emphasis is assisting girls in becoming more adept at using the new visual technologies and integrating this into their own unique photographic portfolio," said Doug Tyler, Art Professor and Director of the Film Studies Minor at Saint Mary's. "The Digital Photography Academy is an opportunity for young women to develop their familiarity with technologically based methods of self expression."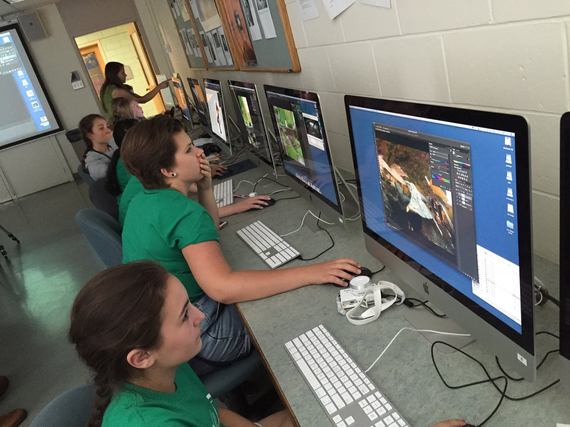 Caption: Campers learning tech skills necessary in digital photography.
Photo Credit: Saint Mary's College
On the campus of Stephens College in Columbia, MO is a summer filmmaking camp for girls between the age of 12 and 17: Citizen Jane. This two-week basic filming and media literacy camp is held during the month of June, along with a two-week advanced filmmaking camp. This summer program is a collaborative effort between the college, Columbia Public Schools and The Citizen Jane Film Institute.
Designed and implemented by The Citizen Jane Film Institute, this program is extremely popular with girls interested in filmmaking, and this women's college is the perfect host. Stephens College is known for its undergraduate Digital Filmmaking program and affords Camp Citizen Jane participants easy access to professional filmmaking equipment, an on-campus television studio (which also is used by local public cable channel Columbia Access Television) and Stephens filmmaking students who volunteer to teach and mentor.
Caption: Camp Citizen Jane participants create several short films, including public service announcements. This particular PSA warns future film attendees to silence their cell phones.
Women's colleges are a valuable resource for parents wanting to provide their daughters with an opportunity to become acquainted with STEM subjects and/or strengthen an existing interest. Women's colleges continue to champion future STEM women via undergraduate programs, graduating women knowledgeable in their field of study as well as in skills associated with a liberal arts education. Graduates are prepared to launch a career upon graduation or continue on to graduate school.
To discover all the women's colleges within the United States, visit my blog, where a comprehensive list is available.
Enjoy the rest of the summer, and keep a STEM camp in mind for your daughter next year!
Related