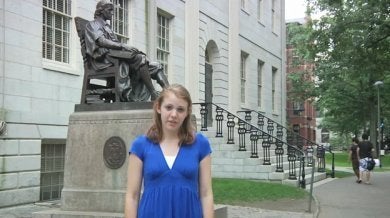 After high school junior Allie Kauffmann spent close to $800 on an SAT prep course, her score jumped 300 points. But rather than feeling pleased by the improvement, Kauffman was angered by what she considered proof of the structural inequity of the test -- and decided to make a short film to share her feelings.
With the help of her award-winning father, Boston University film professor Sam Kauffman, and FairTest, Allie explained the ways in which the SAT and ACT are biased, listing gender, race, economic background and first language as characteristics that contribute to how students score. In the video, she urges viewers to sign a petition titled ACT Out Against SAT and calls for the president of the National Association for College Admission Counseling to encourage schools to stop requiring applicants to submit standardized test scores.
Mr. Kauffman told the Chronicle that the project is meant to expose the tests as "unfair, biased and illogical." But the Chronicle questions whether the Kauffmanns' motives may be less pure, noting that Allie -- now a senior -- has provided links to her video on all of her college applications.
And if this is the plan, it is working -- Wake Forest University, which is test-optional, ran a profile on the student for her efforts.
Do you think this is a sincere cry against unfair testing, or is Allie just playing the admissions game? Check out the video below, and let us know what you think the comments section.