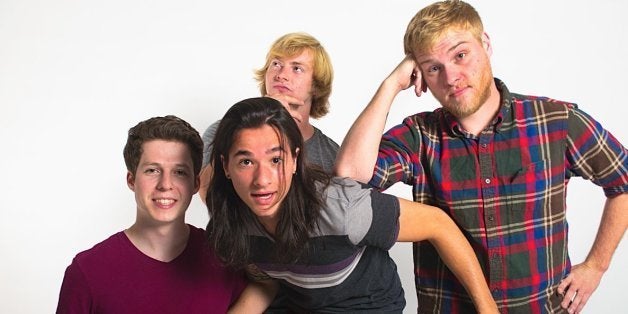 While radio stations and stages today are dominated by pop, hip-hop and EDM, bands like Heavy English, Closure in Moscow and Dorothy prove rock music in 2014 is far from irrelevance. The newest band to step up to the plate is Long Island's Allies, and The Huffington Post is excited to premiere their deliciously groovy debut single, "Laid Black."
"We've always been inspired with musics ability to unite so many people," Villafane told HuffPost Entertainment. "It doesn't matter where you come from, what you do or what language you speak, everyone is in it together. We recognize that support system as 'Allies' and wanted to make it clear that this band is a two way street and that you can be in it too."
Featuring Joe Villafane (vocals/keys), Ryan Higbie (guitar), Sean Banicki (bass) and Alex Kaufman (drums/percussion) -- as well as their touring member "utility knife," Zuli -- Allies has a special connection to Heavy English. Not only are both groups from Long Island, but Sal Bossio and Dan Gluszak worked as producers/engineers on Allies' upcoming EP. Their music chemistry stems back to 2011, when Villafane and Higbie took lessons with Bossio through his Virtual Music School, and Kaufman took lessons with Gluszak.
When asked to describe what influences their sound, Villafane summarized, "We're privy to the types of music that make you want to bob your head, scrunch up your face and shout damn in a sigh of relief."
"Laid Black" is an instant hip-shaker, silvery guitar pickings and piano rhumbaing overtop a seductive bedrock crafted by the drums and bass. The vocals are breathy, but powerful, and will undoubtedly make you want to slowly strip down. Rock music hasn't been this sexy in a long, long time.
"'Laid Black' is all about getting down, getting freaky and letting loose without a care in the world," Villafane said.

Before The Beat Drops is an artist introduction series dedicated to bringing you the rising acts before they make their break. Our unlimited access to music of all kinds is both amazing and overwhelming. Keeping your playlists fresh, we'll be doing the leg work to help you discover your next favorite artist.
Calling all HuffPost superfans!
Sign up for membership to become a founding member and help shape HuffPost's next chapter
BEFORE YOU GO
PHOTO GALLERY
Artists To Know In 2014