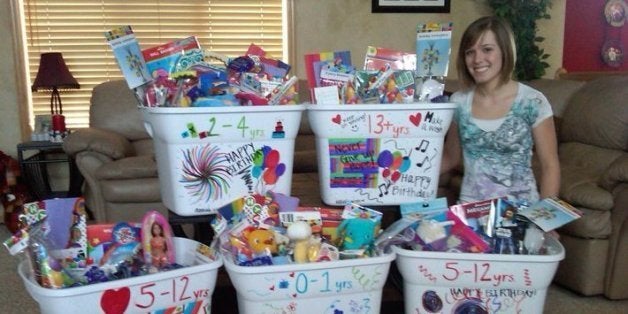 As Allison Kanyetzny approached her 10th birthday, she decided she wanted to celebrate by giving away gifts rather than receiving them. She had no idea at the time that the project she decided to title "Allie's Wish" would later inspire a charitable project and inform her life's mission of helping others in need.
A native of Anoka, Minnesota, Kanyetzny grew up with lots of love and support from her large family. With her birthday falling between Thanksgiving and Christmas, she was never short on fun, gifts or attention -- so by the time she reached the age of 10, she didn't feel like she needed anything.
In lieu of drafting a birthday wish list, she began researching local organizations that could receive donations from her party. After selecting Sharing and Caring Hands as her recipient, Kanyetzny requested that all family members and friends send toys, toiletries and new and used clothing to her so she could donate them to the homeless shelter in Minneapolis.
By the end of her birthday weekend, the project she titled "Allie's Wish" had collected more than 27 boxes of donations. When she dropped them off at Sharing and Caring Hands with her family, Kanyetzny met founder Mary Jo Copeland -- and the people she was about to help with her donations.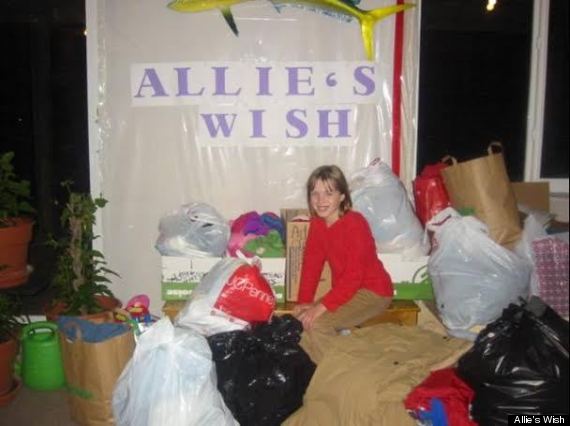 Kanyetzny with all of the donations from her 10th birthday.
"She brought me into this room with all of these homeless kids and families, and I was just so speechless," Kanyetzny, who is now 18, told The Huffington Post. "The kids, from babies to teenagers, were just clapping with pure joy because they had a new piece of clothing or toy. I was 10 at the time, so I didn't really understand why they were thanking me, but that feeling is like no other I've ever had. It felt amazing to be able to help someone. And I knew that I wanted to keep it going somehow, even though I had no idea how I was going to do it."
Kanyetzny continued the tradition each year on her birthday, and when her 15th birthday approached, she decided to make an even bigger push for donations.
"I really wanted to base it on kids because I was a kid -- well, I still am -- and I wanted to affect the lives I was seeing," she said. "They're our new generation and they're coming up behind us, and I feel that they always need to be helped."
So she raised $1,250, donating $500 to St. Jude Children's Research Hospital and using the remainder to make birthday baskets for patients who spent most of their days under the care of Children's Hospital of Minnesota.
As she delivered the baskets and toured the hospital, Kanyetzny felt her initial career interest of becoming a teacher begin to shift toward nursing. She felt a closeness to the children she was helping, and realized how fulfilling it would be to care for the sick.

Kanyetzny with all of the toys donated on her 15th birthday.
The following year was Kanyetzny's Sweet 16 celebration, and she wanted to take her efforts to the next level and expand the influence of the project she had started six years earlier. Recruiting her friends from Anoka High School, she threw a donation-based dance and collected more than 110 toys for Sharing and Caring Hands' Mary's Place shelter, more than $1,000 for Feed My Starving Children and about 40 dresses for Operation Glass Slipper, which collects prom dresses for high school girls unable to afford them.
"I was just so shocked by how it was growing even more, and I was getting really excited," said Kanyetzny.
As another year passed and her 17th birthday approached, she decided to restructure the donation style of Allie's Wish. She realized she wouldn't be celebrating her birthday with the same enthusiasm each year as she got older, but wanted her work to continue helping others who needed it most.
"The role [of Allie's Wish] was celebrating the gift of giving -- that's what it's always been -- and so I really wanted to try to do something personal that affected someone's life, one individual person," she said.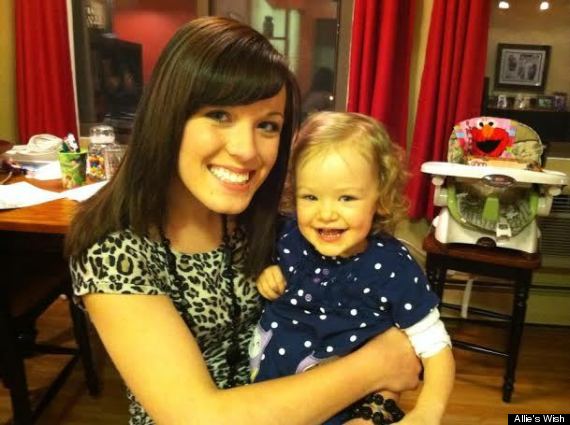 Kanyetzny with Allie's Wish recipient Lila Tjader
Kanyetzny met her next recipient, 8-year-old Alex Loehlein, through his sister Jennifer, one of her classmates. Jennifer approached Kanyetzny about fundraising efforts after her brother Alex was diagnosed with Duchenne muscular dystrophy, and over the past nine months, Kanyetzny has helped the Loehlein family raise about $2,000 for Alex and $800 for the Muscular Dystrophy Association.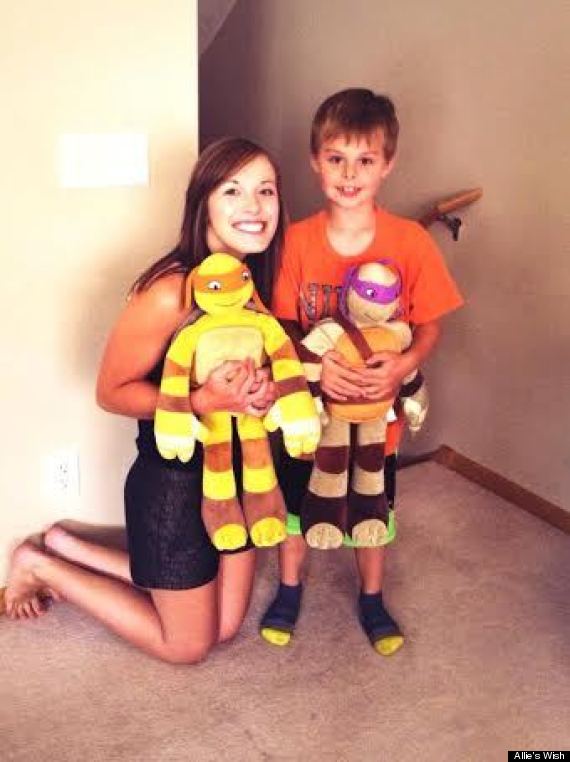 Kanyetzny with Allie's Wish recipient Alex Loehlein.
Kanyetzny is looking forward to raising money for Alex for the next three months, and selecting her third recipient in time for her 19th birthday on Dec. 4. She wants to choose someone in the St. Cloud area, she said, since it's her new home for the next four years of college. She's also excited to begin pursuing her nursing career and finding a way to maintain Allie's Wish when she begins working.
"If you told me when I was a kid that I was going to create this organization when I was 10, I would have thought you were crazy," she said. "But looking back, I have no doubt in my mind that I can make it into what I have planned with family, friends and other resources around me. It's my calling in life. Somehow Allie's Wish just kind of came to me and allowed me to do this with my life, and I'm excited to see it keep growing."
This article is part of a series produced by The Huffington Post highlighting the contributions of Go-Givers -- people who are looking beyond a "Go-Getter" approach to success and redefining success to include the importance of giving back. To nominate a Go-Giver of the Week, email gogiver@huffingtonpost.com.
Clarification: Language has been adjusted to clarify that hippotherapy and therapy involving horses are one and the same.
REAL LIFE. REAL NEWS. REAL VOICES.
Help us tell more of the stories that matter from voices that too often remain unheard.
BEFORE YOU GO
PHOTO GALLERY
Kids Making A Difference