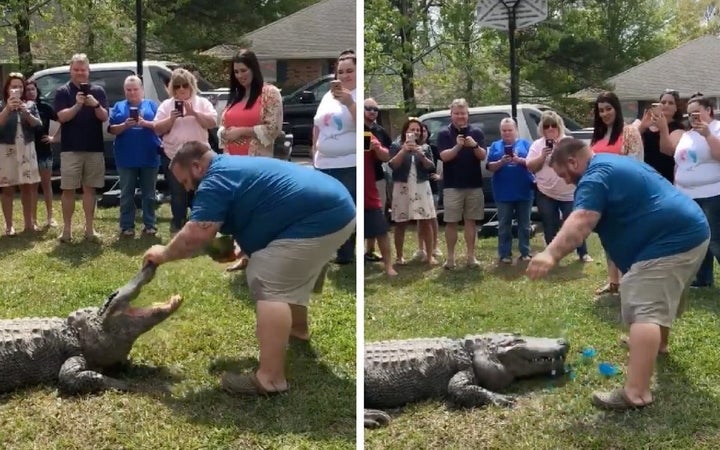 A Louisiana couple decided to announce the sex of their unborn baby in a pretty jaw-dropping way.
The video shows Mike Kliebert holding an alligator's mouth shut on a lawn, surrounded by friends and family gathered for a gender reveal party.
"First thing that came to my mind when my girlfriend and I decided to have a gender reveal party were alligators," Kliebert, whose father and grandfather were both also alligator handlers, told HuffPost. "They're a big part of our family, so why not incorporate them into our reveal?"
At one point in the video, Kliebert places a watermelon into the gator's mouth. The reptile snaps her jaw shut and a blue liquid comes gushing out of her mouth, indicating that Kliebert's baby is going to be a boy.
"We have a few gators who like to eat fruit, so I figured fruit was great —let's get a watermelon, drill a hole in it, add some Jell-O to it, and throw it in the gator's mouth? Let her bust it open, no big deal, you know?" Kliebert explained. "And what better way to do it than having an alligator that is 61 years old that my grandfather hatched in 1957?"
Kliebert said the gator in the video is named Sally and "she's our movie gator." She's appeared in commercials and the TV show "American Horror Story," and she recently filmed a scene for upcoming movie "Louisiana Caviar." Kliebert says Sally responds to her name and that she received "a big piece of chicken" as a reward for helping in the gender reveal.
"Sally's not just a gator, she's not just a pet, she's part of our family," he said.
The viral video has more than 5 million views on Facebook. It ultimately made its way onto other social media platforms, like Twitter, where many people expressed concern for the animal's well-being.
A Louisiana Department of Wildlife and Fisheries spokesman said what happened in the video didn't appear to harm Sally, but the department doesn't exactly support bringing an alligator to a party.
"It wasn't harmful to the animal," the spokesman told HuffPost. "But we discourage and don't condone anyone using an animal as exhibition piece."
He added, "Also, it is not wise to have a dangerous animal in such a demonstration so close to humans, especially children."
Kliebert said he had prepared for numerous scenarios in which things could have gone wrong.
"I know gators better than I know the back of my hand," he said, noting that Sally had opportunities to hurt him in the video, but didn't.
He added that there were "a dozen other gator handlers on the scene, most of my family are gator handlers."
Those handlers include his pregnant girlfriend, Rebecca Miller, who has been a gator handler for four years, and his 9-year-old son, Blaze.
"It's like having your family brought up on the dairy farm," he explained. "Except with gators."
Support HuffPost
The Stakes Have Never Been Higher
Related
Popular in the Community