A group of tourists looking to get a taste of the Florida Everglades got way more than their money's worth when an alligator leaped into their airboat.
Tylor Hindery, from Springfield, Missouri, who filmed the heart-stopping encounter last week, said he had hoped to see some of the reptiles on vacation. Then the boat he was on came upon an alligator resting along the water's edge.
"The guy killed the engine and we just floated over," he told The Miami Herald. "We got stuck on the bank, and he didn't want to turn the engine on and scare everything."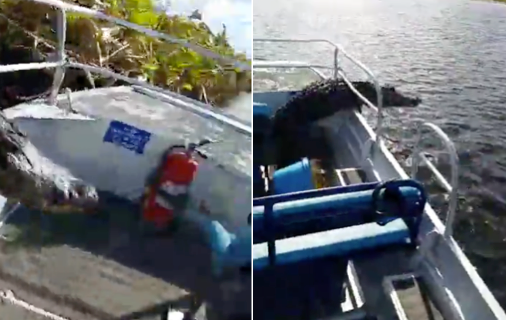 Hindery's Facebook Live video starts while the estimated 5-foot alligator is still sitting on the bank. It appears close enough to touch, as the boat's guide jokingly suggests.
"You can reach out and slap him, can't ya?" the unidentified man asks.
"If I wanted to, yeah," Hindery replies.
"OK then, don't make any sudden moves because ―"
And with that, the gator quickly turns and leaps into their boat, sending the adventurers into a frenzy as they scramble to get out of the way.
Once they're at a safe distance, the reptile is seen squeezing through the boat's railing and splashing down into the water.
"Are your pants dry?" a woman asks.
Of course, just because the gator was back in the water didn't quite mean that passengers were in the clear. As one Florida man pointed out last summer, gators have been known to climb trees.
Popular in the Community