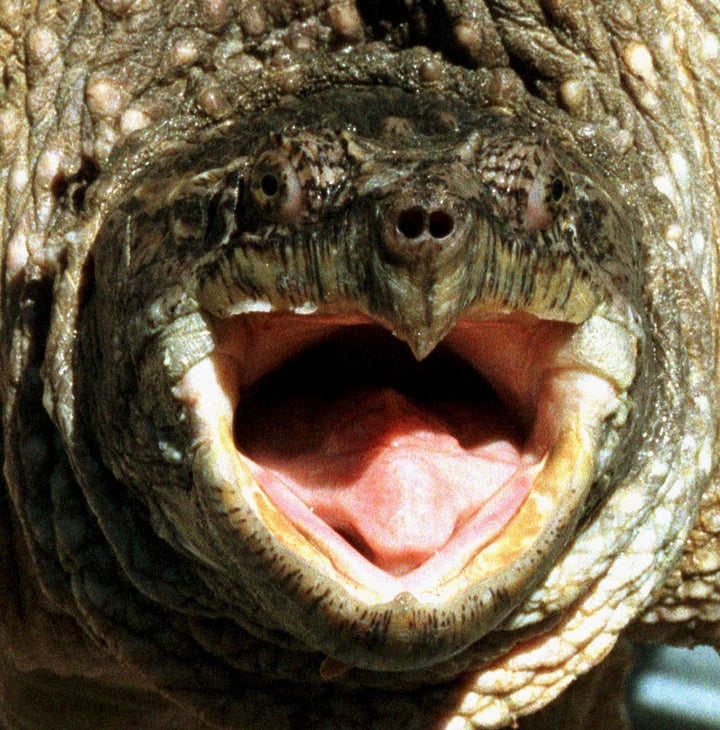 COVINGTON, La. ― A fisherman here made a bizarre discovery when he found what appeared to be a severed human finger inside the stomach of an alligator snapping turtle he was preparing to eat.
"He was cleaning for a meal, at which time he found it inside of the turtle and we were contacted," St. Tammany Parish Sheriff's Captain Scott Lee told HuffPost.
"We notified our coroner's office and they determined it is, in fact, a human finger," Lee said. "This is a very, very odd occurrence here."
Lee described the turtle as "pretty large," and said the unidentified fisherman caught it Monday on a trotline in the Tchefuncte River, a 70-mile-long river north of Lake Pontchartrain. A trotline is a long cord with multiple hooks, which fisherman bait and stretch out to catch fish.
Lee said investigators spoke with a biologist who said alligator snapping turtles don't typically stray far from where they feed.
Investigators said they had the fisherman direct them to the area he'd caught the turtle. They searched along the riverbanks and in the water and wooded areas for any evidence of foul play. Finding nothing, they suspended their search Thursday afternoon.
James Hartman, a spokesman for the St. Tammany Parish Coroner's Office, noted that whoever lost their finger may still be alive and might have chosen not to seek medical attention.
"That's not what I would do, but it's certainly how some people here would deal with that," Hartman told HuffPost.
Authorities said that while the finger does not appear to be in an advanced state of decomposition, they were unable to get a usable fingerprint. They said they checked with area hospitals, but no one has been admitted without a finger and no one has come forward to claim it.
The next step, according to Hartman, would be to perform DNA testing.
"It appears to be from a Caucasian [individual], but I'm not going to assume that," Hartman said. "Those are things we'll determine with DNA testing, but we're not doing that yet."
Hartman said having the finger DNA tested would be "very expensive," so they're waiting to see if the police investigation yields clues.
"If not, we'll do whatever is necessary to scientifically solve this mystery," he said.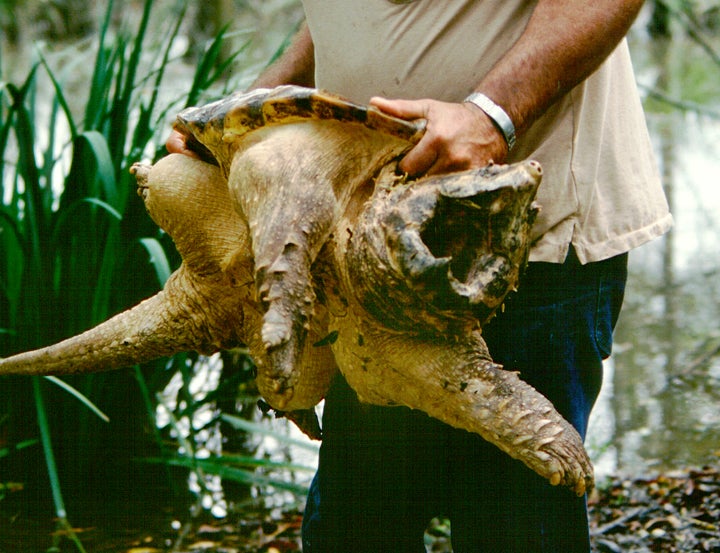 According to National Geographic, the alligator snapping turtle ― the "dinosaur of the turtle world" ― is the largest freshwater turtle in North America and among the largest on earth. The turtles can live as long as 100 years, and males have been known to exceed 220 pounds. They reportedly have no natural predators other than humans.
Lee said authorities are not releasing photos of the turtle.
"Basically, the turtle was in the process of being cleaned, so it's just a big blob of nastiness," he said.
Lee added, "At this point, all we know is we have a finger, but we don't know if we're dealing with a fishing accident or something more, so we're not ruling anything out."
Anyone with information about the finger is asked to contact the St. Tammany Parish Sheriff's Office at 985-898-2338 or the St. Tammany Parish Coroner's Office at 985-781-1150.
Related
Popular in the Community