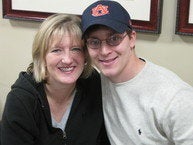 Not only is Clay Taber about to marry his college sweetheart, but the 23-year-old now has a new lease on life thanks to a nurse who offered her own kidney to transplant to her ailing patient.
Taber was just 22-years-old at the time, fresh out of Auburn University and recently engaged.
After returning from vacation in the Gulf of Mexico, Taber began experiencing symptoms.
Doctors ordered blood work that revealed Taber was experiencing kidney failure.
Shortly after the results came in, Taber was placed in the hospital, where he would remain for weeks while undergoing several procedures, including dialysis.
Batson was a nurse assigned to Taber's floor, and with children of her own close to Taber's age, she formed a special bond with the family.
When Taber was placed on the waiting list for a kidney, Batson said she felt compelled to help out in a special way.
"The whole world was his, with the exception of this incredibly rare illness that hit him out of the blue," Batson said in the press release. "Something inside me said I needed to do more."
Taber's mother didn't qualify as a match, but after undergoing tests, Batson found out she did.
The operation took place on Jan. 10, about a year after the pair met for the first time, and both Batson and Taber are now doing just fine.
The groom-to-be says he's grateful for what the nurse did for him.
"I told [Batson] she's going to get a special dance at the wedding, Taber told MSNBC. "She can pick out the song."
CORRECTION: Clay Taber was diagnosed with Goodpasture's Syndrome. A previous version of the photo caption incorrectly stated the name of the auto-immune disorder.
Related
Popular in the Community