America's favorite fictional press secretary was less than impressed. 
"The best thing about Sean Spicer is Melissa McCarthy," Janney told "The View" hosts Monday morning. "That's the one positive thing that I think has come out of that." 
We're sure that C.J. would have had "Saturday Night Live" on every week to see McCarthy parody Spicer.
Janney, however, was actually fairly kind to Spicer when asked about her opinions on "The View." She mentioned that the job of press secretary is difficult even when working with a president who has a high approval rating. And Janney had the particular advantage of becoming a press secretary an entire country could love.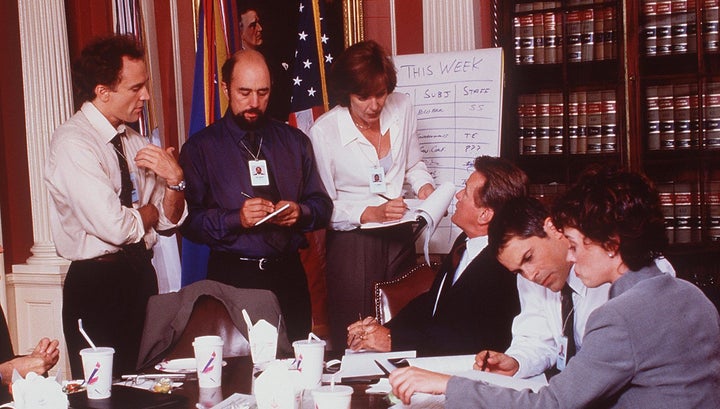 "Well, listen, I was in the cockpit with Aaron Sorkin as my pilot," Janney said. "He's in the cockpit with ... someone I'm not sure who knows ... if they know how to fly a plane." 
In reference to her Broadway play, "Six Degrees of Separation," Janney mentioned the one time she met Donald Trump. While on set of Woody Allen's "Celebrity," she needed a pronunciation lesson on some real estate lingo. 
And guess who happened to be making a cameo? 
"So I got up, I marched right over to Mr. Trump," Janney said. "I said, 'Excuse me, Donald Trump, I'm Allison Janney. Is it tri-plex or trip-lex?'"
"And they say he doesn't know anything," Joy Behar, one of "The View" hosts joked.  
Calling all HuffPost superfans!
Sign up for membership to become a founding member and help shape HuffPost's next chapter
BEFORE YOU GO