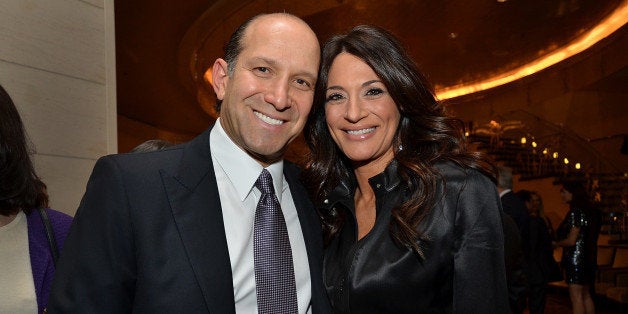 Allison Lutnick, 51, is just one of thousands whose lives were turned upside down by the Sept. 11 terrorist attacks. Hundreds of employees at a financial firm run by her husband, Howard Lutnick, were killed that day -- including her brother-in-law. But rather than succumbing to the tragedy, she and her family members decided to dedicate the rest of their lives to helping others experiencing unfathomable loss, and now her work focuses primarily on returning wounded veterans.
Last week, Lutnick opened her New York City home to family, friends and various supporters to do a little bit of holiday shopping -- and pay it forward at the same time. The annual shopping event is just one of the many initiatives she has spearheaded alongside her husband since their founding of the Cantor Fitzgerald Relief Fund less than 48 hours after the World Trade Center collapsed. Howard was the CEO of Cantor Fitzgerald, which lost all 658 employees working on floors 101 through 105 of the North Tower, leaving Howard distraught and determined to support each of the grieving families.
Throughout the past 13 years, the fund has supported the families of these victims, as well as those affected by emergencies and natural disasters, but Allison has focused the majority of her involvement on serving wounded veterans and their families. Last week's shopping event, the second of its kind for Lutnick, brought 15 luxury designers -- from Susan Bender to Edie Parker to Thompson Ferrier -- into the foyer of her home, donating 20 percent of all proceeds to the relief fund. After she and Howard personally match the amount raised, she will visit wounded soldiers and their families, listen to their stories, and personally offer them the financial support they need.
"After 9/11, my whole world changed," Lutnick told The Huffington Post. "Priorities changed, everything changed. Things will never be quite the same, and we live with 9/11 every day because of all the people that we lost. But being able to give back to the men and women that are sacrificing so much since that day, there's nothing like it. I'm just grateful that I can help make their lives a little bit better."
In 2011, Beverly Young, the widow of Florida congressman Bill Young, approached Allison with the opportunity to visit injured soldiers at the Walter Reed National Military Medical Center in Bethesda, Maryland. Meeting with the soldiers' families and being able to offer them much-needed financial support in person, she discovered her own niche within the relief fund led by her husband and sister-in-law Edie Lutnick.
Through her visit to the hospital with Beverly, Allison learned how soldiers seriously wounded by IEDs in Afghanistan are brought to the military hospital after they have stabilized at a U.S. base in Germany, and then the government pays for their family members to travel to their bedsides. However, this help does not account for the jobs these family members leave behind for extended periods of time, nor the bills that still need to be paid in their absence. Countless mothers and fathers are forced to return home before their child is discharged from the hospital so they can remain employed, afford their mortgages and tend to the other financial responsibilities they left back at home.
"Many of the soldiers have lost their limbs, many of them have brain damage, many of them have lost their sight, their hearing, have burns, and their parents still have to leave," said Lutnick. "What I have found extremely distressing is that I have children, and the thought of having to leave the child you love who's going through such a traumatic time so you can go pay your bills is terrible. Why should they have to do that? They should be there."
With the money she raises from benefits like last week's holiday shopping event, Allison meets families twice a year at the hospital and writes them individual checks, covering their expenses so they don't have to worry about anything else but being emotionally supportive of their loved one in the hospital bed. After her first visit in 2012, she knew these personal connections and individualized donations were how she could best serve those who needed her help. She felt a sense of gratitude and fulfillment each time she signed away thousands of dollars to teary-eyed families in need of her support.
"It's really one of the most beautiful things to be able to help out a mother or a father who's dealing with so much pain after seeing their son come home like this," she said. "These are volunteer soldiers -- they're not drafted, and they'd rather be back out with their platoons fighting for and defending our country. But instead they're in bed with no legs at the age of 22. It's very sad, but they're extremely brave and courageous young men, and every time I've met them, it just changes my life. It's been incredibly rewarding, and it's just a great thing to be able to do."
Her merging of fashion and philanthropy began five years ago when Jimmy Choo approached her, interested in collaborating with an event on behalf of the nonprofit. Twice a year -- once during the summer at her Hamptons home and once during the winter at her New York home -- the brand moves its entire storefront into the Lutnick residence and hosts a shopping event, donating 20 percent of its proceeds to the Cantor Fitzgerald Relief Fund. She and her husband then match that amount independently.
With the conclusion of her latest event, Lutnick plans to continue her fundraising efforts until spring arrives and she makes her next trip to the military hospital, meets even more soldiers and their families, and offers to ease their stress and financial burden as best as she can.
Calling all HuffPost superfans!
Sign up for membership to become a founding member and help shape HuffPost's next chapter