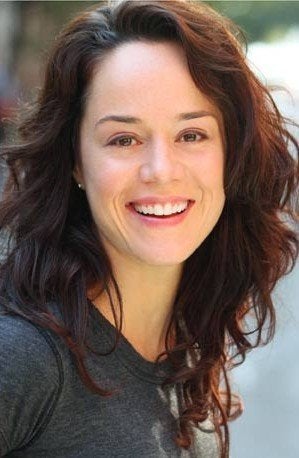 Allison Plamondon possesses the rare ability to captivate audiences with the simplest act. In a recent Chekhov workshop produced by Jen Danby and the Mississippi Mud Company, Allison's Irina (in a scene from Three Sisters) had few lines opposite Zach Wegner's Tuzenbach but was singularly mesmerizing, her facial expressions and slightest gestures -- the turn of her head, the graceful removal of a glove -- conveying the character's complete internal struggle sans a needless flood of words. This is one woman who knows how to tell a story with her body.
A petite, perpetually poised brunette with a uniquely raspy voice and infectious laugh, the actress-dancer-choreographer is eminently charming. Hailing from Edmonton, Alberta, Allison began performing as a child and choreographing while still in her teens, preparing younger kids for dance competitions. "[Competitive dance] is great training ground for choreography," she says, "because it's a two-and-a-half-minute number and it's so intense."
After several years working as an actress and choreographer in her native Canada -- including three seasons with the country's celebrated Charlottetown Festival for musical theatre - Allison crossed the border and made New York her home base. "I didn't plan on choreographing here," she notes with amusement. "I strictly wanted to act. [But] when I moved here I realized that choreography was a huge skill that I had that was a little more rare than acting."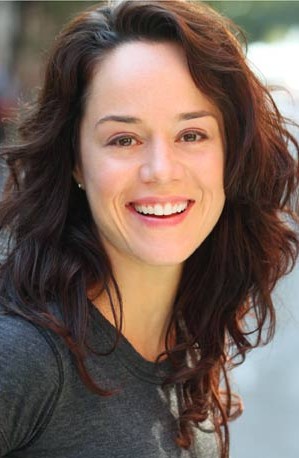 (Photo credit: Conor Romero)
Since the move she's done plenty of both, contributing behind the scenes to off-Broadway productions like Freckleface Strawberry and Make Mine Manhattan, and starring in the acclaimed one-woman play See Bob Run (for which she won "Outstanding Performance in a Solo Show" at Planet Connections Theatre Festivity last summer).
Allison gleefully admits that she loves wearing many artistic "hats":
My background and training as an actor really feeds my dancing, and I love dance with a narrative. [Now] I'm a beginner playwright, and because of my choreography experience I feel I know theatrical shaping -- making, structuring, developing pieces with plots. Work in all mediums is becoming more integrated -- music and dance and everything -- and it gives artists more tools to draw from. There's really no excuse not to tell a good story, right?
Truly an apt observation, since Allison's choreography plays a notable role in Shawn Christensen's Oscar-winning short film Curfew, the epitome of a fully-developed twenty-minute narrative. Curfew tells the story of despondent druggie Richie (Christensen), who finds he must interrupt his planned suicide to babysit his precocious nine-year-old niece Sophia (the terrific Fatima Ptacek). As the two bond during an unusual evening at a bowling alley, Sophia suddenly starts dancing to music, causing everyone around her to join in for the movie's most memorable scene.
It's a random moment of fantasy in an otherwise completely realistic film, a concept perfectly suited to Allison's whimsical humor and strong sense of narrative. "Shawn told me about his vision, and it was right up my alley [because] I have tons of experience working with kids. We talked a lot about transitioning into the dance so it's seamless and natural. We tried to justify why these people are dancing. So it's a dream sequence."
Upon being informed that sharp-eyed viewers can espy her among the wildly twisting ensemble, Allison nods knowingly, an impish grin on her face. "That's me! I just wanted to be there as a choreographer -- stand back and see how it looked. But it was my workout for the day."
Of course, when it comes to her colleague Ms. Ptacek, Allison's feelings are unequivocally positive. "She's so effervescent. I don't think I've ever worked with someone so young who was so professional during rehearsals and on set. She was a joy."
The production shot for two days inside the Brooklyn Bowl, a local landmark for the indie film crowd (the Independent Filmmaker Project's annual conference hosts its industry mixers there). Describing the shoot as "very guerrilla" because of the tight time constraints, Allison smiles and adds, "It's a beautiful space. And Daniel Katz's cinematography is incredible. That's a huge, huge part of why that film is so good."
There's no doubt Curfew is a gorgeous and extremely well-made picture, and its Oscar win makes a great statement about the continuing importance of short independent projects within the larger entertainment industry. When the film won, Allison says, "I freaked out, I was so excited."

Not one to rest on her laurels, Allison is eager to venture toward new challenges. She recently appeared in Mississippi Mud's production of Suddenly, Last Summer directed by and starring Austin Pendleton. Unsurprisingly, Allison reports that working with the master craftsman was amazing. "As a director he's so kind, and he creates such a supportive environment. You can go anywhere and he'll cheer you on. And then to say he's present onstage [as an actor] is an understatement. He's so natural. We had a lot of fun."

Apparently like draws to like, for Allison is well on her way to a multitalented, multi-hyphenate career as busy as her mentor's. And, taking her cue from Austin, she never forgets that the most significant parts of performance are often the most basic. At its essence "choreography is about relationships. Even if you're a soloist, you're in a relationship with the audience. Because it's dance, it can be silent - but it's still about giving something to the other person."

In the midst of an era where competition for stardom -- á la American Idol and The X Factor -- has become the norm, it's vital to recognize, as Allison does, that the heart of creativity is in community. An artist's power lies in his/her ability to enrich the human experience through sharing ethereal, emotional moments with an audience - a gift Ms. Plamondon has in spades. I, for one, can't wait to see where, and to whom, her fancy footwork will lead her next.
Calling all HuffPost superfans!
Sign up for membership to become a founding member and help shape HuffPost's next chapter