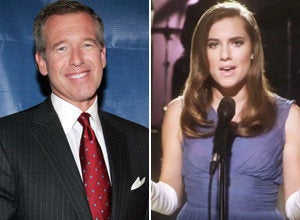 Brian Williams might soon have competition for the most-famous member of his family.
His daughter Allison — who graduated earlier this year from Yale and is pursuing a career as an actress and a singer — gained a national spotlight for her appearance in the viral "That's Why I Chose Yale" video and is back now with a performance of the "Mad Men" theme song.
The performance, recorded in one single take with live, un-dubbed sound, set the lyrics from "Nature Boy" (made famous by Nat King Cole) to RJD2's "A Beautiful Mine," the instrumental theme from the hit AMC show.
Incidentally, Brian Williams is a huge "Mad Men" fan, writing regularly about the show on his Daily Nightly blog.
WATCH:
Related
Popular in the Community